Being a bar hopper is fun and all; however, sometimes it is better to just drink and chill at home in your pajamas.
It is undeniable that nothing is more relaxing than having a drink in your trendy home bar, right in your dining room.
Or, maybe you would love to throw a party and invite some guests to your house. Having an option to entertain your guests is what you need. You just have to turn your own space into something like cool clubs.
This way, you're going to need a trendy and stylish set-up that is more than just a well-stocked cabinet of booze.
Now, here are some stylish home bar ideas that are located right in your dining room, so you and your guests can have easy access to your liquor collection right after dinner.
Whether you want to turn part of your dining room and kitchen into a bar or you want to build a home bar side by side with your dining room right from scratch, here are some ideas to help you make it happen:
1. Trendy Dining Room With Billiard and a Dry Bar
This trendy room was built to fulfill the needs of the homeowners for entertainment. It is clear that the entire area is the right spot to chill and unwind.
The dining room shares a space with a billiard. The billiard is even set side by side, slid below the dining table. The billiard can be extended, so it takes even more space in the room. The dining table and the billiard are completed with eight tall-back chairs to provide comfort during entertainment time.
In the back of this dining area, there is a dry bar made of a built-in cabinet.
The cabinet consists of upper open racks for the bottle collection, a countertop to serve the drink and to hold other bother collection, and a lower cabinet for more closed storage.
On both sides of this cabinet, there are two pairs of tall-back chairs that are obviously meant for seating space for the bar. This way, the homeowners provide many seating areas for this entertainment room.
2. Combination of The Stylish Dining Room and Wet Bar with Floating Shelves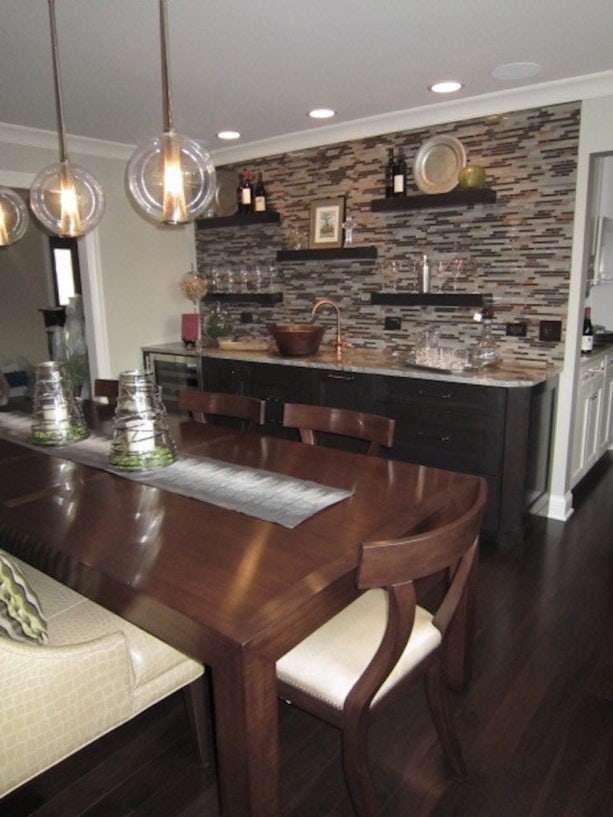 The combination of a dining room and a wet bar like this is quite common. Both share a similar place but with a different purpose.
Basically, each area is marked with a boundary like a rug or light. However, we can see that this combo has no boundary or a thing to mark each area. They both flow and mix seamlessly into one large room.
The dining room features a long wooden table that looks stylish with three modern pendants hanging above it. And like a usual combo dining room/bar, in the back of the room, there is a bar area.
The bar is not grande and extravagant like in previous pictures. Yet, that doesn't make it any less stylish.
This bar area is basically small. Instead of upper cabinets, the homeowners decided to use floating shelves to hold their collections of wine and wine glasses, along with some decorative items. It seems that the homeowners wanted to use their collections as a decoration too.
There is a countertop with a sink that indicates that this is a wet bar. It is installed atop the lower cabinet. The dark brown cabinet and shelves are built against the tiled wall.
Overall, the bar has a modern look, while the dining room is more of a traditional style. Thus, the combination of both delivers a nice contemporary look.
3. Traditional Dining Room with Built-in Hutch and Painted Inset Cabinet Wet Bar
This is a lovely traditional dining room that is completed with a simple yet modern chandelier above the dining table. The entire area is painted in a light, neutral color.
The dark wooden table and chairs of the dining room create a pretty contrast to the room.
In the far end of this space, there is a wet bar marked by painted inset cabinets with a Carrera slab countertop.
There is also a built-in hutch to store the wine glass collection and the dining wares. The bottles are placed on the counter, and it seems that the lower cabinet in the bar is used to keep other bottles.
There is no seating area in this bar. It is because the room is not large enough to accommodate bar stools in front of the bar counter. The dining table and chairs take most of the space.
However, there are eight tall-back chairs in the dining room. Those are enough to accommodate the whole family member and the invited guests.
4. Rustic Dining Room with Refined Wood Bar and No Seating
This rustic room looks luxurious and elegant, thanks to the massive timber beams and refined fumed larch cabinetry. The organic materials that fill the entire room like this never fail to give a mountain-style look.
The dining room is also completed with a polished wooden table, along with modern tall-back chairs in white color to contrast the table. The bar area is juxtaposed to the dining room. It is basically a huge nook in the wall.
The bar is equipped with extravagant wood built-in storage cabinets that are used to store the bottle collection. There is also a wooden island placed in the bar as a counter to serve the drink.
There are no stools in the bar, which indicates that this is not a seated bar for the homeowners to chill and relax.
A bar like this is only for those who prefer to show their incredible wine collection instead of having a chill drinking session.
5. Open Concept Modern Dining Room with Custom Bar
It is another open concept area that combines the dining room and bar at the same time.
This is a standalone bar equipped with a peninsula that serves as a bar table.
At the back of the bar, against the wall, there is a built-in wine rack. It seems that there is no seating in the bar.
And since the bar is also small, it may not be a comfortable place to sit for a long period of time. Yet, the dining chairs can be used as a seating area.
6. Beach Style Home Bar and Dining Room
This classic area is a light, beautiful, and peaceful family retreat that can be used as a space to entertain extended family and guests.
The tile wall pulls it all together and delivers the spectacular color in beige that blends seamlessly with the White Princes Quartzite countertop. Beach style home bar and dining room ideas.
This coastal, or beach style, the wet bar is completed with a drop-in sink and raised panel cabinets in beige color, similar to the tile wall. The countertop is a spot to place some bottles, so the homeowners can show a few of their collections off.
In order to store the entire wine bottles, there is a built-in wine storage unit in the cabinet. The floating shelves in the wall are useful to store the wine glasses and other dining wares.
There is no seating in this bar. However, the guests can have a seat in the dining room since the dining table is placed right in front of the cabinet of the bar.
7. Dark Wood Floor Great Blue Dining Room with Black Bar Ideas
What a unique room with a lovely color combination. This is a dining area that is combined with a bar.
Even though basically this is an open design room separated for two smaller areas. The thing that differentiates the dining area and the bar is the color. The dining room is painted in a dark blue color, while the bar area is marked by a painted black built-in cabinet.
There is a wine rack at the upper area of the bar, while the lower area is a dark cabinet that can be used to store your bottle collection. At the center, the countertop is filled with stacks of bottles and an open rack as another space for liquor collection.
Both of the areas, the dining room and the bar, feature a dark wood floor that looks perfect mixed with the blue wall and black cabinet.
8. Modern Seated Home Bar and Dining Room Area
This is a dining room and a bar set back to back.
The entire area is designed in a modern minimalist look, with a light tone wood floor and white walls. The dining room, however, is bordered by a geometric rug. That rug becomes a thing that separates the dining area and the bar.
The bar area is also mid-sized, like the dining room. It is completed with a peninsula, along with four wooden bar stools, so it is safe to say that this is a comfortably seated bar.
The peninsula has two levels of counters. The lower level is in brown color, used for a drink prep. The upper level, in white color, is used to enjoy the drinks.
There is majestic glass-front wine storage made of wood. This enables the homeowners and the guests to see the wine collection through the glass easily. There is also a white cabinet with some open racks to show some bottles off. What a grandeur collection!
9. Eclectic Dining Room with a Console Table Bar to Save More Space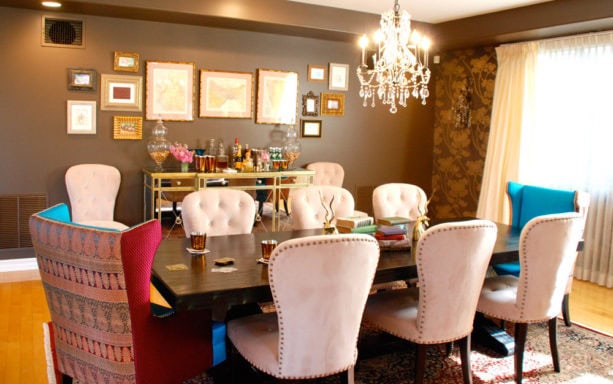 Who said that the dining room and bar combo is only for spacious areas?
Those who have smaller spaces yet want to combine the areas together can use some tricks. One of them is utilizing a tray or a console table as a bar instead of building a cabinet that takes much space.
This eclectic dining room proves that it is actually a great idea.
Most of this space is filled by the dining table and chairs. This dining area is marked by a rug to separate it from the bar. The bar is located in the back of the dining room, placed against the wall.
It is basically a console table made of glass with a metallic gold finish that gives an elegant and grandeur look. There is no counter here, but there are two tall-back chairs also placed against the wall on both sides of the bar. These chairs can be used as seating space for the bar.
10. Timeless Dining Room with a Built-in Cabinet for a Bar
There is a dining room set side by side with a bar, and a living room on the other side. The room is painted in white color, with an accentuated stone wall in the bar.
The dining room is completed with a wooden table and tall-back chairs to give a timeless look.
On one side of the walls, there is a built-in cabinet that is meant to be a bar. That cabinet is surrounded by a stone wall, creating a unique look. It has an arched shape and glass racks to hold the wine glass collection.
The lower cabinet is also completed with a built-in wine rack to store the liquor collection. There is a counter filled with bottles, glasses, and decorative items to complete the whole look.
11. Classic Dining Room with Modern Home Bar and Gray Cabinet
This is an ideal example of a classic dining room with a touch of contemporary style.
This dining room is completed with an oval-shaped dining table, modern chairs, and a huge floral rug below the table. There is contemporary artwork on the wall to contrast the classic look of the dining room.
On the wall, there is a gray cabinet. It is basically a modern home bar that holds many bottle collections.
The upper cabinet is a glass front. We can see clearly the bottles of wine there. The lower cabinets are also glass-front, and those are filled with racks filled with other bottles.
The countertops are used to serve the drink. We can see another bottle on the counter on the tray.
Since there is no seating in the bar, it is obvious that the dining room is meant to share this place with the bar. The chairs, along with the table, can be used as a spot to enjoy the drink too.
12. Mid-sized Elegant Dining Room Side by Side with a Semi-enclosed Bar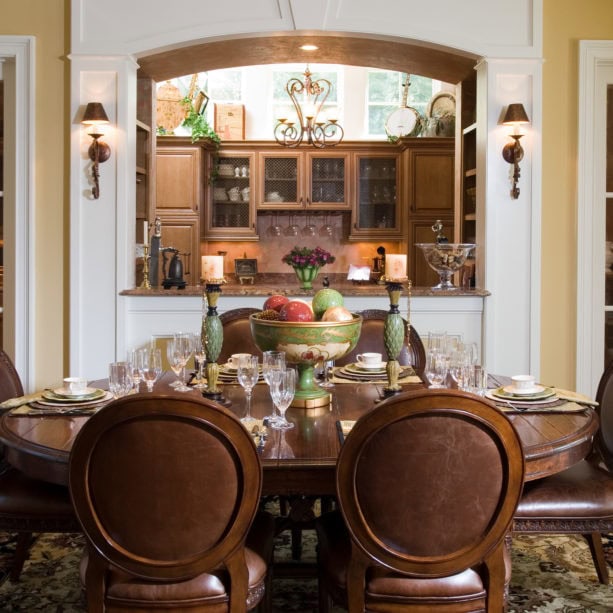 This mid-sized area features dark wood tables and chairs, delivering an organic look throughout the room. It is completed with a soft yellow wall and a white trim. The whole look of this room gives a classic elegant vibe.
Back to back with the dining room, there is a bar, which is basically a wall nook framed with cabinets and a countertop. It makes the bar semi-enclosed.
There are two types of cabinets in this bar.
The first one is the frame of this bar. They are basically open racks on both sides of the nook opening that is connected with the countertop and the lower cabinet. This wall nook is also equipped with two sconces on both sides. The sconces illuminate the warm yellow light that accentuates the whole bar area.
The countertop is filled with bottles along with some decorative items. It appears that the homeowners intend to use their bottle collection as decorative items.
In the back of the bar, there is another type of cabinet. Those are brown-painted cabinets that area meant to store the wine glass collections and the dining ware.
13. Mid-century Dark Color Dining Room with Long Cabinet in a Dry Bar
This is a mid-century dining room dominated by dark tones.
Basically, this is an enclosed area, unlike the previous pictures you've seen above. However, that doesn't mean that it can't be divided into two different purposes.
The main area is clearly used for a dining room. There is a long wooden table completed with twelve tall-back chairs! It is a huge dining room, able to accommodate guests and extended family.
Behind this, there is a great built-in cabinet that fills the entire wall. This is a glass-front cabinet along with a countertop to hold a large amount of liquor.
The long glass-front cabinet is used to keep the wine glass collection. There is no seating in this dry bar, which means that the twelve chairs in the dining area should be shared with the bar too.
14. Farmhouse Dining Room With a Bar Area and Wine Nook
This farmhouse dining room is bright and fresh. It opens to a patio outside that is separated by a stylish french door. The exposed beams in the ceiling, the decorative chandelier, and the soft color palette are what make it a farmhouse design.
There is a bar juxtaposed to the dining area. Instead of building a cabinet, the homeowners decided that it would be better to have a complete and huge wine nook.
The nook is covered with a panel glass that enables the owners to check their collection right from across the room.
Inside, there is wooden cabinetry that holds a huge amount of wine collection. It can be seen from this angle that the cabinets have a built-in wine rack.
The countertop is also full of bottles, and it is meant to serve the drink. It seems that there is no seating in the bar nook. The homeowners and the guests could enjoy their drinks on the patio.
15. Small Dining Room with a Tiny Tray Used as a Bar
Last, this is another enclosed room that combines a dining and drinking area. Actually, this room is not so big. Yet, the limited space sparks creativity. It makes us think out of the box as to how to mix two different purposes of a room into one space.
The homeowners decided to use a tray as a bar. It is because most of this space has been taken by the polished dining table along with four low-back chairs.
This area is marked by a rug below the table. It is obvious that dining is the main purpose of the room.
Behind the dining area, there is a console table that is used to store books. The top of the table is useful to put some bottles of drink and a pair of lamps. There is a mirror hanging on the wall above this console table to create a space-lengthening effect.
On another side of the wall, there is a tray as a bar. Instead of building a cabinet or a wall nook, it is more efficient to add a tray as a bar for smaller rooms like this. The tray holds some bottles along with wine glasses.
Of course, there is no additional bar stool here due to the lack of space. It may look simple and minimalist, but it is perfect for you who don't really like drinking and inviting guests to come over and enjoy some wines.
Closing
So, what do you think about the combo dining room bar ideas above? Some of the pictures above showed a luxurious room.
Yet, what about installing a home bar in a small dining room? Is it possible? Of course.
Here are some tips if you want to add a bar in your dining room:
Add only a tray: No need to stash away your pretty bottles. You can keep your collection openly on a tray right in your dining room atop a cabinet or a dresser. For a more pro tip, you can maximize the size of your area with a mirror above the cabinet or a buffet.
Use a bookshelf: Instead of building a whole new cabinet, you can turn your book cabinet into a minibar. This way, you don't need to install space-taking liquor cabinets.
Build-in wine storage nooks: You can custom-build a cabinet with a wine storage nook in a corner lower cabinet. The wine storage can be just a wine holder that fits an ample supply in a small cabinet.
Conver a nook: If you have a shallow closet or area in your dining room, you can turn it into a bar nook. Just remove the doors and built-in cabinets.
Optimize the area behind a Dutch door: If your dining room features a Dutch door, you can turn the area behind your door into a functioning dry bar.
Slim display cabinet: If you still want to use a traditional cabinet for your bar, you can utilize a narrow yet ceiling-height shelving unit next to your pre-existing cabinets to connect the dining room and bar. So, those areas can still be joined but separated functionally.