Choosing the right color scheme for your kitchen may be a daunting task. It is because color combination plays a significant part in creating an appeal in any room, especially in kitchens.
If you don't want to overwhelm yourself with endless choices of color schemes, it is always a great idea to use white, as white is a neutral color, and it never fails to create a stylish and modern look for your kitchen.
White is frequently used for its simplicity too.
The characteristics of white make that color an excellent base for spacious areas, like kitchen cabinetry, that are time-consuming or expensive to update or replace.
The simplicity of white cabinets also let them rise above other short-lived trends. So, you don't have to worry about being outdated.
If you want to create a crisp, polished, clean, and spacious look, you can combine your white cabinetry with a white backsplash, white countertops, white walls, and even a white ceiling. This all-white design creates a timeless look.
At the same time, white cabinetry works in any kitchen style, from vintage-inspired to country, and traditional to modern.
Due to its versatility, white is also easy to add to, accessorize, and update. Your kitchen can have an entirely new personality even if you only change knobs or other hardware.
What's more, creating contrast can be even more impactful compared with white cabinetry. The color palette can be easily understood.
Speaking of contrast, installing dark floors in a white kitchen is your best bet. It would let you use more elaborate decoration without making your kitchen too full and busy.
When it comes to dark floors, the most commonly used material is wood, a hardwood floor with a dark stain.
If you want to get more inspiration, here are some elegant pictures of a white kitchen and dark floors for you:
1. Dark Stained Wood Floors Combined with Cloud White Kitchen Cabinets
This is a traditional kitchen with a dark and white color scheme. It is obvious that white dominates the whole area.
The shaker cabinets are painted in Benjamin Moore – Cloud White, which gives a polished white look. The subway tile backsplash is also in white color, so is the island. Even the ceiling is painted white, which is a result of a custom-mixed color.
Those white elements are countered by black countertops, which are absolute black granite honed, and the dark wood floors.
If you are wondering, this U-shaped kitchen features a custom stain on oak. It means that if you want to attain this look, you would have to ask your finisher mix for you on-site. The color is almost so black you cannot see the grain in the oak wood.
To complete the whole look, the homeowners added similarly dark-colored stools put on the island. Those black stools seem flawless set against the dark stained wood floors and over the dark countertops.
2. Dark Stained White Oak Kitchen Floors and Super White Ceiling
Another traditional kitchen. This is an ideal inspiration for a large galley eat-in kitchen.
The dark and white color palette is even more obvious here than the previous picture because the composition of dark and white here is more balanced. The dark floor is paired with similarly dark countertops and bar stools.
The white parts are the glass front cabinets, walls, and ceiling. In order to bridge the dark and light color, the designer used a grey backsplash and metal accent in the pendants.
The floor here is stained white oak. Similar to the previous picture, this floor is also stained in a custom-mixed color.
The designers decided to custom-mix the stain to match the wood sample they had in their library. It looks beautiful in contrast to the ceiling, which is painted in Benjamin Moore – Super White.
In order to bridge the super dark floor and super white ceiling, the wall is painted in Benjamin Moore – Smoke Embers AC-28.
3. Dark Brown Floors Paired With White Matte Backsplash and Kitchen Cabinets
It is clear that the dark floor here is solely used to counteract the all-white design in this kitchen, so the area doesn't look too sterile and too intimidating.
The stainless steel appliances are also meant to accentuate the look of this transitional kitchen.
The shaker cabinets, the countertops, the island, and the backsplash are all in white.
The backsplash is from ProSource. It is WOW Chevron floor tile-M1 Iced in White Matte finish. It looks similar to the cabinets, which are also painted in a common white color with a matte finish.
The countertops are LG Viatera Minuet Quartz, also in white color.
The dark and elegant floor here is a hardwood floor from Bona Collection Metropolitan in Graphite color. To contrast it, the designer used Sherwin Williams – Light French Gray SW0055 to paint the wall.
4. Dark Distressed Maple Engineered Wood Floor Combined with White Kitchen Cabinets and Backsplash
The dark floor here is perfect for an open-concept kitchen like this because it provides a contemporary contrast for the room. The dark floor is a dark galley floor in the form of a dark distressed maple engineered wood floor in espresso color.
The walls, flat-panel cabinets, backsplash, ceiling, countertops, and island are all in white.
The countertops are Caesarstone in pure white 1121. The countertops are both on top of the cabinets and the island. They look good side by side with the dark galley floor.
The wall paint color used in this kitchen is actually classic gray. The designers said that the 'white' in this kitchen is actually painted using Benjamin Moore's classic gray.
The color looks identical to everything white in the room. It makes a perfect addition to the kitchen.
5. Transitional Kitchen with Dark Hardwood Flooring and White Quartz Countertop
This large transitional kitchen has an open plan space that looks very bright, thanks to the large windows letting in the natural light.
The white color scheme in this kitchen is beautifully contrasted by the dark hardwood floor and blue island cabinetry.
The dark hardwood floor is from Meridian. It brings depth to the entire area of the kitchen.
The white perimeter cabinets here are meant to give a crisp, polished look. They are from Koch and Company and accompanied by a similarly white subway tile backsplash.
The blue island, on the other hand, is in charcoal blue color. The island is used to add a splash of color to this neutral kitchen.
The countertops here are Calcatta Venice Quartz in white color. Paired with the blue island, the white top blends with it seamlessly.
In fact, as a neutral color, white can go with anything. When combined with charcoal blue, it creates an elegant coastal look. When juxtaposed with the dark floors, it gives a modern dark and white color palette.
6. Traditional Kitchen with Dark Tone Wood Floor and Creamy White Cabinets
The creamy white color palette in this kitchen makes it look elegant and royal, perfect for a traditional kitchen.
This mid-sized galley eat-in kitchen is completed with creamy white raised panel cabinets, granite countertops, a porcelain backsplash, and an island.
Unlike the other dark and white kitchens, this one has several multicolored elements to neutralize the dark and white color scheme.
The wall color, for instance, is a very light brown that complements both the white cabinets and the dark floors. The wall is painted in Sherwin Williams – Macademia SW6142.
The cabinets, on the other hand, are painted in Pratt & Lambert 9-32 Balsa, and it has been antiqued to achieve this look.
The wood floor is 3" Oak, Rift Cut, and 1/4 sawn. It is stained with a custom-mixed color, and the finish is very dark brown like this. The floor here is installed and finished on-site by a local installer.
In order to accentuate the whole look, the designer added a brown backsplash and granite tops. The backsplash here is a 4×4 Stellar Maddox from Sonoma Tile Makers, while the countertops are Geriba Granite.
7. Dark Hand Scraped Hardwood Floor Paired with White Carrara Marble Tops and Cabinets
The floors may be the first thing that stands out to you. It is because the floor is elegantly dark, beautifully contrasted by the white cabinets and countertops.
This is a hand-scraped hardwood floor with a very dark brown finish. Installed in this traditional kitchen, the floor gives a simple yet stylish look.
The white Carrara marble countertops are not purely white. However, the grain here is helpful to create a fun element subtly, so the kitchen is not simply dark and white.
The ceramic tile backsplash here does the same too. It is meant to neutralize the dark and white look in this kitchen. The ceramic tile is Walker Zanger – Mizu Pebb. Unfortunately, the Walker Zanger line has already been discontinued.
The cabinets are painted in Benjamin Moore – Super White color. It creates a flow and congruous look with the white farmhouse sink and white tops.
8. Dark Hickory Forge Ringing Anvil Floor and Simple White Cabinets in a Large Kitchen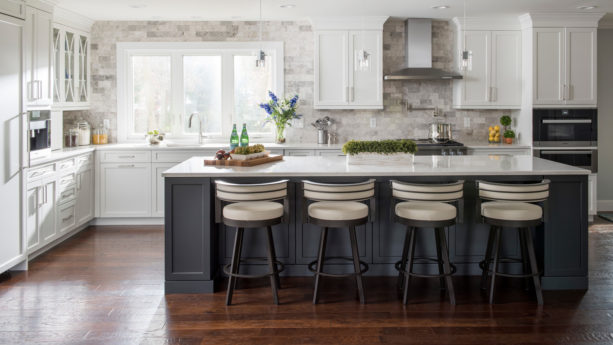 This transitional kitchen is not dark and white like the other kitchens you've seen before. Instead, this one is darker brown, gray, and white.
There are several shades of brown here combined with white color. What an inspiration for a spacious L-shaped kitchen. It has white shaker cabinets, gray stone tile backsplash, white quartz countertops, a dark tone wood floor, and a dark island.
When it comes to the floor, this lovely floor you see here is a dark hickory forge ringing anvil. It seems a bit contrast when juxtaposed with the even darker island, which is painted in Benjamin Moore – Smoke. However, the floor gives a warm look to the entire kitchen.
The wall cabinets here, on the other hand, are painted in Benjamin Moore – Simply White. The backsplash used is tile from MSI Tile, which is polished marble 3×6 in Tundra Gray color. The multicolor appearance in this kitchen is what makes it transitional.
9. Brookhaven Alpine White Stacked Wall Cabinets and Dark Ebony Stain Floor in a Huge Kitchen
This is a simpler dark and white kitchen than the previous one.
There are some gray colors to accentuate the black and white, though. The stacked wall cabinet and the large island are in white color, while the quartzite countertops and backsplash are in gray color.
The cabinetry looks fresh and bright because it is painted in soft neutral white.
They are Brookhaven Alpine White cabinets, look lovely combined with metallic backsplash, which is Dapper Daisy from Artistic Tile. Unfortunately, the product has already been discontinued. The tops here are Everest Quartzite, which looks luxurious when paired with the soft white cabinets.
The super dark floor in this kitchen is white oak with ebony stain with a matte poly finish. The uniformity look is achieved through this floor and the black bar stools. Both the floor and the stools deliver some depths to the entire look.
10. Classic Kitchen with White Backsplash, Counters, Surround Cabinets, and Dark Walnut Hue Floor
This is a bright traditional kitchen where there are many incorporated details to give dimension more to this area.
The backsplash, countertops, and surrounding cabinets are in crisp and clean white. They are paired with custom grilles, polished nickel plumbing, and hardware on feature cabinets. And finer details like inset doors add a layering look to the millwork.
The white raised panel cabinets are painted in Farrow and Ball – Pointing 2003, while the countertops and the backsplash are both from Calacutta Gold marble. However, the backsplash is in 3" x 6" tiles, and the countertops are completed with an ogee edge. Both the tops and the backsplash create a continuous look blending seamlessly with the cabinets.
The floor is contrasted by the all-white design here. It is a stained white oak in a dark walnut hue.
Hardwood floors like this are excellently comfortable underfoot, even more so than tile in a kitchen. Water spills are not a problem here unless there are large amounts of water left for a long time.
That is why this type of wood floor is very recommended to use in a kitchen, despite its beautiful look.
11. Dark Custom-Stained Oak Floors and Off-White Cabinets in a Traditional Kitchen
This is an ideal example of a classic kitchen completed with white cabinets, white countertops, white backsplash, stainless steel appliances, and dark wood floors.
The combination of white cabinets and dark floors like this delivers a vintage classic look, especially when combined with a unique ceiling like this.
It seems that the ceiling is from a similar material to the floors, which are oak with a custom stain. The custom-mixed stain is a result of several colors combined together on the raw wood floor.
If you want to attain this look, you can ask your flooring contractor to tweak the color lighter, darker, browner, or such until you get the right value and color.
The cabinets here are painted in an off-white color with a light glaze. There are no manufacturer details because the color is also a custom-mixed one.
Yet, somehow the color mixes harmoniously with the countertops, a marble you can easily find at most slab yards. It is Calcutta Gold. The white cabinets, white island, white tops create a perfect canvas for the dark ceiling, dark floors, and dark bar stools.
12. Dark Espresso Stained Oak Hardwood Floors Mixed with White Maple Shaker Kitchen Cabinets
This is a contemporary kitchen that, even though it is not that large, but is still elegant and stylish, thanks to the dark and white color combo. The stainless steel appliances are added too to accentuate the entire look.
The trendy and timeless dark floors are Oak hardwood stained in espresso color. Thus, the color is very dark and contrasts with the white cabinets.
The cabinetry here is by Durasupreme from Minnesota and is made of maple wood. It is painted with a simple white color, which can be found in any paint manufacturer.
The countertops, backsplash, and the island are made of a similarly polished marble called Calcatta Gold. Those three elements managed to create a flow and uniformity in this look. Moreover, polished marble-like this never fails to give a modern and luxurious look. The wall color is also painted in white color, which is Kelly Moore – Frost.
13. Contemporary Kitchen with White Flat-panel Cabinets and Dark Engineered Wood Floor
What a great combination of white, grey, and dark.
This contemporary kitchen looks trendy with this color scheme. It features white upper flat panel cabinets, grey lower cabinets, white porcelain tile backsplash, white quartz countertops, and a white island with a gray accent. All of them are contrasted by dark wood floors.
This is a dark engineered wood floor that is stained in espresso color, the most common stain color for those who want to have a dark wood floor. It looks in contrast with the cabinets and the walls.
The walls are painted in Benjamin Moore – Classic Grey, which is basically a very light gray that looks almost white.
The cabinetry is divided into two parts, upper and lower. The upper cabinets are finished with a high gloss lacquer, and the color is satin, while the lower cabinets are MDF with lacquer, similar to the gray accent on the island.
The white part of the island is Caesarstone, which gives a glossy look that perfectly matches the upper cabinets.
Closing
So what do you think about the white kitchen and dark floors above?
Maybe you have had installed tile floors before, but now you want a softer feel and warmer look wood floors. Or, you just want to use hardwood floors for the rest of your home and plan to extend them into the kitchen for a more uniform look.
Wood is an incredibly comfortable surface to step and to stand on for a long period of time. That is why it is an ideal floor for kitchens.
Hardwood floors are basically easy to clean up and maintain. The great thing is, compared with stone floors, wood floors don't pose the same risks.
If you do choose hardwood floors, the most important consideration is the species of wood you would use. Some woods are usually softer than others.
The wood stain is another factor you should also consider. Darker colors have more choices than a mid or light tone.
Regardless of the reason and consideration, having a kitchen with a combination of white cabinets and wood floors, especially the dark ones, is a classic look that will never be outdated.
Imagine it is a fashion style. White cabinets and dark wood floors are like blue jeans and a white tee. They're classic, and you can mix them with anything.
When in doubt, white kitchens and dark hardwood floors are always a safe choice. It has a clean and crisp look paired with the organic and warm feel of the wood.