If you want to give a more fresh look to your laundry room, it is recommended to replace your outmoded, worn, and torn laundry room floor.
This particular area is considered challenging to outfit since it is easily damaged from so many sources: dents (from swapping out those heavy appliances), mold growth, stains from splattered bleach, and such.
That is why, in order to avoid those damages in the future, make sure when choosing laundry room floor tile, it should be:
water-resistant. It is because the laundry room has a lot of water included. To minimize moisture and humidity absorption, make sure the tile you choose can keep your floors from molding, warping, and swelling.
stain resistant. Doing the laundry means splatters and spills everywhere. The tile should prevent them from permanently setting in.
impact resistant. So when you move your heavy appliances, there will be no dents and scratches on the floor surface.
easy to clean. The laundry room needs to be cleaned regularly due to the high moisture in it. Don't stress yourself with luxurious tiles that are challenging to clean.
durable. This is to avoid you from having to replace it every now and then. Let those tiles stay put as long as you like.
affordable. This is the most essential part. Make sure everything is within budget.
aesthetically pleasing. The laundry room floor doesn't have to be functional only, but it should also be beautiful to look at.
Here are some examples of the best laundry room floor tile that are functional and/or beautiful that you can choose for your next remodeling project:
1. Multicolored Vinyl Composition Tile Laundry Room Floor for a More Stable Area
This soft and lovely laundry room features baby blue walls, white shaker cabinets, white appliances, and white laminate countertops. All of them are perfectly combined with the multicolored vinyl composition tile. The tile here is "Azrock"/Iceberg #V-609 and Silver Dust #V-626 in 12" x 12".
Vinyl composition tiles are also known as VCT. It is perfect for a laundry room because VCT has a durable construction. It gives a lasting aesthetic in a high-traffic area.
VCT features many colors, shapes, and sizes. In this laundry room, we can see that it is multicolored, which is a soft combination of baby blue and white.
VCT can also endure heavy feet and appliances. Thus, it can be used as laundry tile flooring; you don't need to worry about the dent caused by those washing machines you have. This tile has flawless dimensional stability that impact-resistant and only cause very little tear and wear.
For a laundry room that features tall windows or a glass ceiling, no need to worry about VCT because this tile is very stable to UV radiation; it won't fade away under the sun.
Another great thing is, most of the tiles in the market create noise when you walk on its surface, but VCT is a perfect noise absorbent. It won't produce any noise or sound while you are walking on it.
2. Ceramic Tile Laundry Room Floor for a Durable Use
This is a perfect example of a large transitional laundry room completed with white shaker cabinets, a farmhouse sink, a white wall, white appliances, and white quartz countertops.
The pop of color in this all-white design is the ceramic tiles floor, which is in blue and white color.
Ceramic tile is the most common choice when it comes to laundry rooms. It is because ceramic tiles, similar to porcelain, are durable. They are wear- and water-resistant, which means those are perfect for a high-utility room.
On the other hand, ceramic tiles are also usually in neutral tones, like creamy or light tones, giving the whole room a clean look. There are also darker tones that deliver an urban, contemporary, and chic look.
In this kitchen, we can see that the tiles are in blue and white, a perfect combination for you who like soft yet neutral tones. This multicolored floor flawlessly mixes with the white shaker cabinets, white quartzite countertops, white farmhouse sink, and gray walls.
3. Elegant Hardwood Laundry Room Floor Tile for a Clean Look
Generally speaking, it is quite uncommon to use a hardwood floor for a laundry room.
Yes, hardwood tiles are worthwhile because they can last 20 years or more. However, you should also know the hard truth that the durability, radiance, and natural warmth of hardwood tiles can be diminished in the laundry room.
The laundry room is usually highly moisturized. Moisture can rot and/or warp it. Moreover, heavy appliances, spills, and high foot traffic can lead to stains, gouges, and splinters.
Yes, you can patch the gouges with a seal or wood filler to improve the moisture resistance, but those are not easy tasks that should be repeated regularly. It is clearly not worthwhile to use hardwood tile for a non-public space like a laundry room.
However, if you still want to use hardwood tiles floor like in this laundry room, you can see that it gives an elegant and clean look. Combined with the white cabinets, countertops, and walls, the hardwood floor will stand out. It provides a traditional style to the whole room too.
4. Traditional Laundry Room with Slate Tile Floor for a Moisture Protection
There's nothing that can beat the durability of natural stone tiles from slate (or similar materials).
Slate tile floor can last between 20 years to a lifetime. During that long time, this tile is protected from dents, stains, and moisture, making it a perfect choice for a laundry room.
On top of that, the slate tile floor gives the laundry room a perfect luxurious look. It leads to higher home resale value.
In this laundry room, we can see that the slate tile is used in a large U-shaped room. It looks lovely combined with the beige walls, medium-tone wood cabinets, and beige soapstone countertops.
This multicolored slate, along with the wooden cabinets, delivers a traditional look. Overall, the whole combination of the elements used in this room gives a warm and grounded vibe because, basically, they are all earthy tones.
If you are curious, the tiles used here are Puccini Stone in multicolor slate in the Versailles pattern.
5. Combination of Ceramic Tiles and Carpet Tile in a Laundry Room Floor for an Aesthetic Look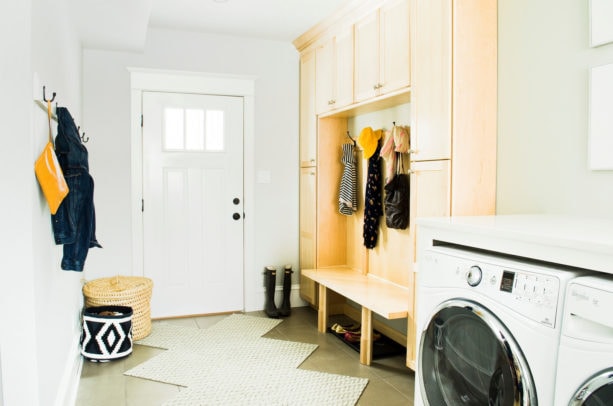 The combination of ceramic and carpet tile in a laundry room is actually a fresh idea.
Carpet tile surely cannot be used alone in a laundry room. It is actually the worst candidate for a laundry room because it can easily catch dust and laundry lint. Moreover, carpet absorbs water quickly, while in a laundry room, water is everywhere from chemical splashes, overflows, or leaking appliances.
However, we can see here that the carpet is combined with ceramic tile.
Ceramic has the opposite characteristics with carpet tile. In fact, ceramic tile is the perfect choice of flooring when it comes to a laundry room. It is water resistance and slips resistance, which means you don't need to worry about a slippery floor here. It is also bacteria-resistance. When your laundry basket is full of dirty clothes, no need to worry about the bacteria growth in the room as long as you have ceramic tile.
Ceramic tile is scratch and stain resistance as well as fade resistance. If you have to use disinfectants or cleaners for deep cleaning the floor, you can be sure your ceramic tile won't face.
Speaking of cleaning, ceramic tile is easy to clean too. Wiping with water is all it takes to clean it up.
Here, the carpet tiles are put criss-cross upon the ceramic tiles. They are carpet tiles from FLOR set in a harlequin pattern. The style is Roadside Attraction, while the color is Dew.
The carpet gives a warm and cushy sensation underfoot. It seems that the carpet used here is not the fluffy one. In fact, it looks perfect juxtaposed with the ceramic tiles because they complement each other in order to create an anti-slip surface in this room.
6. Quartzite Tile Floor for a High Slip Resistance in Laundry Room
Quartzite is included in natural stone tiles. It makes the quartzite tile extremely resistant to tear, wear, dampness, and heat. What a perfect tile for a laundry room.
Laundry rooms are prone to damp and heat because a large sum of water is included there, and the natural light from the sun is needed to dry the clothes. Quartzite tiles, however, will stand through the moisture and the UV rays.
Another great thing is, quartzite tile color will remain unchanged forever. Despite the spills, splashes, and UV radiation, the color won't fade away. That goes without saying that quartzite is also stain-resistant. It is because quartzite has low porosity; thus, it boasts anti-stain properties.
This mid-sized laundry room features a beige quartzite tile floor. To be exact, that is Olympia Quartzite Golden Sand 12 x 12 arranged in a running bond pattern. It looks lovely combined with the beige walls.
Laundry room is located next to the mudroom, for they share a similar floor. Both the cabinets and the mantel racks are in white color, creating a soft traditional look along with the beige tiles and walls.
7. Black Indian Limestone Tile Laundry Room Floor for a Dent Protection
This is a perfect example of a classic limestone tile. Limestone has various colors and styles. The one used in this laundry room is Indian limestone in black color from Exquisite Surfaces. It provides a dramatic contrast to the all-white design in this laundry room.
Like any natural stone, limestone stone is highly durable. It won't wear down even with those heavy appliances and foot traffic. You won't see any dent on its surface. On the contrary, it feels kind of soft when you touch it. Imagine what a great combination it is, soft to touch but strong enough to step upon.
Limestone tile also delivers such timeless beauty. It has been used in many constructions for many years, showing its enduring appeal. Even though limestone has many options of styles and color, all of them give a classic yet modern look, perfect for any decor.
In this laundry room, you see that the floor is black, and it is combined with white walls, trim, appliances, and cabinets. Black and white never fails to deliver a timeless look.
Compared to porcelain tile, limestone has many more advantages. Stone is known as a dramatic flooring material. It is able to add the resale value of the home. Another great thing about limestone tile is also it is easy to maintain.
The care of natural stone is basically simple. Like other natural stones, limestone is also highly resistant to mold and bacteria, making it perfect for a laundry room.
8. Travertine Tile Laundry Room Floor to Give a Soft Neutral Tone
This is a craftsman laundry room featuring travertine tile, medium tone wood cabinets, beige walls, and white appliances.
Travertine is a prevalent option when it comes to natural stone flooring. It is known for its exciting appearance, beauty, and durability.
The travertine tiles in this laundry room are Scabos Travertine with a brushed finish and chiseled edge in a 4-tile pattern. It gives a soft neutral tone to the room.
Besides its appearance, travertine tile is also moisture and water-resistant. This makes this tile is anti-mildew and mold too. That is why it can be a perfect choice for a laundry room. It is also durable and versatile. It can hold up very well under heavy appliances and foot traffic. The stone rating hardness is comparable to marble.
Additionally, it can handle extreme temperature change perfectly too. So you don't need to worry about the UV rays.
Even though travertine tile requires a bit more maintenance than marble or ceramic tile, it is not that difficult to maintain the tile. It will be easier to maintain if a layer of sealing is added.
If there are some spills or splashes on the surface, they can be just wiped away immediately by a manufacturer-recommended cleaner.
9. Reclaimed Slate Roofing Tile Laundry Room Floor for a Beautiful yet Sustainable Area
This classic traditional yet stylish laundry room features reclaimed slate roofing tiles. Those tiles are durable, sustainable, and beautiful, the three characters most designers strive for.
We can see here that the gray tiles are flawlessly combined with white walls and medium-tone wood cabinets.
Other advantages of using reclaimed slate roofing tile for a laundry room are they are cheap, unique, eco-friendly, and made to last.
In many cases, reclaimed slate roofing tiles can be purchased cheaply as long as you are buying them in bulk. The most expensive reclaimed tiles are the oldest ones. It is also known that reclaimed slate roofing tiles are 100% original, which means that no two tiles are the same. Thus, it will create a unique look.
This tile can survive for many years; it is proof of its longevity and durability. You don't need to regularly replace it. What a bargain.
10. Versatile Yellow Cement Tile Laundry Room Floor to Give a Pop of Color
The first thing that catches your attention when you look at this laundry room is the yellow cement tile. It gives a beautiful pop of color in this all-white design. The white cabinets and white appliances, combined with honed black absolute granite, create a perfect neutral tone.
However, sometimes neutral tones can be a bit boring. In order to avoid being too plain, the designer decided to add a splash of color here, and it is from the tile. What a beautiful choice!
This is a cement tile from Ann Sacks. It comes in some color variations. The colors here are Yolk and Milk, while the design is called Rings.
Cement tiles can hold up to a lot of use, making them a perfect option for areas that have a lot of traffics. No need to worry about scratches and stains, too; as long as the tiles are well maintained and installed, the surface is very hardwearing.
Compared to many other types of tiles, cement tiles are more outlasting. It is even more long-lasting than ceramic tiles. With just a little care, a cement tile will look as good as the day it was first installed.
11. Cork and Rubber Composite Tile Laundry Room Floor for a Non-slippery Surface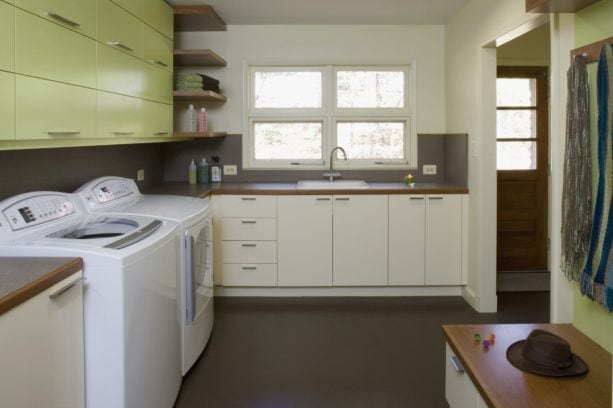 This mid-century laundry room has a bit of modern touch, thanks to its cork and rubber composite tile.
The dark tile is combined with white cabinets and appliances. Both create a perfect neutral color. They are also mixed with medium-tone wood countertops. There is also a pop of color in this mid-century room, creating a fun element in it. The pop of color comes from the green sage upper cabinet.
The cork and rubber composite tile are from Capri Cork. It is a Cor-Terra product in Coffee Bean color. Rubber cork flooring is a great resilient flooring when it comes to sustainability, acoustics, comfort, and durability.
FYI, cork and rubber composite made from a combination of 65% recycled cork by volume, vulcanized rubber, and natural fillers. Thus, it creates an organic and uniquely rich look.
Cork and rubber composite tile is a safe flooring option if you want the best in class slip resistance. It meets more criteria in any sustainability programs and LEED compared to any other resilient flooring. On top of that, this tile also meets high indoor air quality standards.
12. Porcelain Tile in a Contemporary Laundry Room for a More Sturdy Flooring
Porcelain tiles from Daltile in this laundry room are perfectly combined with the white raised panel cabinets, gray walls, white appliances, and granite countertops. It is exceptionally flawless when installed against the gray walls. Both colors create a warm contemporary look.
Porcelain tile is obviously worth considering for a laundry room. It can endure heavy foot traffic and, at the same time still, keep its appearance.
Moreover, porcelain tile is also denser and harder than other ceramic tile products. That is why it is considerably sturdy too.
Perfect if you want a long-lasting product. It is a hardwearing and durable material that is highly resistant to heavy loads, fading, stains, harsh cleaning agents, and even fire! It contains more feldspar (mineral) and less clay; it is also pressed at a higher pressure than any other ceramic product. It means that it features a high breaking strength.
On top of that, porcelain tile is also highly resistant to moisture. So you won't have to worry about installing it in a laundry room.
There is a wide range of textures and colors; the choices are basically endless. The designs are numerous too. Skilled professionals can be such a help to recreate many natural surfaces, like marble or wood grain patterns.
No sealing, waxing, or polishing is required when cleaning the porcelain tile. In fact, it is effortless to maintain. You just need a damp mop to wipe the surface.
13. Luxury Vinyl Tile for Laundry Room Floor to Give Extra Protective Layer to the Surface
This traditional laundry room features a luxury vinyl tile (LVT) white floor from Amtico Floor. It is harmoniously combined with white cabinets, gray laminate countertops, and gray walls. The pop of color and the focal point in this room is clearly those teal appliances.
In case you are wondering, LVT is different from vinyl composition tile (VCT).
LVT is made out of vinyl; thus, it is a durable hard surface completed with a protective layer. VCT, on the other hand, is made from only a small amount of vinyl with other materials (like limestone), making it a more porous option. VCT needs regular maintenance to keep its structure solid and appearance good.
LVT is also warmer and softer than ceramic or natural stone tile. Therefore, it is more comfortable to stand on and walk on for long periods of time. Walking on it is also less noisy than on laminate flooring. This is perfect for a laundry room since you'll have to spend most of your time there if you do your own laundry.
LVT also doesn't need sealing because it uses caulk-like grout. It means that it can be changed more quickly than a ceramic tile.
When it comes to maintenance, LVT is much easier to clean than hardwood and VCT. It doesn't scratch easily, so you can place your heavy appliances on top of it safely.
14. Concrete Tile Laundry Room Floor for an Easy Maintenance
Even though this laundry room is not that large, it is still comfortable to spend much time there. The orange and green concrete tiles, along with the floral café curtains, create a lovely shabby chic look.
When it comes to concrete tile, it is basically a strong material. It can handle tear and wear better than hardwoods and ceramic tiles. Concrete tiles are also durable.
Many home designers stated that concrete tiles will outlive us. It means that they will hold up very well in the long run. You don't need to regularly change them. What an investment.
Concrete tiles even outlast ceramic tiles too! To optimize their longevity and durability, you need to coat those tiles with a penetrating sealant to make them easier to clean and help prevent staining.
As a perfect choice for a laundry room, concrete tiles are also easy to maintain. Sealed concrete tiles can be just cleaned and swept regularly, like other tile floors. To mop them, you can use mild soap.
When it comes to a design aspect, there won't be any trouble finding concrete tiles matching the style of your room. There are endless choices out there for you to choose from.
15. Rubber Tile Laundry Room for a Highly Resistance to Heavy Foot Traffic Floor
Rubber tile is basically one of the best choice for a laundry room. Take a look at this modern room. The black rubber flooring looks perfect combined with the light tone wood cabinets, white wall, and white appliances. Minimalism is the key to achieve a modern look like this.
For the flooring, the tiles used here are rubber from Johnsonite in black color. In fact, in terms of rubber flooring, there are two choices you can choose, rubber rolls or rubber tiles.
Rubber rolls are usually used for a larger room. In this laundry room, it seems that the designer used rubber tiles instead.
Rubber tiles are highly resistant to heavy foot traffic and heavy appliances. It means that there won't be any scratches and dents you'll find on the surface. As the characteristic of rubber, rubber tiles are also non-slip. In a laundry room where splashes and splatters often happen, a non-slip surface is very much needed.
There are many options of styles you can choose from. The installation is easy and quick, it is because rubber tiles are lightweight and they feature an interlocking design. No adhesive is required when installing them properly.
If there is some damage, you only need to replace one damaged piece instead of the whole floor.
Basically, rubber floor tiles deliver an easy-to-clean, good-looking, high-performing, durable, and safe surface. They are perfect for a hardwearing environment, like a laundry room.
Closing
So, what do you think about the floor tiles shown above? Ceramic, cement, travertine, porcelain, there are so many options, and it is quite challenging to know what tile material to pick.
Man-made tiles, like ceramic and porcelain, are durable. They also have endless options. Different finishes, shapes, and colors can be chosen to match your personal style. Stone tiles, on the other hand, also have large variations, but they clearly have different care properties.
Basically, there's no such thing as a perfect tile for everyone. The right tile depends on the look you want to achieve and, of course, that fits all the requirements mentioned above.