When it comes to landscaping, most of us only focus on the front yard or the back yard.
No one really pays attention to the side yard, letting it become a sad alley and a spot to hide some unwanted stuff.
But, even if your side of the property area is not really a "yard", there are plenty of things you can do to improve it and make it a kind of space that you'd enjoy spending time in or just walking through it.
Your side yards don't have to be a utilitarian space (that's often used to store recycling containers, hoses, or other gardening tools).
It's OK if you want it to be more aesthetic than functional. With a bit of creativity and some planning, you can make your side yard both functional and appealing, whether it can be seen by the passers-by or just by you from your window.
If you are convinced enough to renovate your side yard into impressive landscaping, consider adding these elements when including them in your DIY project.
Here are 16 impressive side yard landscaping ideas to transform your side yard from awkward to awesome:
1. Modern Landscaping Idea in the Side Yard with a Cor-ten Steel Wall as a Screen
According to the designer, the whole landscape of this yard was actually a sculpture garden.
However, in this side yard landscaping, the thing that really catches our attention is the black pads that work as a walkway. Those are dark gray acid-finished concrete poured in place.
Look how big, round, and polished they are, adding a perfect decoration to this rock landscaping.
The entire side yard is covered by limestone gravel, 1/4" to 1/2". It creates a contrast to the dark gray poured concrete walkway, making this side yard richer.
In order to separate this area from the next one, the designer installed a Cor-ten steel wall as a screen with a clear coat on it and inscribed art made by a local artist.
On the left side, this side yard is bordered by a wood fence with a bamboo screen next to it.
This bamboo is a clumping type, so there's no need to add a barrier behind the bamboo to keep it from spreading. It is Bambusa oldhamii, a great variety that you can add to your own side yard as a living screen.
Since this side yard is quite large, the homeowners decided to add a seating space on the poured concrete pad. This can be a great place to enjoy some alone time anyway.
2. Mediterranean Style Privacy Side Yard with a Seating Space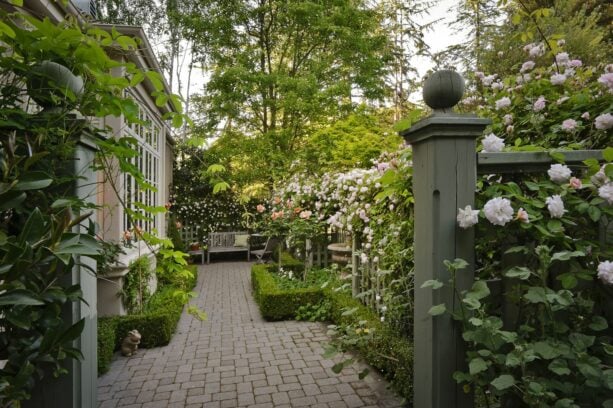 Beautiful roses, seating, and a fountain make this side yard an enticing destination.
Compared to the previous side yard, this one is a bit smaller. Yet, it looks livelier because it's full of plantings and greeneries, perfect for a Mediterranean style.
A green clipped hedge surrounds the walkway, making a beautiful frame for it. There's a wooden fence on the right side, but it's barely visible because there are many planting creeped there, including the beautiful roses.
In the middle of the fence, the designer also added a fountain, a bit recessed to the fence, so it's quite hard to see from this angle, beautifully framed by the hedge.
This fountain is useful to create a soothing sound in the sideyard, creating a tranquil ambiance.
There's a cozy seating space at the far end of the side yard, consisting of several chairs completed with throw pillows to promote comfort.
After all, it would be nice to enjoy a morning coffee here, surrounded by natural beauty and secluded from the other areas of the house.
3. Checkerboard Idea in a Side Yard Landscaping with Herb Plants
The checkerboard base that consists of 24" x 24" squares of blue stone and a crushed blue stone path completed with planted herbs makes this side yard attractive.
Since this side yard is not too closed, the owners could plant anything they like, including these herbs. It takes good sunlight to pull this look off with herbs like this.
There's also a water feature on the right side, the imposing kind of fountain that gives a classic look to the entire side yard.
You'll see vertical and horizontal framed lattice fencing in the far end that maintains privacy in this side yard.
Since this is a small side yard, there's no need to add a seating space.
Part of the reason is that this side yard has been landscaped perfectly. It would be a waste if you put a seating space on top of those beautiful checkerboard bases, making it covered by the chairs.
If you want to recreate this look, let the beauty of the base and the herb plantings take the spotlight of this side yard. This is not meant to be comfortable; this place is supposed to be beautiful.
4. Incorporating a Curved Line Using a Stone Path in a Side Yard Landscaping
If your side yard is quite wide, you may have room to throw some curves.
As you see in this side yard, the designer managed to create a curvy walkway made of a flagstone path. It looks inviting and keeps the side yard from feeling like a dog run at the same time.
This walkway also has Scottish moss grown around to accentuate it.
A green wall backdrop made of laurel hedge provides a natural background for this side yard. As a decoration, a concrete water feature that seems to be Portwenn Garden Water Fountain completes the whole look.
It's obvious that the purpose of this side yard is to connect the back yard and the front yard, which seem to be the main outdoor living spaces.
That's why there's nothing here that you can do to enjoy some time alone, except those greeneries. It is only meant to be a path that leads to another point of the property, a temporary spot. Yet, that doesn't mean that it should be any less beautiful.
If you also have a quite similar side yard that's meant to be a path only, it's important to keep it interesting like this.
After all, you have to walk through this space to access the backyard or the front yard. So, make sure it won't be dark, messy, and dirty.
5. Asian Style Side Yard Landscaping Idea with a Water Feature
One of the must-have things in your yard, be it side yard, back yard, or front yard, is a water feature. It will help you block the noise of the street if you live near a busy street.
The soothing sound of the water will make your side yard into a zen garden, a calming place that you can escape to if you want some downtime.
In most Asian-styled gardens, a water feature is a thing that shouldn't be missed.
This side yard adopted an Asian style, so no wonder it has an imposing a water feature. It is not like a majestic three-tiered fountain that you usually see in a classic design.
In fact, it is a more calming water feature, a fountain that falls into a pond full of pebbles.
In an Asian garden, stone landscaping is quite typical.
So if you want to recreate this look, make sure you have chosen the right stone as a paver, edging, wall, and even the water feature.
For the plants, always opt for narrow and tall-sized plants that represent Asia and plant them on the perimeter of the side yard, not on it.
6. Incorporating Contrasting Texture in a Narrow Side Yard Landscaping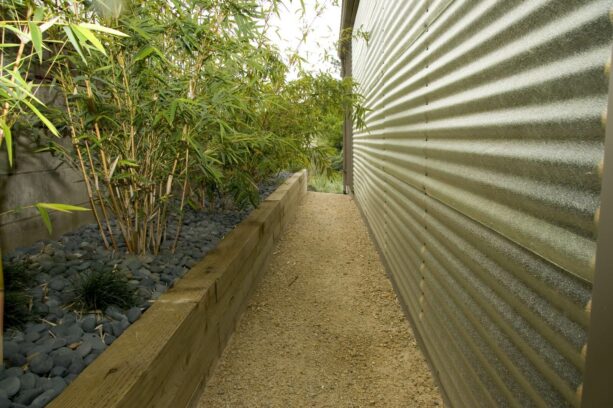 The width of this area is around two feet, which is actually not too wide. It means that the design ideas may be a bit limited.
That's the designer picked the simplest way to design this side yard, creating a contrast. There are many ways to create contrast, and one of them is through a contrast like this.
Corrugated metal walls and soft bamboo screens are material opposites. And when the two of them are placed on the two opposite sides, they will create a visible contrast.
Install them in your side yard, and you'll make your journey interesting along your own side yard.
In the middle, right where the path is, you can install a usual concrete to tie the contrasting material together. This look will work better in narrow side yard landscaping.
The bamboo screen is planted in the retaining wall. A change in grade like this is useful to keep the trees from taking over the space.
Even though bamboo is beautiful and can make an excellent living screen, make sure you discuss it with your landscaper first. Always opt for noninvasive clumping species of bamboo, so you don't have to worry about the barrier.
7. Including Low Light in a Side Yard Landscaping to Add a Dramatic Touch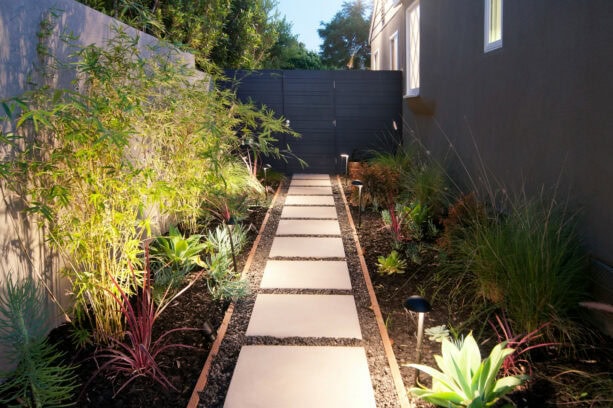 More often than not, side yards are places most of us want to get through quickly, especially at night, because they can be very spooky.
As a solution, if you have a narrow side yard that can't be added with seating space and that's only meant as a path, you have to incorporate sufficient lighting to illuminate the whole area.
The lighting will make your side yard a safe and even an inviting journey, even after the dark.
In this side yard, the designer incorporated low lights on both sides of the path. These low lights are not only useful to make the side yard safer, but they are also meant to add a dramatic touch to the whole area.
The path itself s made of pre-cast concrete pavers from Stepstone Inc. The paver itself is called "Cal Arc" with a 24" x 24" size.
The concrete path is beautifully edged to separate it from the landscaping on both sides. The designer planted various types of plants with different textures and heights to accentuate the side yard.
If you want to copy this look, you have to make sure that your side yard gets enough sunlight during the day because it takes a lot of plantings to create this look.
8. Building a Bar in a Side Yard Deck Next to the Landscaping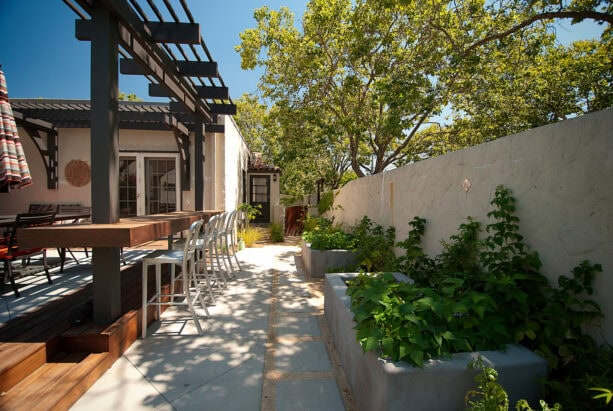 Side yards don't have to be a small and narrow spaces. If you have a very spacious side yard, you can turn it into a bar like this.
First, create a decking and build a bar on top of the deck. This way, you can get the most out of your side yard. This decking is completed with a lot of seating spaces, too, a perfect way to host a garden party.
In the perimeter of the deck, build a bar out of wood to match the surrounding deck.
This bar is attached to the pergola, an architectural element added to create an accent in the side yard. Bar stools are added later to complete the whole look.
The bar stools are placed in the concrete path, an area where the decking meets the side yard. There are container gardens along the wall on the right side to create a pretty view from the deck toward the side yard.
The container gardens are the spot you can use to incorporate greeneries and evergreens in your side yard to make it look more natural.
It has a concrete wall as a solid screen that works as a barrier to separate this side yard from the other areas. This wall also keeps the privacy, enclosing the side yard perfectly.
9. Planting Narrow Trees to Create Allee in a Tight Side Yard Landscaping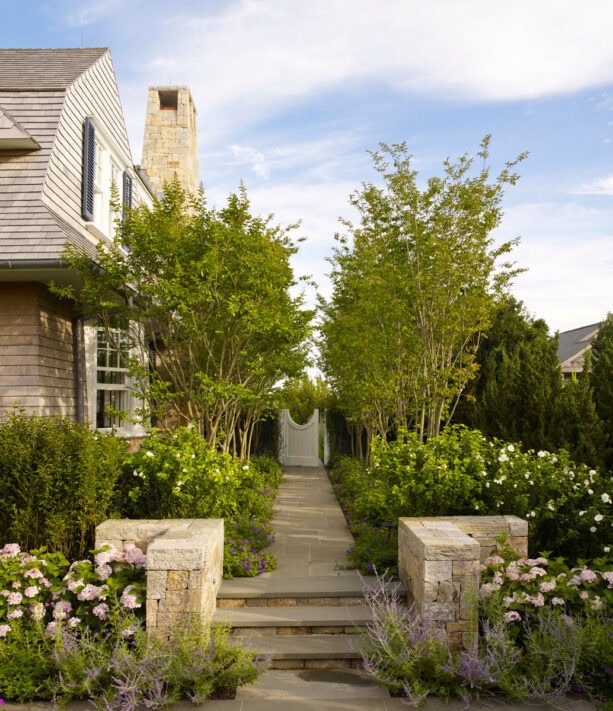 Another idea to design a narrow side yard is by creating an allee. Allee is a fancy word to describe an evenly spaced line of trees.
Right in the middle of them, you can build a path like this. The path can be made of anything as long as it matches the side yard's main style. In this picture, the path seems to be made of stone.
What makes this side yard beautiful is also the fact that it is elevated. It takes several steps to access it. Elevation always makes any spot look imposing.
The steps are even completed with two stone columns on each side, creating a visual balance.
If you want to make an Allee like this, make sure you choose the right species of trees. Some species can grow in a tight space. You're also able to make just a single line of trees on one side if you have very limited space.
It will be better if you pair the trees with some hedges or bushes.
In this side yard, the designer planted some other small trees to complement the lines of trees. The blossoms will add a pop of color to the greeneries.
10. Creating an Interesting Path in the Side Yard Landscaping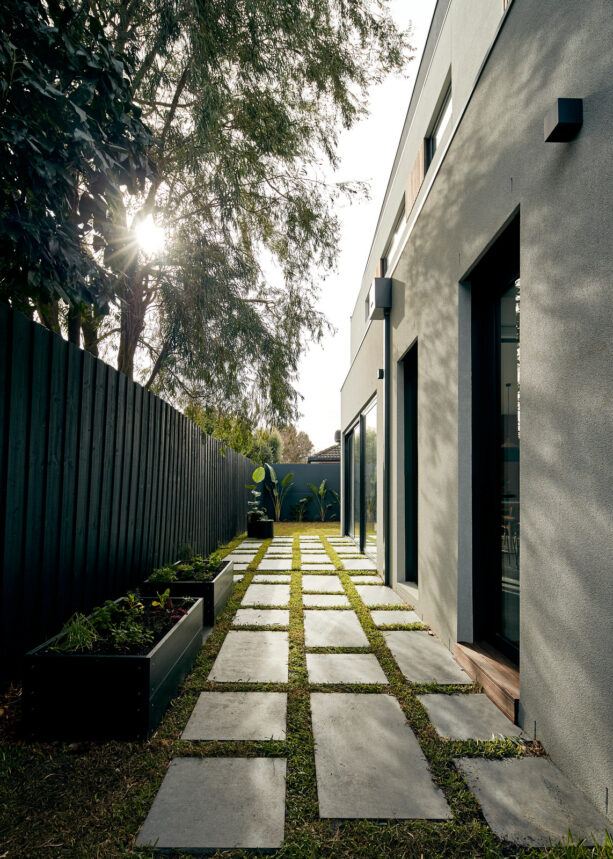 If you use your side yard as a path only, make sure you create an exciting path to walk on. It doesn't have to be bold or extravagant.
In fact, you can create a simple and minimalist look if you want a low-maintenance side yard. But make sure that the path gets the most spotlight.
Most side yards don't have enough room to play with. Yet, you can draw the eye down the length of the side yard space with an exciting path like this.
You can use poured concrete, stately brick, crunchy gravel, or hopscotch that looks like concrete pavers to create a stunning path.
It seems that this side yard has a concrete paver walkway in a rectangular shape. In order to add an accent, the homeowners also added a ground cover that fills the space between each step.
There are some container gardens on the right side that are finished in black to match the black wooden fence. These containers are filled with low plants to keep the whole side yard simple and humble.
11. Using Trellises in a Side Yard Landscaping for a Vertical Garden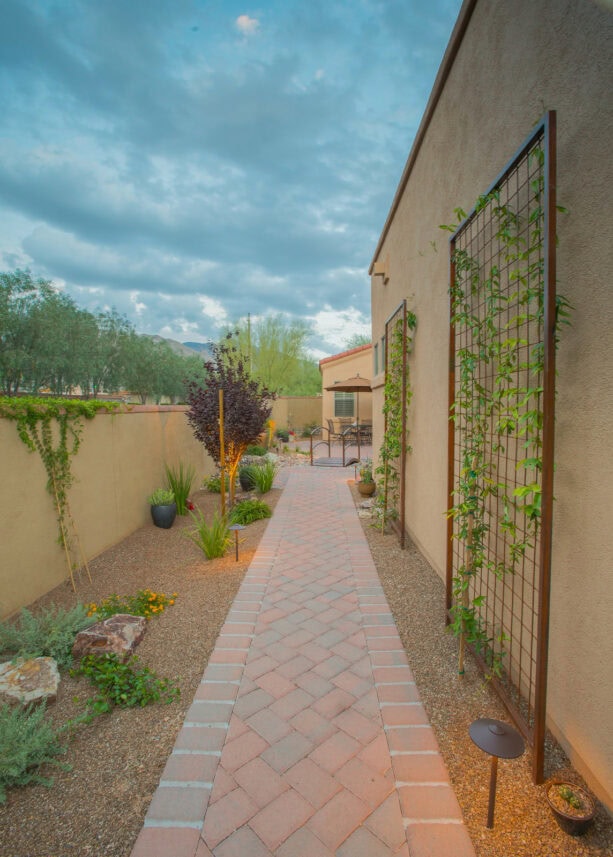 The most reasonable way to design and decorate a narrow side yard landscaping is by building a vertical garden.
The side yard can be boring if it lacks architecture. And since the limited space doesn't allow you to go bold with the architecture, you can use trellises to add architectural interest and as an alternative to stretch the garden upwards.
This side yard features custom metal trellises that have been manufactured locally by wrought iron professionals. These trellises have a 4" square grid, 4' wide, and 8' tall, painted in a bronze color.
The designer planted Cross vine (Bignonia capreolata) to grow through the trellises. This plant can grow anywhere from 30 – 50 feet along trellises, fences, or walls, using tendrils to climb.
Cross vine loves full sun to part shade. They are also evergreen in a hotter area like Arizona but can be semi-evergreen perennials in zones 6-7.
In the center of the side yard, there's a paver block path surrounded by 1/2" screened Santa Fe Brown gravel. There are also other low plants grown on the gravel, the low-maintenance options to decorate a stone landscaping.
12. Building a Japanese Styled Garden Shed in a Side Yard Landscaping
Sometimes, there's no better perfect spot to build a garden shed than a side yard. Tucking it to the side of your house can help provide privacy, especially if you live near a busy street.
You can turn your side yard garden shed into an ideal spot to escape.
In this side yard landscaping, the designer managed to build a Japanese-styled garden shed that looks to stand out along the side yard landscaping. It will remind you of a Japanese tea house with wooden panels and a bamboo accent.
Surrounding the shed are the low plants and other trees that are useful to make a lush green look.
This shed is situated on the left side. On the right side, there's a narrow garden bed filled with many plants of various heights.
To separate this side yard from the back yard, there's a bamboo screen that blends seamlessly with the garden shed, enhancing the Japanese-style look.
If you want to build a Japanese-styled garden shed like this, it's important to check your local regulations and whether you can place an outbuilding like this in your side yard before you start building.
13. Transitional Side Yard Landscaping Idea with The Potting Station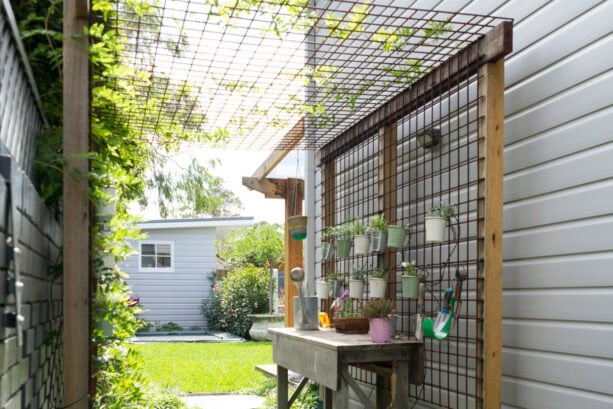 Be creative with your trellises. If you have decided to build a vertical garden in your side yard landscaping, a trellis is an element you must include.
But you don't have to use vines or other creeping plants to grow through your trellis. There's another way to utilize it as a vertical garden.
The designer cleverly used the trellis in this side yard as a potting station.
We all know that potting benches can be a bit messy. So instead of using benches, it's better to use trellises. You can still add a bench or a side table like this to store your gardening tools.
There are two trellises on both sides of this side yard, and there's a kind of arbor made of trellis too, to connect them both.
The potting station is only on one side, while the other side is filled with growing vines that keep growing to the arbor.
We can see that this side yard is not only narrow but also small. That's why it's quite weird to install a path or a walkway because it's not long enough to create a line that the eyes could follow.
That's why it's better to build a potting station like this.
If you want to recreate this look, make sure you incorporate some colorful pots or at least bright and bold colored pots. This will create a transitional look because a pop of color adds a modern vibe to the traditional trellises.
14. Sunflower Decoration as a Focal Point in a Side Yard Landscaping
It's important to create a focal point in your side yard, especially if you have a long but narrow space.
The focal point should be situated at the front, a thing that the eyes could focus on while walking through the side yard.
What a difference this cheerful sunflower makes to this side yard. All eyes are on this bright yellow color as people walk along with this space.
The main idea is that you have to incorporate a striking focal point that adds a special touch to your landscaping.
This side yard itself is quite simple. It is made of a paver block, a seemingly artificial turf on one side, and stone landscaping on the other side.
There's no real plant here because this side yard is quite shaded by the height of the property.
That's the reason why the designer built stone landscaping in this side yard. And to compensate for the minimalist look, there should be a focal point, too.
15. Adding Arbors in a Side Yard Landscaping as an Accent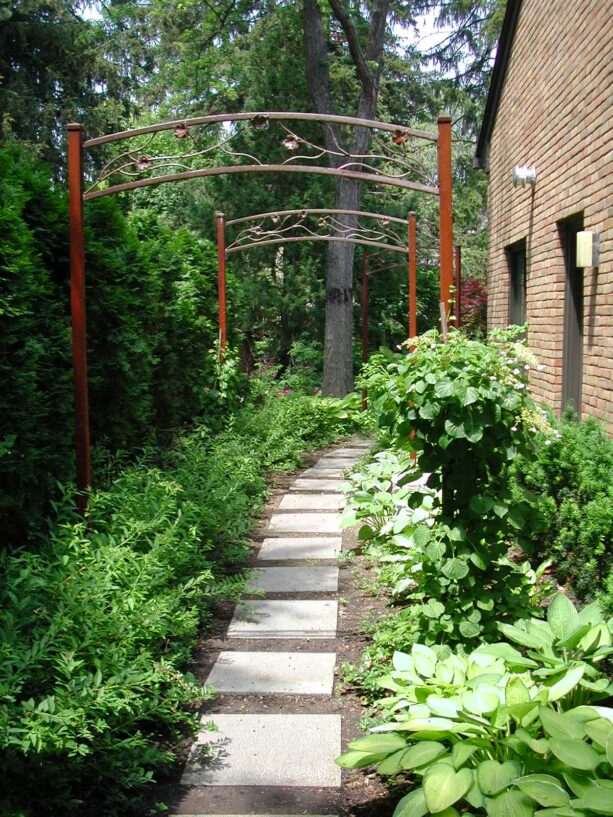 Another way to compensate for the minimalist look is by building an architectural feature overhead. It is an excellent way to draw the eye away from the sides.
In this side yard, the sides have a landscaping garden. On both sides of this space are a garden bed filled with low plants that blend seamlessly with the hedge screen on the left.
However, for some, garden beds like this are not that attractive. That's why the homeowners felt the need to add a distraction. Lighting, vines, pergolas, and arbors are the kinds of features that will have people looking up.
Architectural feature overhead can enhance a narrow side yard by defining it. The journey through the side yard will be more exciting and compressed at the same time.
In this side yard, there are two arbors as an accent designed and installed by Great Oaks Landscape Associates. Unlike the other arbors in a side yard, these ones are left bare without any vine or other creeping plants that grow on them.
If you want to incorporate arbors like this, make sure they are made of material that fits the style of your side yard. These arbors are made of metal and perfectly fit the side yard's contemporary style.
16. Side Yard Landscaping Idea with Terraces and a Waterfall
A slope in your side yard should be embraced and taken advantage of.
This side yard is situated on a slope, so the designer built terraces on one side. A side slope like this can present a number of challenges when it comes to design that is best dealt with during the planning process.
If you are creating new construction, don't let your side slope be an afterthought you intend to deal with later.
It's better to work with a landscape architect to make the best use of the side slope space before you break ground.
There's a retaining wall in this side yard that is also used as a garden bed. There, the homeowners added some plants and greeneries to accentuate this mid-century modern hillside home.
The concrete wall and steps are combined with clear wood-finished elements to create a modern vibe.
However, the waterfall is the most striking point in this side yard landscaping.
The designer cleverly took advantage of the sloped area and created a waterfall in the middle of the retaining wall. The water falls to the rectangular-shaped concrete pond surrounded by pebbles, next to the paver concrete walkway.
Even though this side yard is solely used as a path without any seating space, it doesn't make it less attractive. The soothing sound of the waterfall still can reach inside the house.
Moreover, a wooden cover protects the walkway from the weather. What a thoughtful feature!
17. Popular Elements to Add to Your Side Yard Landscaping
Even though all of the elements above can be applied in your side yard landscaping, if you want something popular and widely used to add to a side yard, here are the things that you should always take into account:
Stepping stone path: If your side yard is quite narrow, making it more like a path to your backyard rather than a freestanding space itself, you should embrace its function. Incorporate a stepping stone path to make your side yard easier to traverse. You can use any material for your path. Make sure it blends with the surrounding and the side yard's style.
Low light plantings: Because a side yard is often an area that is sandwiched between your house and your neighbor's, this area probably doesn't get a lot of sunlight. That's why, if you want to add some plants, it's always a good idea to add lush garden beds with plants that do well in partial shade or low-light conditions.
Vertical garden: More often than not, a side yard is not a spacious space. That's why you have to think vertically if you want to renovate it. Install a trellis and plant vines or other creepers that grow through the trellis. Better yet, you can mount some potted plants on the trellis. Make sure the pots are attractive enough to be a focal point.
Ground covers: If you install a stepping stone path, don't forget to add a ground cover. It's more appealing than a usual concrete walkway but has lower maintenance than ordinary grass. A flagstone path edged with a ground cover is a classic look for your side yard. When choosing a ground cover, opt for a variety that will grow densely enough to block weeds and stand up to foot traffic.
Seating space: Side yards often have more shade than backyard patios. This can be an advantage for you if you want a secluded and shady area where you can be to enjoy your evening drink and morning coffee without the sunlight piercing your eyes. Add a simple outdoor sofa or wooden bench. If you have more space, you can add a table too. As an alternative, you can turn a decorative container upside down to act as a small side table.