It's known that a gazebo is a beautiful addition to any outdoor space. You may have even had one up on your patio, too.
But the question popped up recently, can gazebos go on decks? And will it damage the deck?
The question it, gazebos, both temporary and permanent hard top, can definitely go an a decking.
The gazebos can be secured to the deck without damaging it simply by weighting them down with tied metal straps or screwing down each leg. There are several ways to do it, though.
The next question will be, should it be a permanent or temporary gazebo to create an extra party space?
Keep in mind that gazebos come in all shapes, sizes, and materials.
If you want to build a permanent gazebo, it's recommended to build a hardtop metal gazebo, for it will last for years.
This kind of gazebo comes in stainless steel, aluminum, and cast iron. Aluminum is a popular material because it is lightweight enough to go on a deck. It's also water and rust-resistant. Opt for one with a vented roof.
If you're planning to build a temporary gazebo, pick one that is easy to disassemble and assemble.
Pop up gazebo will be a great option because it can be stored away without too much effort once it's not needed anymore. Still, an aluminum frame is a popular option for a pop-up gazebo because it won't weigh down your deck.
However, the pictures of gazebos on the deck below are all permanent because permanent gazebos are preferable. Regardless, all types of gazebo will never fail to bring elegance to your space.
Here are some 15 unique gazebos on deck that can spark your inspiration:
1. Six-sided Gazebo on Deck Placed at the Corner
This is quite a large gazebo on deck. It has a rounded shape with six-sided and is quite spacious to accommodate a family.
However, it's not considered large enough to be the focal point. Thus, this gazebo is only situated at the corner, on a deck, but a bit overhanging.
There's a wooden railing surrounding this gazebo, while the railing is actually a part of the deck.
The gazebo itself has its own railing to fully enclose it. The railing is completed with a screen on all sides to protect the gazebo from the weather and insects.
This kind of gazebo is perfect for the family who has a large yard and landscaping, and they want to enjoy the view around without having to worry about the weather and insect bites.
The designer offered two options for the owners: an open seating space, which is on the deck, and a more closed and private one, inside the gazebo.
2. Eight-sided Gazebo on a Raised Deck
Compared to the six-sided gazebo, this one is larger and more suitable to put in the center of the deck. This one is no different. Due to the imposing size, this round-shaped gazebo is not placed in the corner.
The deck itself is a raised one, where you need stairs to access it from the landscaping area below. But it turns out that the gazebo is placed even higher.
On the raised deck, there's an elevated area for this eight-sided gazebo, where there are steps to reach it from the deck.
Similar to the previous picture, this gazebo is completed with a screen on all sides to guarantee comfort, safety, and privacy. There's also a railing with a panel below to show how tall this gazebo is.
Building a high gazebo on a raised deck is suitable for you who want to enjoy the scenery in bird-eye view.
If your house is surrounded by a breathtaking view or has spacious landscaping to admire, it's recommended to have this kind of gazebo on deck.
3. Pergola Gazebo to Cover a Seating Space on Deck
If you can make a pergola gazebo, why only settle for a pergola only?
Pergola gazebos are completed with a screen, wall, or latticework on one side or three sides, leaving only one opening.
This pergola gazebo, though, has two sides covered with the latticework, and the latticework is attached right on top of the railing of the deck.
This gazebo is located on the corner side, so it can be shielded by two aforementioned latticework. This area is meant to be a seating space, a secluded spot that's got more cover and comfort.
Compared to any typical gazebo, this one looks more open with a rectangular shape. It is also considerably small because it can only accommodate three people at max, judging from the seats.
However, this is the right type of gazebo if you want to decorate your small and intimate seating space.
Open pergola gazebo like this is also easier to decorate because it's basically simple, so you can add anything you like. As a pop of color, the homeowners added some bright-colored pots with colorful blossoms.
Adding colors will be easy if you let your pergola gazebo unpainted and made of wood, similar to a deck, so they can blend seamlessly to create a backdrop.
4. Rounded Gazebo Placed on a Multiple Leveled Deck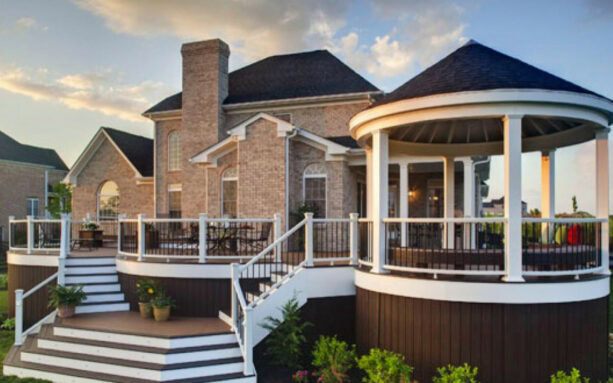 This one has also got a round shape similar to the six or eight-sided gazebo on deck before.
However, it's got no screen or railing, so the round shape looks more prominent. It's also completed with a triangular roof, common roofing for a round-shaped gazebo on deck.
We can see that this gazebo is pretty large, which is suitable for the large deck.
This deck has a multi-level, so it takes a lot of stairs to access different zones. The gazebo itself is located on the left side, and there are stairs to reach it.
Structured by several white majestic pillars, this rounded gazebo is open, completed with a custom-made circular bench to follow the line of the gazebo. This area is also high above the ground, which is common for a gazebo on deck.
If you want to recreate this gazebo on deck, make sure your deck is spacious enough to accommodate such a gazebo. It would be better if you also have a similar multilevel deck.
Let the gazebo mix harmoniously with the deck, so it has become a part of them instead of an add-on building.
5. Square-shaped Gazebo on an Elevated Deck
Unlike the previous pictures, it seems that the deck in this picture is only meant to be the ground of the gazebo. It also has a bridge-like deck that serves as a path to connect this square-shaped gazebo to another seating area.
This gazebo is also a bit raised; it's a part of a multi-level deck. The rest of the deck is used as a path and a landing, though, not as seating space.
Instead of a roof, this gazebo is more like a pergola but with a cover. The structure reminds you a lot of a pergola, but it has a real roof to fully protect it from the weather.
In order to maintain an open feel, the designer decided to let this gazebo stand without railing, except for a kind of border at the back, where the built-in bench is attached.
This gazebo is located in the middle of the landscaping. The whole yard has several zones, and one of them is the gazebo.
If you want to make a square-shaped gazebo on a deck like this, it's better to surround the area with other seating spaces, but not on a deck.
See the patio on the right side of this gazebo and another one on the other side, three of them creating a perfect L-shaped layout that accentuates the garden.
6. A Combination of Hot Tub and a Gazebo on a Deck
Who said that the gazebo on deck is only useful for a seating space? In fact, you can use it for many reasons.
See how creative the designer is. They created a gazebo on deck to accommodate a hot tub. A combination of the hot tub and a gazebo on deck is quite tempting.
Who doesn't want to relax in a hot tub while enjoying the view outside?
On top of that, this gazebo and hot tub are also completed with a bar!
See the small bar on one side of the hot tub, complete with some stools that can hold four people at once. The other side of the tub is meant to be the opening and access to reach the tub.
The other two sides are covered with a screen to maintain privacy. The roof has a traditional style with exposed beams, reminding you of a hut but in a more modern way.
To add a pretty accent to this gazebo on deck, the owners placed some colorful blossoms that look pop against the wooden deck and gazebo.
7. Octagonal Gazebo with a Cathedral Roof on a Deck
This large deck also features a spa. However, it's not located in the gazebo. It has a pergola as a cover, and an octagonal gazebo is built next to it.
The gazebo offers a more secure option for seating space. Even though it has no trellis or screen, this gazebo has an imposing two-tiered roof in a cathedral style.
This gazebo has a low wall around it instead of the trellis placed on the deck. This low wall is versatile because it can also be used as a bench, an extra seating space to accommodate more people.
Since this gazebo is not really raised and the deck is also very low to the ground, this one is a better option if you only have small landscaping or yard.
You don't need a bird-eye view to see your surrounding. It's recommended to plant towering trees around your gazebo, though. Those trees are useful to give an extra shield for the gazebo.
Similar to the pergola, this gazebo is made of vinyl. It's a good alternative for wood if you want something more lightweight and affordable.
It has 8' square posts and a musket gray standing seam metal roof, making it a hybrid between a pavilion and a gazebo.
8. A Gazebo Without a Railing is Used as an Outdoor Kitchen on a Deck
What a super large deck. It will be a waste if you have a similar deck without a gazebo. Here, the gazebo is open with a gable roof completed with a small square-shaped "window" at the top.
There's a reason why the homeowners preferred it to be open; it's because this gazebo on deck is meant to be an outdoor kitchen. It has four posts; three of them are attached to a countertop for the kitchen.
Outside the gazebo, there's an outdoor dining space, too.
Since this gazebo is used for a kitchen, it is more functional rather than aesthetic.
Other than the green tiled roof, this gazebo on deck looks simple without any decoration. It also looks bare because the center space is left open for foot traffic.
If you want to build a gazebo on deck for your outdoor kitchen, it's essential to add the kind of rood that can fully cover your kitchen utensils and protect them from the weather.
Make sure that it is not completed with too many decorations that can disturb your cooking activity.
9. Secluded Gazebo with Curtains on a Deck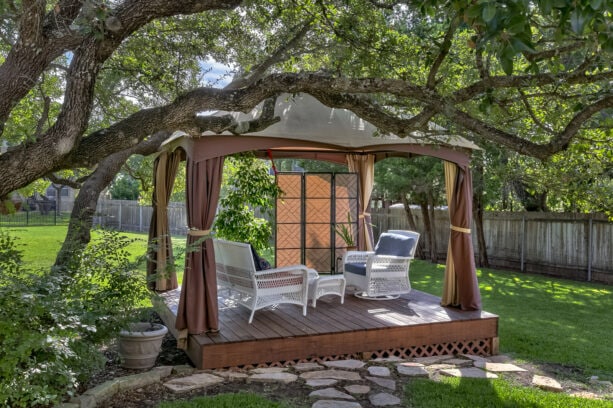 There's nothing more elegant than completing a gazebo on deck with curtains. The curtains serve as a temporary screen for the gazebo.
This is a good option if you want a full view of the surrounding, but you don't want to deal with insect bites.
Sometimes, you need to get full privacy, while other times, you want more freedom. If that's the case, it's better to use curtains instead of a screen.
The curtains can be folded to get a full view when not in use. It seems that this gazebo also has a canvas roof. This is a pop-up gazebo, a temporary option that can be stored away during the summer.
The raised deck has a latticework below to cover a hollow space.
Since this deck is only used for the seating space in the gazebo, when the gazebo is stored away, the seating space will have no cover, which is a better option during the summer months when you can enjoy your surroundings without worrying about the weather.
This gazebo on deck is also secluded, placed in one corner of the landscaping. Imagine sitting here when the curtains closed. What a serene and calming zone.
10. Oblong Gazebo on a Deck with a Craftsman Style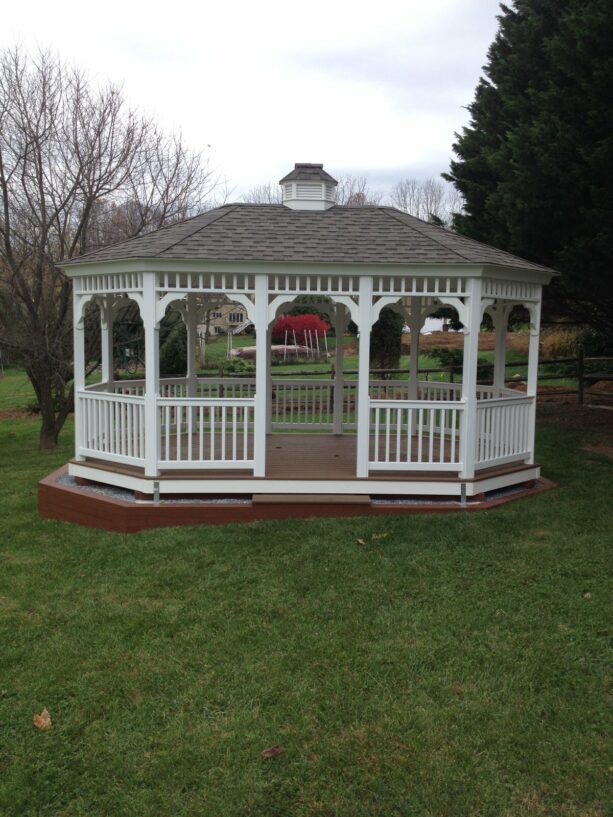 We can see that the ground where the decking is built is not even. That's why the deck is raised in some parts but on the level ground in the other parts. It makes the gazebo on top of it have a perfect even ground.
If you have uneven ground like this, it's wise to use a deck to keep the gazebo's floor even.
This gazebo is a bit elevated because the decking has another level for the seating area.
Unlike the typical gazebos, this one has an oblong shape, completed in the craftsman style. The craftsman style is represented by the ornate posts, trellis, and the hip roof.
There is no seating here. It seems that this gazebo on deck is not meant to be an area where people can gather around. This is only useful as a short escape.
However, an empty gazebo is also beneficial. It gives you more freedom to decorate it; therefore, it's more versatile than any usual gazebo.
It appears that this craftsman gazebo on deck is made of vinyl that imitates wood. The white posts and trellis deliver a simple look. But, situated in the middle of the lawn, this can be an incredible oasis.
11. Fully Covered Gazebo on a Deck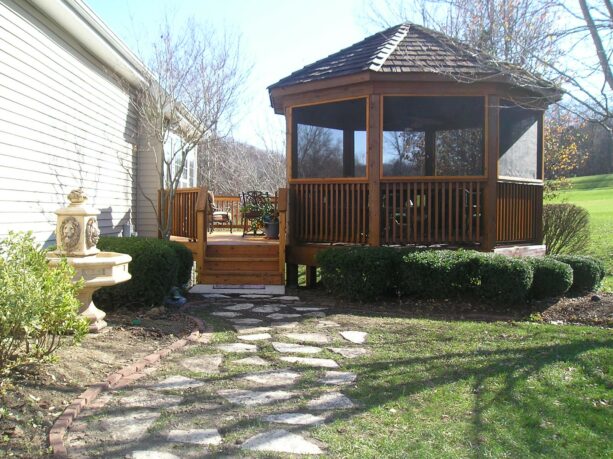 This deck is actually not that large, but that doesn't mean you can't have a gazebo.
You can always have a gazebo on deck despite the size of the deck. But, you have to fit the layout and the design of the gazebo on the deck where it's situated.
This gazebo is also considerably small, even though it has six sides. The round shape is typical, especially since it's located in the corner of the deck.
It's easy to see that this gazebo is a perfect spot to enjoy the view of the landscaping due to the elevated design. However, the owners can't fully enjoy the view because this gazebo is fully covered.
All of the sides are covered with a screen, while the lower part is completed with a trellis.
Even though this gazebo might limit your view, it can protect you from external elements. This is also a great spot to hang out if you need privacy.
In order to accentuate it, below the gazebo, where there's a hollow space between the deck and the landscape, you can plant some bushes or shrubs like this.
Those plants will encircle your gazebo and make it look more visually aesthetic.
12. Asian-style Gazebo on a Small Deck Over a Koi Pond
If you always like a Japanese garden or have already had one in your yard, it's good to complete it with an Asian-style gazebo.
Actually, there are many interpretations of the Asian style. You can create a gazebo in Asian style with a tiled or thatched roof, a pagoda-like design, or wood/bamboo elements.
In this gazebo on deck, the Asian style can be sensed through the custom cedar ad cypress wood, creating a gazebo in a Japanese tea-house design.
The architecture will remind you a lot of a traditional Japanese house. It has a wooden panel at the bottom and a glass screen at the top, creating a wall on three sides of this gazebo, leaving one side open as an entrance.
There are two posts at the front that are connected to the exposed beams at the ceiling. Instead of being minimalist, this Asian-style gazebo is prettily intricate.
The deck is small, only a square shape to follow the design of the gazebo. It's because this gazebo wasn't built for the deck. It's the other way around; the deck was meant for the gazebo's floor.
To top it off, there's a Koi pond over the gazebo on deck to complete the Japanese-style look. This area truly represents a zen garden.
13. Open Gazebo on a Coastal Deck with a Beach View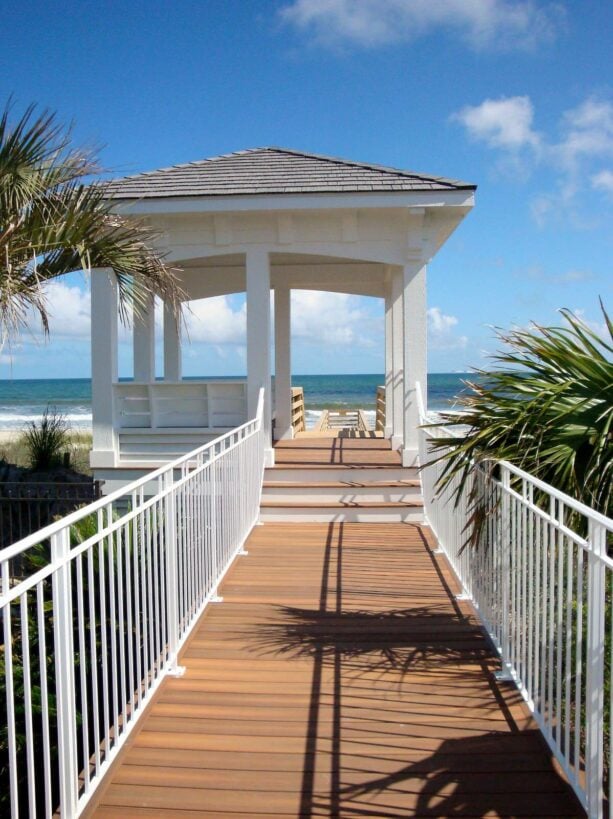 If you have a beachfront property, it would be a waste if you don't build a coastal deck with a gazebo on it to enjoy the ocean view.
The deck is like the ones you usually see on the beach, a long path that leads to the ocean view.
This long deck is completed with a trellis on both sides to promote safety. But, instead of leading to the ocean, this deck ends at the gazebo.
The gazebo is situated on the deck, but it is more elevated, so there are some steps to access it from the coastal deck.
Similar to the deck, this gazebo also features a coastal style. You can see it from the white posts, trellis, and even the bench.
It's actually a square-shaped gazebo with no trellis and screen, so the owners can fully enjoy the ocean view right from the patio.
In order to promote the coastal style, the homeowners preferred to keep it simple, free from clutter and unimportant decoration.
This way, the white shade looks more prominent, especially it is paired with a wood element from the deck to create a warm and bright ambiance.
14. Victorian Styled Gazebo Next to a Pergola on a Deck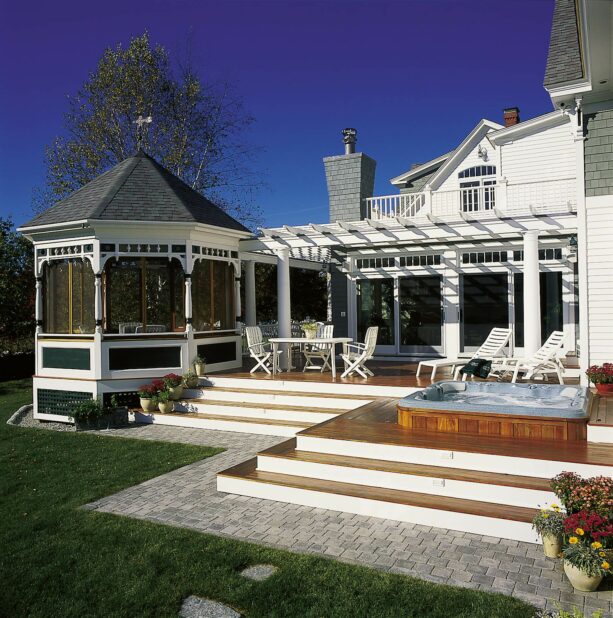 This mid-sized deck has three different zones, in spite of the fact that it is not really large.
The gazebo on deck is situated on the left side, where there's a pergola with two more open seating spaces next to it. There's also a hot tub on the right side. We all agree that this is a complete decking with many functional areas.
The gazebo is enclosed with a panel and screen. Due to the height, there are two panels at the bottom of the gazebo instead of one. These panels are useful to cover the empty area between the deck and the ground.
There are steps to access all of the zones on the deck from the landscaping.
Since the pergola doesn't really have a cover to protect the seating spaces, the homeowners decided to have a gazebo. This gazebo is a better option during the cold and rainy months.
The great thing is, that this is a Victorian-style gazebo with a lot of intricate details. You can see the ornamental posts that support the triangular roof, which is a key element in the Victorian style.
15. Gazebo with a Gable Roof on a Beach-style Deck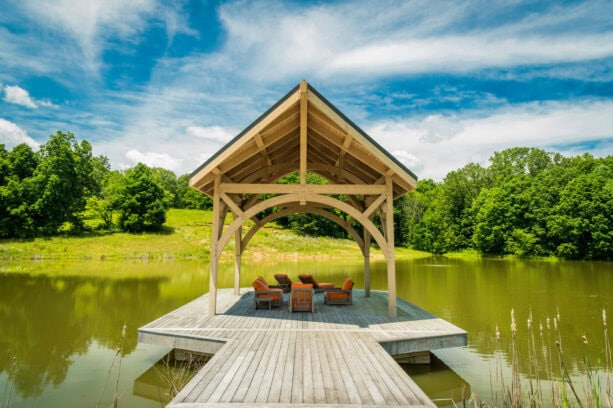 This is another beach-style deck that looks lovely with a gazebo on it. But, this one is not located on the beachfront. Instead, this deck opens to a lake surrounding it.
Like any coastal deck, this one also features a long path that leads to the gazebo. The gazebo itself is built at the far end of the deck.
It has a gable roof that looks suitable for the rectangular shape of the gazebo because it has a long shape.
In order to enable the owners to fully enjoy the view, there is no panel or screen whatsoever around. Instead, on four sides of the gazebo, there's an arched opening that is connected to the exposed beams and structure of the roof.
There are two lounge chairs facing the lake and three chairs facing each other to promote an intimate setting. The homeowners preferred to keep this gazebo minimalist and lowkey and let the surrounding lake be the spotlight.
If you want to build a similar gazebo on deck, it's recommended to let it open and let the warm breeze fill the whole gazebo.
16. Types of The Gazebo on Deck
Generally, there are several types of the gazebo on deck based on the shape, designs, and materials. Here they are:
Types of gazebos on deck based on the shape:
Six-sided: There are six sides in this gazebo, and this one is usually placed at the corner of the gazebo.
Eight-sided: This gazebo is bigger than the six-sided one. It can accommodate a lot of people, so it's better to be situated at the center of the deck, complete with a center table.
Rounded: This gazebo on deck is a perfect spot to relax. It's better to complete it with screens to protect the area from the wind and insects. The rounded gazebo delivers a small and intimate ambiance.
Oblong: This gazebo is useful to maximize the view around. It also delivers a unique look because most gazebos are in a round shape.
Square shaped: This is a perfect alternative for a round gazebo. This one is usually situated on a standalone deck.
Rectangular: Similar to an eight-sided one, this gazebo is perfect for hosting a garden party. This can be utilized as large seating space.
Types of gazebos on deck based on the design:
Victorian: This is a classic and elegant gazebo that can be made of metal or wood. It features many decorative touches, like wrought iron railings or low carved wood, fretwork, friezes, and decorative finials to increase its beauty.
Craftsman: This gazebo on deck usually has a low-pitched gable roof and exposed rafters and beams, complete with wooden railings. It's usually in harmony with the surrounding nature.
Beach style: This style is also called coastal. It features white color, with a touch of blue/green. This deck is also like a path that opens to an ocean view. The gazebo is usually installed at the end of the decking.
Asian style: This gazebo on deck is based on classic Asian architecture, like pagodas. It is usually elegantly minimalist or even beautifully intricate. Generally, it is made from wood with a tiled or thatched roof.
Pergola: Pergola gazebo on deck is a long and functional style of gazebo that can be used as a sitting area. This type of gazebo is made of a series of vertical pillars supporting cross beams. Usually, this one also has a sturdy open lattice.
Types of gazebos on deck based on the materials:
Wood: Wood gazebo has a natural beauty that fits perfectly in a deck setting. Popular wood types of the gazebo on deck are redwood and cedar. Hardwoods have the strength and natural moisture resistance. For an exotic choice of wood, you can opt for bamboo, known for its durability and flexibility.
Metal: Commonly, metal gazebos are made of either steel or aluminum. They can be painted to match the decking and other outdoor accessories. Steel can also be shaded into various patterns for roofing, rails, or decorative panels.
Vinyl: This type of gazebo on deck can be embossed with texture to look like wood, brick, or stone. It is lightweight and long-lasting, able to be painted to imitate steel or other materials.