Landscaping your front, back, or side yard is one thing, but landscaping an area under your deck is another thing.
That's the most under-utilized space that most people don't know what to do with it.
You can build a lattice or create a patio with an under deck area, but a little landscaping there can make your yard an even more cozy place to relax.
Why just stick with a simple patio if you can make an under deck landscaping and add a seating area?
In fact, creating a landscape under the deck is not that challenging. You can even include it in your next DIY project.
Basically, all you have to do is just lay out a border, install edging, remove existing turf, and arrange the plants. However, just like any planting project, it's better to do this in the spring or fall.
You can create a similar look to the rest of the landscape to create cohesion, or you can design totally different landscaping from the rest of the yard to separate it from its surroundings.
The former is good if your under deck area is a part of yard landscaping, while the latter is great if the entire area surrounding the under the deck is simply used as a driveway. No need to go too far when designing an under deck landscape. A low-maintenance garden will do.
Not sure what to add? Here are some simple under deck landscaping that you can start building on the next weekend:
1. Low Maintenance Gravel Under Deck Landscaping with Plants in the Perimeter
If you prefer to keep your under deck area free from plants, you can transform it into rock landscaping, a low-maintenance surface covered with crushed rocks. Pea gravel can also be a good alternative as a ground cover.
There are various colors of crushed rocks you can choose from. Beige like this is indeed the most popular one because it can fit any landscaping style and be paired with other elements seamlessly.
For a sloped under deck area, it's recommended to use a landscape fabric underneath before you pour the rocks. That's going to help make every single rock stay in its place.
Since this under deck area seems to be an entrance to the basement, the homeowners added a concrete path from the garden right to the front of the basement door.
The freeform edging appears to be made of stamped concrete in a reddish-brown color, more like a brick, that subtly contrasts the crushed rock surface.
Just because you install rock landscaping under your deck doesn't mean you can't add one plant or two.
The shrubs and perennials are only planted in the perimeter next to the edging to keep everything clean and neat. The perennials are planted inside the planter boxes, while the shrubs are planted through the rocks.
Simple, yet it creates an organized look that no one can resist.
2. Pea Gravel with Shrubs and Small Trees Bordered by an Edging in an Under Deck Landscaping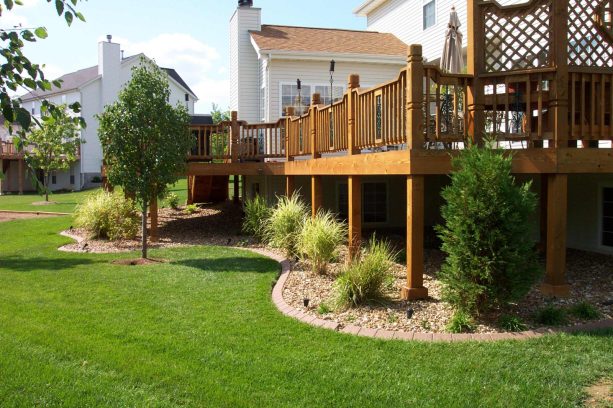 Basically, the idea is just the same. This is when you optimize the area under your deck and transform it into rock landscaping, the easiest and simplest landscape to design.
The homeowners used pea gravel in multicolor instead of just beige to enhance the visual. The multicolored ground cover will make the under deck landscape look more attractive. See how it contrasts the mown grass garden next to it.
It seems that the edging is made of stamped concrete. As a versatile material that can mimic other materials perfectly, stamped concrete is the best option if you want to add some fun to your landscape.
The edging looks almost similar to the pea gravel when it comes to tone, so it's clear that the homeowner doesn't want to create any contrast.
There's no flower. Instead, large bushes and small trees are planted in the perimeter of this under deck landscape.
It's the most reasonable way to add plants in your under deck area because most plants need a large amount of sunlight regularly, and being planted under the deck surely won't help them grow.
If you want to plant some right in your under deck landscape and there's no way sunlight can reach them, make sure those plants you choose are the ones that don't need sunlight that much.
3. Stone Under Deck Landscaping with a Seating Space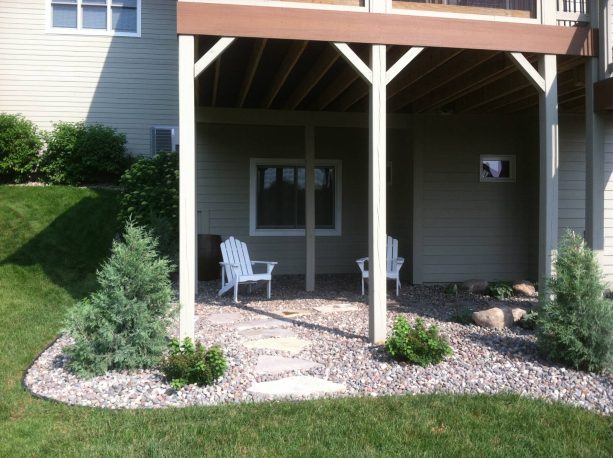 A patio under the deck area is a good thing indeed. But who needs a patio if you can combine landscaping with a seating area to enjoy some time outside?
This contemporary landscape seems to be covered with river rocks, another alternative of pea gravel if you want something more natural with a more polished texture.
There is a walkway, too, that appears to be made of the rock slab. Rock slab walkway in the middle of river rocks will create a more natural look.
Some small boulders are placed strategically in this under deck landscaping to complete the natural look.
Greeneries are planted in the perimeter, which means to be a border between this landscape area to the garden surrounding.
Greeneries planted in rock landscaping will create a lovely contrast but at the same time complement each other because despite the tone difference, after all, these are natural elements.
Two white Adirondack chairs are added in this area as seating space. Maybe that's not much for seating space, but that's enough if you just want to enjoy some time outside during the day without having to worry about the UV rays.
4. Bushes Strategically Planted in Soil Under Deck Landscaping with Walkway as a Border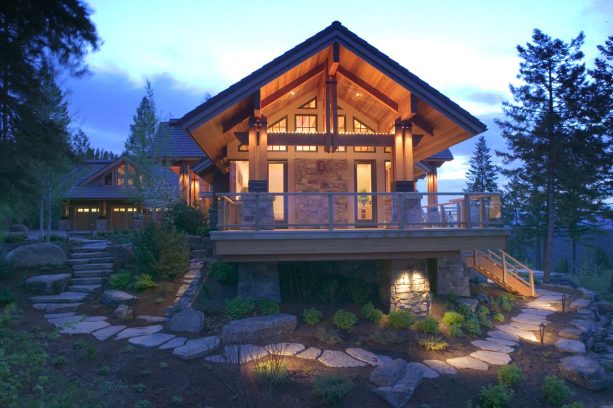 Now, let's move on to the evergreen landscape.
Since this spot is considerably smaller than the previous under deck areas, it would be easier for you to plant some greeneries, because the small space enables sunlight to reach those plants.
These bushes were strategically planted, not too close and not too far from each other to create a group of greeneries.
This under deck landscape is also seemingly sloped. However, since it only needs a small amount of soil, combined with the structure of the deck, there's no need to use retaining walls to keep everything secure in its place.
Yet, some large boulders are placed in several spots, and they seem more to be a decoration than a wall.
No edging or border, too; well, at least there's no real edging like the landscape you've seen before. Instead, there's a stone walkway, which is actually a walkway that connects the back building to the other side.
This walkway circles the front side of the entire house, and it acts as a border to separate the under deck landscape from the whole garden. Lack of space makes it rather impossible to install an edging.
5. Rock Under Deck Landscaping with Boulders and no Plants
The large area under the deck makes some people a bit discouraged to design a garden in it.
Part of the reason is it's pretty challenging to find suitable plants that can grow with a minimal amount of sunlight in certain areas. Thus, the only option left is designing a rock landscape.
Even though creating a rock landscape sounds simple, it doesn't as simple as it sounds.
You need to pick the right ground cover and make sure it will stay in its place. Plus, the color should also be put into consideration. There are various colors when it comes to gravel, crushed rocks, or river rocks. Each of them has its own beauty and style.
Yet, this under deck landscaping seems to have a crushed rock to fill the whole ground. Its gray color blends seamlessly with the other stone elements and concrete used in this area, clearly to create a consistent look.
Despite some big boulders in the perimeter of this under deck landscape, there's nothing except the crushed rock. Plain for some, but it makes the area versatile.
The absence of plants, boulders, and other garden elements makes it an excellent place for a kid's playground, barbecue party spot, or some kind of spot to put away your stuff.
6. Boulder Bordered Under Deck Landscaping Completed with a Wooden Swing
The design of this under deck landscape proves that it's not only the rock garden that can be completed with a seating area, but a green garden can also be equipped with a seating space.
Compared to the other under deck areas before, this one is narrower, so it's possible to plant some greeneries.
Some small plants have filled this area along with the soil. The bare ground makes the whole area look natural, and it accentuates the mown grass around.
Boulders border the entire space to complement the soil ground, while the wooden swing is hung from underneath the deck.
Hanging swing can be a great alternative to chairs because you can enjoy your outside time more fun and comfortable. Plus, hanging swing won't disrupt the greeneries you plant on the ground.
This is an excellent look if you have a similarly narrow under deck area that can still be illuminated by natural light. Imagine how bad it would be if you had to sit and swing in a dark space under your deck.
The point is that seating space is good, as long as it doesn't damage the plants and is well-lit.
7. Gravel Landscaping with Planter Boxes Under the Deck
This redwood deck doesn't have much space underneath. It's because the design of the deck is overhanging, and the area below the overhang space is what you should optimize.
Compared to the previous picture, this one is even smaller and narrower. It's not completely shaded. In fact, it tends to open to the air and light.
With this kind of deck, it means you don't have to create a totally different landscape from the surrounding. Instead, make a vast landscape that reaches the area under the deck.
See how the homeowners installed a gravel landscape that's meant to be a border of the larger garden in the center.
Since this is supposed to be a border, it's installed in the garden's perimeter, and it coincidentally reaches the area under the deck too.
There are two planter boxes that seem to be made of metal. Using a planter box in a gravel landscape is a great idea to create a more structured and organized look. This way, the gravel will remain sleek and polished without any popped-up plants.
Part of the planter boxes are shaded by the overhanging deck, but that doesn't stop them from getting the right amount of sunlight.
8. Pea Gravel Ground Cover with Wood Edging in an Under Deck Landscaping
Using pea gravel to fill the ground of an under deck landscape is a common method. This one is no different from the other rock under deck landscapes before.
What makes it unique is instead of freeform, the edging is in a straight line, creating a more structured and sleek look.
It appears that the homeowners want to stay low-key to the edging. Instead of making it decorative out of stamped concrete or other prominent materials, the homeowners used a super small and thin wood to separate the pea gravel landscape from the garden around.
And it proves to be effective because the wood matches the deck above, and the line also follows the decking line at the top.
If you think a well-structured landscape is more attractive than the freeform one, then this look is just for you.
The greeneries are planted in the perimeter of the landscape, a usual way to complete a large under deck landscaping.
These small trees partially cover the under deck landscape, making it look less exposed to the open air. Yet, at the same time, those trees also accentuate the pea gravel.
9. Narrow Under Deck Landscaping with River Rocks and Bordered by a Wooden Board
Another overhanging deck with a narrow under deck area.
Due to the lack of space, it's impossible to incorporate many elements into this landscape. However, it should not stop you from adding some greeneries to it, paired with the rock ground cover.
See how natural this under deck landscape is. It has a combination of wood, stone, and plant, three natural elements to add if you want to achieve an organic landscape.
It seems that this narrow space is filled with river rocks, and it is retained by a wooden board that acts as a makeshift retaining wall, completed with small wooden columns to support it.
Creepers are grown through the wooden wall and climb right up to the wood/cable railing on the deck.
In front of this narrow space, the ground is covered with soil, bare ground with smaller plants to complete the whole look. Creating a contrast between the bare ground and a rocky landscape is an aesthetic way to decorate a small space.
The under deck are may be small and narrow, but it's decorated beautifully with a mix of different tones, textures, and sizes, completed with creepers as an alternative to bushes that are usually found in under deck landscaping.
10. A Line of Pieris japonica in a Latticed Under Deck Landscaping
Covering your under deck space with a lattice is a clever way if you don't want to deal with any kind of landscape that fills the entire area.
Lattice can be a cover as well as a boundary to set a border where your under deck landscape should start and end.
This lattice screen blends seamlessly to the deck above and even to the wooden staircase. It seems that they were made of the same wood type and finished with the same treatment.
A line of Pieris japonica is planted right in front of the lattice screen.
Since this is also an overhanging deck that leaves only a small and narrow place to decorate, especially with the lattice screen, planting bushes like this will fill the whole area fully, leaving no space to reveal the bare ground.
Juxtaposed with the other plants, look how this Pieris japonica accentuates them. The red flowers give a pop of color to the green canvas around, and they especially look pop against the wood backdrop.
With this kind of large bushy plant, no need to add edging or border anymore because it won't be visible anyway, fully concealed by these plants.
Instead of edging, the homeowners just make the concrete floor stop right in front of the line of Pieris japonica, making everything mix harmoniously.
11. Eclectic Landscaping with a Stone Path Surrounded by Plants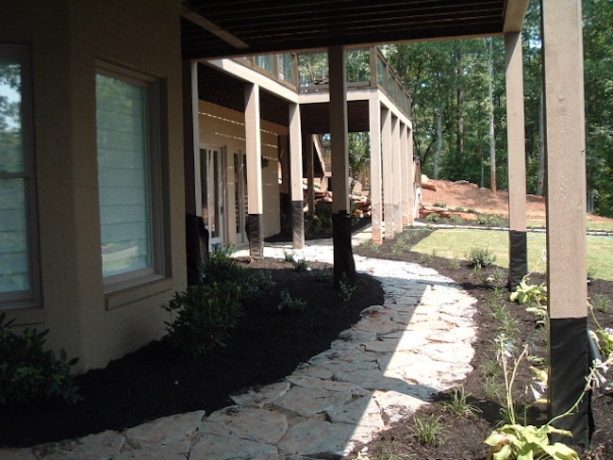 Basically, this landscape is not exclusively made for an under deck area.
This diverse landscape fills an 80 ft space in the yard, including under the deck and under the screen porch. That's why the space seems long and large.
Even though this under deck area is fully shaded, the homeowners didn't want to design rock landscaping. Instead, the bare ground with plants fills both spaces of the white stone path.
It is possible if you have an under deck space with a high ceiling, which means that the patio is high on top.
A high ceiling means an airier area and more space to let the natural light in. This way, the greeneries you planted will still be able to grow properly with a sufficient amount of sunlight.
This kind of landscape may look plain and too bare for some, pulling off the look of an unfinished project.
If you want to modify it a bit, you can choose some larger and bushier plants to fill the ground on both sides of the stone path. It's even better if there are colorful perennials between the bushes as a splash of color.
12. Sloped Under Deck Landscaping with Soil and Decorative Plants
From this angle, we can see the two entertainment levels of this backyard.
According to the landscaper, this backyard actually had three-level, but this picture only showcases the two. There's a cedar jacuzzi tub in the second level with a hammock as a reading nook and the fire lounge as well as the game area in the lowest level.
It seems to be a small deck in the second level, where the cedar jacuzzi is installed. Right underneath it, the landscaper filled the space with mulch, similar to the entire ground of this landscape.
The under deck area is consistent with the rest of the landscaping. It's an extensive part, the area where it slopes down to the retaining wall.
The landscape doesn't stop even though the area under the deck seems a bit darker and more closed than its surrounding. Soil is used as the plant bed.
The plants incorporated there are also similar to the others in the whole landscape.
It's clear that basically, the plants on this landscape are not meant to be functional. They are more like a decoration, planted not too close to each other, so the bare ground is still exposed, leaving an open possibility if the homeowners want to add some more elements in the future.
Unless you're a skilled and professional landscaper, it's quite challenging to design and create this whole area on your own.
You need professional help to complete the project. It's because the under deck area is the extensive part of the entire landscape, so in order to create a look like this, you need to design a whole landscape instead of just an area under your deck.
It's possible if you want to modify this look a bit by creating a whole different look to the under deck area that you can build on your own, but that won't make cohesion anymore.
13. Minimalist Under Deck Landscaping with Large Boulders
What a minimalist space. This is also a narrow under deck space that's formed by the protruding deck above.
Not every large under the deck area should be filled with rock ground cover, and not every narrow space should have greeneries and plants.
Even though evergreens are possible to plant in a narrow under the deck space because they get the natural light to grow, many of us still prefer to design a rock garden.
See how the homeowners design a rock garden to fill the area in this landscape. It's not completely a rock garden with pea gravel or river rock and all, but this area surely features rocks, boulders, and stones without turf and grass.
The under deck area is simply filled with what seems to be pea gravel and bushes with large boulders as a border.
Plants are added to accentuate the rocks and boulders, but they are not meant to make an evergreen garden. In fact, it appears that these are drought-tolerant plants that you can usually find in desert landscaping.
The homeowners see this landscape in the big picture. Instead of designing it as a separated space to the property, they make them correlated to each other.
See how the stone landscaping with a natural look contrasts the modern exterior of the house.
14. Important Tips for Designing Under Deck Landscaping
From rock gardens to soiled plants, every picture shows its own beauty.
Despite the look and design, here are some important tips if you want to start designing an under deck landscaping right away:
Choose Your Plants. Everything is easy if you have determined what to plant in the area. Start by choosing some larger shrubs or even a few small trees. After that, choose ornamental grasses or smaller perennials to fill in around them. Make sure the plants you choose will grow in the amount of sunlight your under deck area gets.
Select the Border. After everything's set with the plants, start arranging them in a way you want them to fill yours under deck area. This will help you get an idea of how big this space should be and where the landscape border needs to install. You can use a garden hose as a temporary marker to define the border. If you have determined the border, use landscape paint to mark it.
Dig up Existing Turf. After marking out the border, move away from your plants first and dig up the existing turf within the border. No need to dig deep. Along the border line, use the edge of the shovel to slice into the turf. After that, slice the turf again into smaller chunks. Slide the black of your shovel around an inch under the turf. This will loosen the grass so you can peel the sod to expose the underneath soil.
Install Border Edging. Now, install your border edging to define your under deck landscape area and to keep the grass from getting back in. To make it easier, dig a few inches deep trench along the border. Then cut pieces of metal, plastic, or wood edging to fit your bed. Just work in small sections. Put the edging along the border and connect each piece with a connector tube if needed. Fill the trench with soil to secure the border edging into place. If you do it properly, the top of the edging should be around an inch above the top of the soil.
Lay Out Landscape Fabric. It can minimize weeding. But, you can skip this step and just simply rely on mulch to keep down weeds. Put the landscape fabric to the whole area is filled in, and cut it to fit the area inside the border.
Cut Holes in Fabric and Plant. Cut a hole in the landscape fabric for each plant you've chosen before. Start planting them by digging a hole in the soil underneath. Don't forget to fill the gaps around the plants with the soil. Once every plant has been planted, water them properly to help them settle in.
FYI, those steps are only for soiled plants under deck landscaping.
For a simpler rock garden, you can choose rocks and boulders to fill the area instead of choosing plants. Make sure to use landscape fabric before start filling in the space with your selected rocks.