Landscaping with rocks and boulders has been considered a low-maintenance option for you who don't want to deal with regular watering.
Most rocks and boulders are used in Asian landscaping because that kind of landscape is often associated with water features.
And what's better than combining river rocks, boulders, and water together to imitate a creek, stream, or waterfall?
However, rocks are also usually used as a ground cover. In rock landscaping, river rocks or small pebbles are used to cover the ground instead of soil or mulch. And as a decoration, large boulders are strategically placed.
In some cases, the boulders can be used as a draining solution, and in other cases, boulders are useful as a retaining wall.
Rocks and boulders can also create a rustic or craftsman landscape.
In fact, these elements can fit any type of landscape, even modern, as long as you know how to decorate them.
Still not sure how to incorporate rocks and boulders in your landscape?
Here are 15 attractive landscapes completed with rocks and boulders plus the usage of them:
1. Hillside Landscaping with Boulder Garden Walls and Crushed Rock Patio at the Top
Hillside shouldn't have stopped you from having rock landscaping.
You see, in this picture, the rock landscape has a terraced garden completed with wood structures that are used as trellises, walkways, and garden dividers.
There's also a gravel path with stairs leading to the crushed rock patio at the top of the hill. The boulder garden walls are useful to form terraces. The multicolored boulders are meant to retain the soil, so it stays in its place.
The plantings are added, but not too many to cover this whole structure up. Those are drought-tolerant plantings that enhance the desert and dried look of such rock landscaping.
The crushed rock patio at the top has a permeable surface that lets water percolate into the soil below.
The landscaper also installed a brick border around the patio to separate the area from the terraced garden below.
What a clever way to incorporate rocks and boulders. This way, you don't only enjoy your rock garden from the inside, but you can also sit on the patio and have the best quality time with your family.
2. Boulders and Rocks are Used to Mimic a Natural Pond in Rustic Landscaping
Who needs a garden if you can build your own waterfall right in your backyard?
The idea of having a waterfall on your property is so tempting. It's as if you had your own "nature". And basically, creating a waterfall with a "natural pond" is possible as long as you have the right sources.
This rustic landscaping features boulders and rocks to mimic a natural pond. This can be an excellent alternative for a spa and swimming pool.
There are many types of stones and rocks used in this project. But, basically, the landscaper used High Cascade Granite.
The small stones lining the bottom of this pond are river rock, while the larger boulders around are fractured granite. The pond bottom has a mix of Glacial River Rock and Granite Cobble.
Adding greeneries around will help make the entire area look more natural. No need to overwhelm the pond with too many trees. Instead, plant such small plantings in the border of the pond to accentuate the entire rocks and boulders.
The boulders are also used to create a terraced surface to form a waterfall. In the upper level of the waterfall, the boulders are overlapped with each other, serving as a strong and solid wall to border the area.
3. Rock Garden Landscaping with Decorative Boulder Wall Surrounding Perennials
The idea of having rock landscaping without plants is indeed tempting because it is a low-maintenance kind of garden, and you don't need to regularly water them.
However, we can't deny that plants can accentuate the rocks and boulders prettily. The greeneries can create a contrast against the color of the rocks and boulders.
In this rock garden, the plants were strategically planted in a berm. Look how the greeneries make the entire area look fresher. A stone stairway leads to the guest parking in the upper level, surrounded by the plants.
If you're wondering about the plants, this area is full of sun-loving perennials, like Knockout Roses, Russian Sage, Salvia, Euphorbia, Thyme, Cerastium, Yucca, Coreopsis, and Sedum.
The boulders are used as a border as well as a retaining wall. The small rocks are meant to fill the space between the boulder wall and the concrete walkway around.
Neatly trimmed grass is also added to match the shrubs and small trees in the middle of the rock garden.
It's such a lovely idea to combine colorful perennials with green grass, trees, multicolored boulders, and rocks. All of them managed to deliver a well-coordinated look in this landscaping.
4. Tri-level Garden with Large Rocks and Boulders as Retaining Walls and Stone Staircase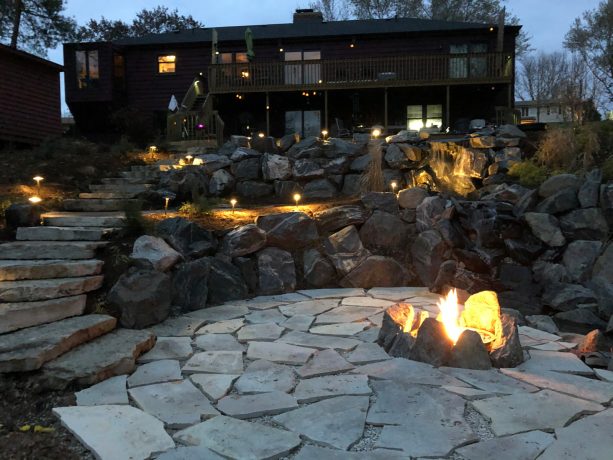 This backyard used to be an above-the-ground pool. Later, the homeowners decided to remodel their backyard and turned it into a lovely rock garden.
The landscaper designed and installed this tri-level garden completed with a lower patio with a gas fire pit, a stone staircase, and some water features. Landscape lighting is also added to create a warm feeling at night.
The boulders are obviously used as a retaining wall and a border to separate each level.
They are also useful to lock with drainage behind the water feature, so the water can move freely and hold back moving soils. The large water runs under the lower patio with a 24" drainage stone.
Instead of the paver, the landscaper decided it would be more natural if they used rock slabs to cover the surface in the lower patio. A similar type of rock seems to use in the fire pit too. Hence, the cohesion.
The minimal plants in this backyard make it a low-maintenance landscape.
Using boulders as a wall and a drainage solution, and rock slabs as a surface cover, is a clever way to incorporate rocks and boulders in a landscape without putting too much effort.
5. Backyard Landscaping with River Rocks and Boulders to Create a Water Fountain
This is another rustic landscaping in the backyard that uses rocks and boulders to create a water fountain.
It seems that rocks and boulders are often associated with ponds and waterfalls. That's why many of us want to incorporate them into our backyards and create our own natural space.
It takes a highly skilled landscaper to create a perfect waterfall and pond. The small rocks are incorporated at the bottom of the pond to cover the whole surface.
There are several levels in this waterfall, which means that it is situated on a sloped hill. But instead of creating a terraced garden, a multileveled waterfall is indeed prettier.
The boulders are used to create walls on both sides of the waterfall.
It seems that the landscapers also function the boulders as a border between this waterfall feature to the lawn around. Plus, it's obvious that large boulders never fail to decorate any rock garden.
They accentuate the stones and rocks nicely, creating a desert-like landscape and a more natural waterfall. With boulders, it's as if your backyard waterfall was a river in the first place.
6. Crushed Rock Landscaping with a Mix of Boulders and Basalt Column Fountains in the Center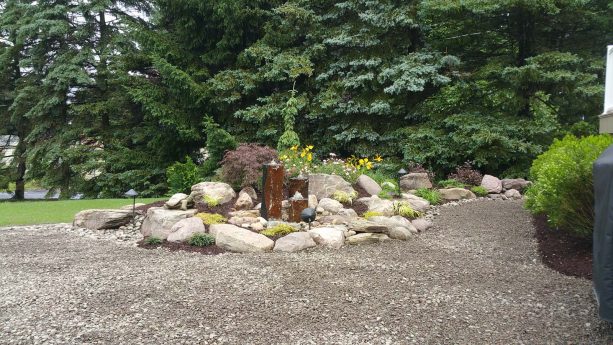 There's something intriguing in an Asian landscape.
Maybe because, in an Asian landscape, Japanese gardens to be exact, there's the only minimal plant to take care of, but that doesn't make the whole landscaping look dull and plain. It's because Japanese gardens mostly have rocks and boulders to decorate them.
Stone is a natural element, similar to plants. So if you want to create a natural look, but you don't want to deal with regular maintenance, rocks and boulders can be your best bet.
This Asian landscape is the perfect example. It has crushed rocks to fill the ground, creating a lovely rock garden with no plants.
In the center of the garden, there's a mix of boulders in various sizes mixed with some ornamental landscape plants to create an aesthetic look throughout the beds.
The boulders surround the natural basalt column fountains that are meant to be the focal point of the landscape. Such contemporary water features will subtly contrast the natural look of rocks and boulders around.
This whole area looks bright and warm at night because there are spotlights and LED paths to illuminate them all. What a perfect spot to host a small garden party.
7. Low Maintenance Landscaping with Boulders Mixed with Plants and Crushed Rock Ground Cover
If you're a huge fan of a desert look, always rely on rocks and boulders to create a lovely garden. This low-maintenance landscaping is the perfect example.
Look how the crushed rock ground cover makes the entire area look like a desert, especially the rocks are in a light brown color, something that reminds you of desert sand. The Desert looks at its finest!
Instead of towering trees, the landscaper planted cactuses and other drought-tolerant plants around the boulders to enhance the lookalike desert.
The boulders are simply used as a decoration, but as a decorative item, they can perfectly contrast the plants around. Thus, boulders with pale colors like this turn out can be an excellent backdrop for most drought-tolerant plants.
Creating interest along the drive with various shapes of plants, mounding, and boulders like this are only great if you live in a hotter area.
This property, for instance, is located in Phoenix, AZ, an area that also has its own desert. A desert-like landscape will surely match the real desert around.
Due to the lack of water in a desert, this landscaping is all low maintenance and only requires low water usage.
8. Stone Landscaping with Decorative Boulders and Shaped Rocks as a Terraced Retaining Wall
You may have seen some multilevel terraced garden made of boulders and rocks above, but you've never seen such a neat and structured garden like this.
Instead of curved lines, this garden has straight and sleek lines that make everything look put together.
This is basically a bit odd for stone landscaping because naturally, stones have free shapes, and it's quite difficult to make them look sleek and polished but still keep their natural looks at the same time.
It turns out that it's not impossible. In this coastal style full stone landscaping, the boulders used for the retaining walls are even trimmed and shaped to create a perfectly lined wall. The surface is so smooth that it can be used as a bench.
The stone stairs are completed with a landing because, after all, this is a sloped area, and it takes much effort to climb up those steps.
The shaped rocks are also cut into slabs to cover the lower patio ground. This is to match the stone materials around.
Other than retaining walls, the boulders are also used as a decorative item.
As a decoration, larger boulders are used, and they are left uncut and unshaped to keep their majestic shapes. Look how the decorative boulders contrast the mown green grass on each terrace.
9. River Rocks and Boulders to Create a Bali Rainforest Waterfall in Asian Landscaping
If you think Japanese gardens are too plain for your taste, you might want to consider designing another style of Asian landscape.
This one resembles Balinese style very much. It does have rocks and boulders. But, instead of using them alone to fill the ground, the landscaper also partly covered them up with canopied trees, shrubs, and other greeneries.
At first, this garden may look like an abandoned place with too many uncut shrubs and plants that grow wild. But after a while, that's part of the beauty. Let nature fill the area, and it will decorate your garden nicely.
In order to complete the greeneries, the rocks and boulders were used to create a rainforest waterfall in a Balinese style.
The boulders are structured as a wall to accommodate the multileveled waterfall. It seems that creating a high waterfall like this is more challenging than creating a usual terraced garden if the area is sloped, but the result is also worth it because it sure looks more stunning than the usual terraced garden.
The river rocks are mixed with the boulders to create a pond at the lowest level of this waterfall.
See how the plants are not only lined up on both sides of the waterfall but also taking over the middle area with a natural canopy at the top. Such a tranquil spot to spend some time.
10. Sloped Yard with Multiple Levels Filled with Small Rocks and Decorative Boulders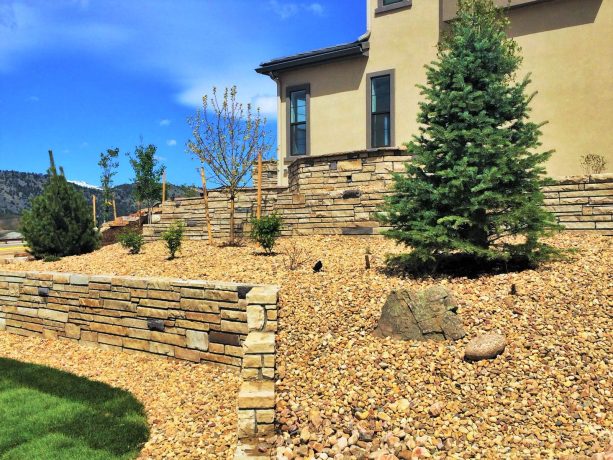 Have a combination of a desert-like garden and a freshly mown grass area? Why not?
In fact, if you have a spacious backyard, you can create a contrast by juxtaposing them both. However, this desert-like garden blends seamlessly to the exterior of the property because they share the same color with a different shade.
The retaining walls are made of natural strip stones. They are meant to create level areas.
Instead of soil, the planting beds are filled with small rocks. The small rocks can be a backdrop for the plants, along with the retaining walls.
See how they contrast each other. It's because even though this is meant to be a desert-like garden, the plants chosen are not the drought-tolerant plants or plants you usually find in a desert. Those are greeneries that surely need a lot of water.
So they look odd against the small rock cover that resembles a sand desert.
The decorative boulders are also added to the planting beds. The popped-up boulders are also meant to accentuate the greeneries.
If you want to choose boulders to put against the small rock cover like this, pick boulders with color a few shades darker than the backdrop, so they will create a subtle contrast.
11. Contemporary Rock Landscaping with Boulders as a Boundary
Traditional landscaping is elegant and all, but somehow it lacks the whimsical look.
If you want something more fun and unique, it's better to design contemporary rock landscaping. Rock landscaping is even better than the usual landscaping with soil and mulch because it is considered low maintenance, but that doesn't lack the natural nuance.
The cover is filled with crushed rocks in this area, a common way to start rock landscaping. The rock-covered area is used as a planting bed, with bushes and small trees planted there.
In order to decorate the garden, the landscaper also set up some rocks in a certain pattern in a few spots around the garden. These rocks are in a different shade than the ground cover, obviously to create a contrast.
This is an excellent idea to fill the garden, so it won't look dull and plain even with minimal plantings.
There are also large boulders to complete the rock garden. The boulders are meant to be a border, a boundary, so the crushed rocks won't stray to the driveway next to it.
Some of the boulders are flatter than the others, which are meant to match the level of the rock garden.
12. Water Fountain Landscaping in Beige Color with Boulder Walls and Small Rock Cover
This is a full sun gravel landscaping with a water fountain as a focal point. It seems that the gravel is a small rock or a crushed rock to cover the ground.
Unlike the other rocks and boulders gardens with a waterfall that you've seen before, this waterfall is considerably small but such a low height to begin with.
In order to compensate for it, the landscaper designed the whole landscape with more natural decorative items.
The boulders were chosen in the same color as the small rocks to create a consistent look. It means that those boulders are meant to blend seamlessly with the ground cover instead of looking pop.
Such boulders are basically a wall to create a creek of water stream from the fountain.
No wonder because both the boulders and the rock are used to contrast the greeneries.
There are some cactuses to planted in this rock landscape to represent a desert, but there are also perennials to contrast the drought-tolerant plantings. Small trees and potted plants are also added to accentuate the waterfall.
13. Dark Colored Basalt Rock as a Backdrop for Large Decorative Granite Boulders
The rock garden here is narrow, unlike the previous gardens you've seen before. It creates a path-like area with a mown green landscape on both sides.
Thanks to the dark-colored basalt rock, this garden looks attractive and prominent against the greeneries around.
This is a super lovely way to use decorative rocks. It brings out the rest of the landscaping. The dark-colored basalt brings out the larger and lighter boulders.
The landscaper used chipped basalt rock in 1"-1/2" size for the ground cover.
If you're planning to create a planting bed like this, installing a high-quality weed fabric under the chipped basalt rock is essential to prevent weeds from growing up through the rock. Plus, the weed fabric is also useful to keep the chipper rock from sifting down to the soil underneath.
The large boulders are granite, and they surely make a nice contrast with the dark chipped rocks. These boulders are around 2.5"x3.5", popped up decorations against the black backdrop.
For the border, the landscaper used a concrete curbing that is installed on a compacted gravel base. It is excellent to keep the bed ground cover and the lawn separated.
14. Combination of Poured Concrete and Rock Landscaping with Boulders in a Contemporary Style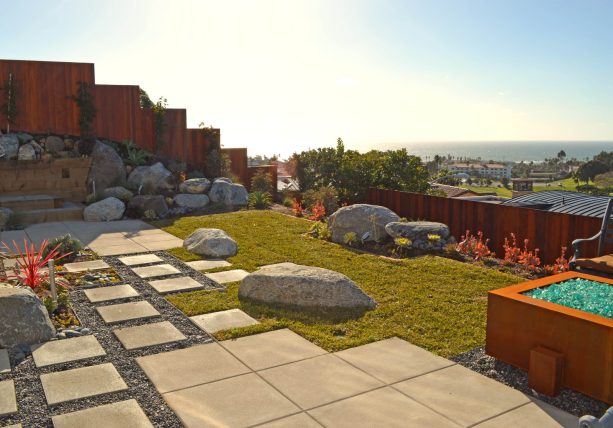 A combination of rocks and concrete is actually great. This is a great way to create a contrast between a natural and artificial look.
In this contemporary landscaping, the poured concrete is set up to create a patio and a walkway. In the walkway, the space is filled with rocks instead of soil. The shades of the concrete floor and the rocks are also different, another contrast in the garden.
There's a mown grass landscaping on the other side of the concrete patio and walkway. It seems that there is no border to separate the concrete area and the grass. They just meet and get mixed together.
However, the grass stops right at the spot where the rocks start. It appears that instead of boulders, the landscaper used concrete as a border.
The boulders, on the other hand, are solely used as decoration. But, this time, they are not placed against the rock ground cover. Instead, the boulders are set upon the grass. And it turns out that boulders and grass create a more natural look.
With a flat surface, these boulders can even act as seating space.
15. Craftsman Landscaping with Rocks and Boulders to Contrast the Mown Grass Area
There are three different areas in this front yard.
The first one is the mown grass area right in front of the property, the second one is the rock garden right next to the grass, and the last one is the paver driveway that leads to the garage door.
From this angle, it seems that the biggest area is the rock garden. It is even extended to the side of the mown grass area, separating it from the paver driveway.
The ground is covered with seemingly chipped rocks in a beige color. This is a lovely color if you want to create a contrast in your garden. See how these rocks contrast the grass area beside it.
There are some large boulders in the rock garden, which are meant to accentuate and complement the cover instead of contrast it.
Some trees are also planted to complete the garden. The green tree in the far end is meant to blend with the grass landscape, while the soft pink perennial mixes harmoniously with the rock garden.
It seems that there is no border between each area, but that's what makes the entire front yard look stunning because they contrast each other but at the same time blend without any real border and separation.
This is the kind of landscape you might want to mimic for your front yard if you want to have a low-maintenance garden with fewer plants but still fresh and natural somehow.
16. Some Popular Ways to Use Rocks and Boulders in a Landscape
Part of the fun when designing a landscape with rocks and boulders is choosing the placement of either a grouping or a single boulder.
The various colors, textures, and sizes of boulders may spark your creativity, and the same goes with the different types of rocks.
Below are some popular ways to use rocks and boulders in your landscape:
Boulder retaining wall. Boulders can be used as a retaining wall with the rocks as a ground cover. Usually, a boulder retaining wall is no more than 1-2 feet in height. A group of small boulders surrounding a flower bed can also be a lovely addition to your landscape. Creating a terraced garden with a boulder retaining wall can increase your planting space and the stability of the ground.
Creating a pattern out of rocks. Rocks don't have to just be a plain ground cover in your landscape. You should be able to choose two or more colors of them and create a striking pattern out of those multicolored rocks. Patterned rocks can highlight certain plants and add a softness to the landscape. It's recommended to use border bricks to create contrast because the pattern you've created can be blurred without borders.
Replace mulch with rocks. Instead of mulch, use rocks as a filler among flower garden beds and around trees. This is a more low-maintenance option than mulch that needs occasional taking care of. Plus, rocks can give you a clean look.
Boulders as a border. If you have small plants like shrubs or ground-cover flowering, they can easily merge into your main lawn, creating a not-so-lovely look. To create more structure for your landscape design, use boulders as a border. For larger plants, use small-sized boulders to create a balance.
Add feature boulders. Boulders can also serve as a focal point in your landscaping. Make sure you choose some featured ones, with whimsical design, as a landscape centerpiece. It can strikingly contrast the rest of the greeneries in your landscape. A feature boulder can also be used as a fountain. There are some simple kits that let you make a fountain out of a featured boulder. Generally, granite boulders are the best option if you want to create a fountain.