Who said that plants were the only elements in your garden to create a serene and calming effect? Without plants, you can also achieve the same thing.
We can't deny that vegetable gardens, expansive lawns, and colorful flowerbeds aren't for everyone. Some of us prefer lower-maintenance landscaping choices that will let them spend more time in their yards and less time taking care of them.
Hence, the Japanese rock garden. Japanese-style rock gardens are a time-honored tradition.
Basically, to build a rock garden like this, you'll need a rectangular plot of sand, scatter in some rocks, rake some gravel, create a stone labyrinth, and add minimal but stylized greeneries around the perimeter of the rock garden.
The Japanese rock gardens are usually completed with water features in a more luxurious version with more spacious space. Sometimes it's just a fountain; most of the time, the rocks were set to mimic a natural stream.
Either way, here are some serene rock gardens without plants that can be your retreat, a tranquil zen area:
1. Asian Rock Garden with Pea Gravel and Mexican Beach Pebbles Creating a Labyrinth Without Plants
This landscape is filled with pea gravel and Mexican beach pebbles, the decorative rock outlining the labyrinth.
In this Asian rock garden, the labyrinth seems to be functioned as a meditation spot, to facilitate prayer and spiritual transformation. This real zen garden will give you a calming sensation even though you see no plants in this area.
The pea gravel is gray, blends seamlessly to the beach pebbles. This is how the landscaper makes sure that the pebbles, despite their setup, won't draw much attention.
It seems that these decorative rocks are not solely used as a decoration; they are more useful as a filler to counteract the lack of plants in this garden.
If you're wondering, this kind of beach pebble comes in bags at specialty rock stores. You can also find them where you usually buy fountain products. They are affordable, so you can buy a lot of bags to create a perfect labyrinth like this.
2. Rectangular-Shaped Zen Garden with Smattering Large Rocks Without Bushy Plants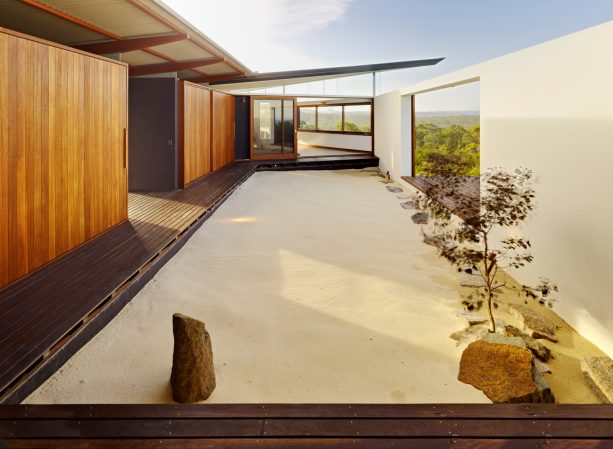 A rectangular-shaped zen garden will give you the right soothing spot to enjoy the outdoor view without having to worry about the plants.
It seems that the garden is filled with pea gravel in a light color and bordered with decking. Boulders are added in some spots to highlight the organic look, while the rock walkway is set to connect both sides of this garden.
Instead of being plant-free, this rock garden has been incorporated with a very minimal plant. You can see the singled-out tree in this garden that completes the entire look.
The tree was carefully chosen. The landscaper decided it would be better if the planted tree was not the green one, so it could mix harmoniously with the rock garden around. There is no bushy plant found here.
The smattering large rocks are used as a decoration. It compensates for the lack of greeneries. Using rocks instead of plants will surely make your garden look desert-like, but it is recommended if you want to stick with clean and simple lines.
3. Bordered Rock Garden Connected to the Paver-Lined Walkway Without Plants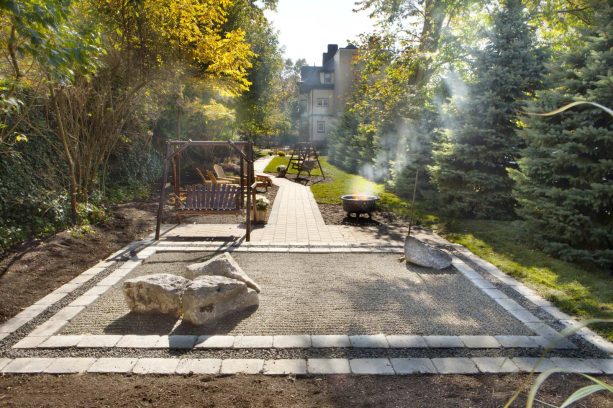 Bordering the rock garden is an excellent idea if you want to create a sacred spot, an area where you can enjoy being alone and the view around.
This rock garden is basically a long narrow space that is connected to the paver-lined walkway.
Bordered rock garden also makes it looks exclusive and secluded. With double layers of the border, you'll add more dimension to the garden.
Around, the ground is covered with mulch and grass to create a contrast, but this area itself is clear from plants. It is really meant for open seating space.
The boulders are set in several spots in this garden to be used as an extra chair because you see no chairs whatsoever here. Instead, a wooden swing provides comfort during your alone time.
Rounded out space like this delivers a perfect place for guests and families to catch up. There is even a fire pit to complete the whole look, making it an even better spot to host a garden party.
4. Traditional Rock Garden Without Plants that Creates a Flow Throughout the House
If you think a traditional-styled rock garden is the best, you may want to consider this look in your landscape.
This is an updated landscape to counteract the lack of curb appeal in the neighborhood. This rock garden creates a flow throughout the house.
Basically, according to the landscaper, this rock garden was installed to address drainage issues and erosion in this backyard. However, it turns out that the drainage solution has become an attractive rock garden.
This backyard is filled with river rock that was set to create a round-shaped frame bordering the pea gravel ground cover.
A stack of rocks was added here and there to create a balance. It is clear that the landscaper intended to contrast the river rocks and the pea gravel ground cover because they clearly have different colors.
Incorporating river rocks and designing them to create a visual appeal shape like this will give a nice look to the backyard even without plants. The lack of an organic look will be compensated by the stack of natural rocks and stones.
5. Asian Landscape Garden Without Plants but with Rock and Boulders to Mimic Natural Stream
Having a stream in a backyard will deliver the utmost experience of living in open nature.
However, not all of us have the real stream in the back of our properties. That's why it is better to design different sizes of boulders and rocks and place them carefully to mimic the way a natural stream would look.
It doesn't matter if this bed creek doesn't have a real water stream. It is enough if you can manage them to create a faux stream. This way, you know the boulders and the rocks are used in the right way.
The boulders here are also functioned as a border, a kind of retaining wall to keep the mulch, the short grasses, and the carexes stay to their places in the sides of this faux stream.
The entire look of this delivers a perfect Asian landscape garden. Even without plants or towering trees, this rock garden is still able to give you a zen ambiance.
6. Rock Garden as Dry Creek Drainage Designed with Natural Boulders
Another rock garden is used as a solution for drainage problems. This dry creek is designed with natural boulders that are meant to be a border too. This is a perfect example of a large rock garden landscaping.
The curved design makes this area even more unique. Moreover, there is no visible border to separate this rock garden from the mown grass area around. The boulders are simply used as a decorative border, not the real one.
This is a great way to create a more flowing and continuous landscape because most of the time, borders will only make the landscape look cluttered.
The Mexican beach pebbles are set to follow the flow of water from the drainage. The brown-colored ground covers beautifully contrast the light-colored pebbles, creating an aesthetic look even with the absence of plants.
7. Big Rock Garden Completed with a Water Feature to Border the Lush Green Grass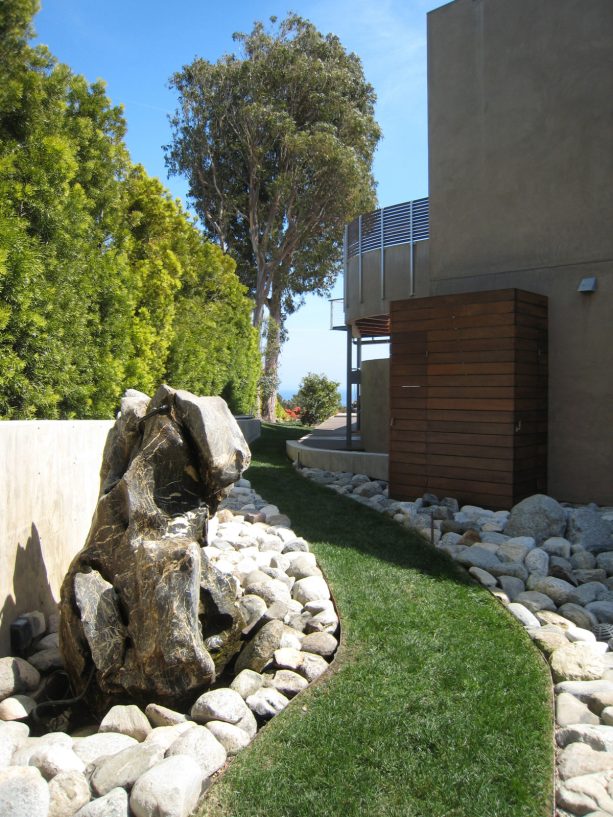 You might not want to incorporate any kind of plants in your rock garden, but the grass is a whole different case. Even though the grass is basically a plant, it is a living ground cover that needs minimal care.
If you still can't stand any living ground cover, you can use synthetic grass as an alternative. Grass, real or not, can give your rock garden an organic look even without plants nearby.
In this landscape, the grass is incorporated to cover the walkway. It might be quite odd to use grass as a walkway because most of the time, the grass is not supposed to be stepped upon.
Yet, perfectly lined and trimmed grass like this can enhance the clean and simple lines in your landscape.
This grass path is bordered by white rocks on both sides that are meant to be a big rock garden. There is a large rock fountain in the rock garden to add more character.
The combination of rocks, water, and lush green glass will never fail to give you the modern style with a touch of a natural look.
8. Contemporary River Rock Garden Path that Doubles up as Drainage
You can design a rock garden with gravel and large rocks on both sides for a more contemporary landscape.
According to the landscaper, this was actually part of the backyard drainage that was also functioned as a path. There is a berm on the right diverting water flowing into the yard, while the gravel rock gravel here is another level of drainage.
If you're curious, the gravel is Colorado river gravel 1"-2". It looks lovely combined with the rocky path. On one side, the stacks of stone slabs are used as a border and a retaining wall to retain the plants on the upper level.
The landscaper intended to clear this river rock garden from any kind of plants.
Yet, the entire area is not fully free from plants. In fact, the bushes and towering trees were planted on both sides of this rock area. This way, the rocky path can be shaded by the trees even during the hot summer days.
What a clever way to incorporate plants without bothering the rock garden.
9. Backyard Rock Garden with Stone-Lined Pebble Path and Stone Veneer Wall
This backyard is decorated with a rock garden with no plants, even though both sides of the gravel path are filled with mulch.
The lack of greeneries around this rock garden indeed makes it look like a desert; however, the majestic trees in the back of the property are enough to counterbalance this desert-like rock garden.
This path seems to be filled with light-colored gravel and lined with the stone pebble. Daco Real Stone veneer wall is used to retain the soil around the property.
This is the best idea for a traditional partial sun backyard with river rock landscaping.
This rock garden can be used as a perfect spot to have a barbecue party during the summer. The absence of plants will make the whole area look clear and simple.
A combination of gravel, stones, and rocks is enough to add a visual appeal to the property.
10. Transitional Rock Garden Without Plants Completed with Boulders as a Retaining Wall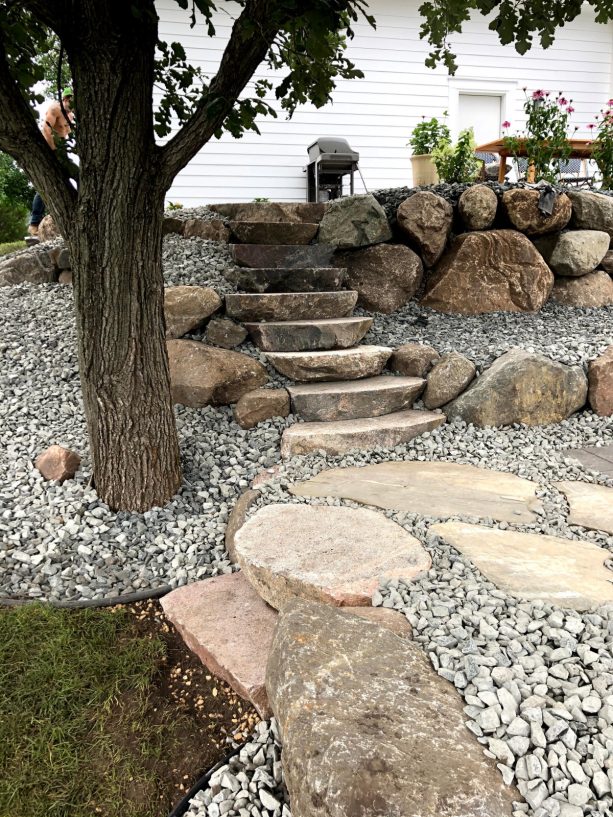 Boulder retaining wall is considered the most versatile material when it comes to landscaping. It is because boulders can be doubled as a decoration and a functional element.
This transitional rock garden features boulders to contrast the gray-colored pea gravel.
The terraced rock garden looks even more impressive because there is no plant found here.
Usually, a retaining wall is used to retain the soil and the plants so they stay in their places. Yet, the boulder retaining wall here is only functioned to keep the elevated pea gravel area stay in its place.
Yes, there is a single tree in the middle of this rock garden, but this tree is seemingly not meant as greenery. It seems that the landscaper built this rock garden around the existing tree.
The rock slabs are used as a walkway that matches the stone stairs. The rock and stone elements in this garden are domineering.
If you want to feature some small plants to balance the harsh look of rock and stone, you can plant minimal bushes or perennials at the upper level of this terraced rock garden, like this.
As a result, the plants won't disrupt the clean and polished lines of the rock garden.
11. Backyard Rock Garden to Address Drainage Issues Around the Property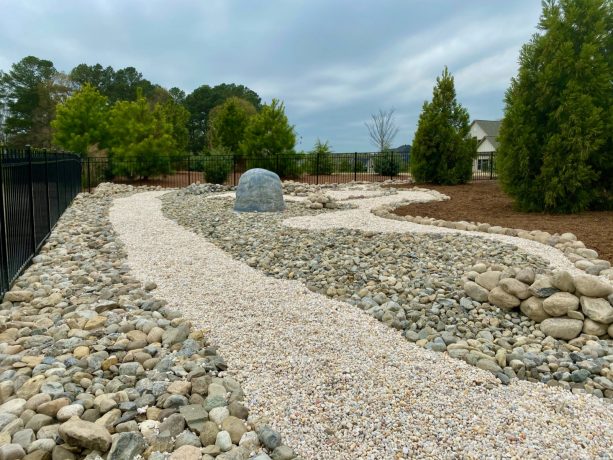 Drainage issues seem to be the problem that needs an extra careful solution lest it devalues your home.
The best way to solve this is by updating the landscape to address drainage problems as well as increase the curb appeal in the neighborhood.
As you see in this landscape, the backyard rock garden creates interest and flow around the property. It was installed to address drainage issues and erosion, which proves to be the best solution even though there is no plant here to absorb the water.
The river rocks accentuate the light-colored pea gravel flawlessly. The piles of rock were set in a curvy design to separate the pea gravel area and the soil around.
As far as we can see, this rock garden delivers a flowing look throughout the house.
There is a large rock in the center of it surrounded by multicolored river rocks. It is clear that the rocks here are used to accentuate the landscape, to decorate the entire area, to contrast the pea gravel, and to border the soil and the rock garden.
You should have such a versatile element in your rock garden if you want to achieve a simple and traditional landscape. They deliver a classic appearance too.
12. A Rock Garden Without Plants Served as a Stream Completed with a Bridge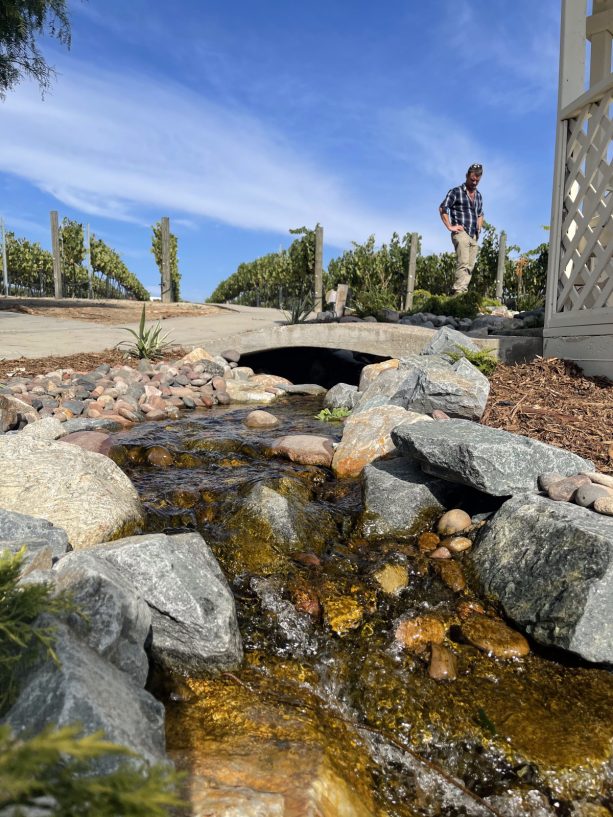 Compared to the previous rock garden, this one is the most tranquil and soothing. Imagine going outside your home every day to find your own backyard oasis like this.
In spite of the lack of plants, this rock garden is completed with an impressive ecosystem pond. In this area, you can sit back, chill, and unwind while feeding the fish at the same time.
The soothing sound of running water also makes a zen garden out of this landscape.
According to the landscaper, this pond was made from top-line pond products creating 100% natural ecosystems.
This aquascape surrounded by a rock garden is also self-sustaining. It needs minimum maintenance, so you don't need to worry about taking care you intend to avoid by designing a plant-free rock garden. The absence of plants here delivers an opportunity to have fish.
This rock garden basically features a Mediterranean style. It is completed with river rock and boulders to create a pond that accommodates a man-made stream.
There is even a bridge at the top of this stream to connect both sides of this rock garden and to complement the entire area.
Basically, having a rock garden with a carefully made water feature like this will deliver a top-quality zen garden.
13. Desert Landscape with River Rock Garden, Berming, and Minimal Desert Planting
Despite the small plants here and there, this rock garden is truly like a desert.
The landscaper managed to mimic a desert only out of berming and river rocks. The berms are meant to enhance the contemporary look in this desert-like landscape.
The berm is a rounded mound of soil. But in this case, it is not soil but fill. The fill seems to be pea gravel in light brown color to create a desert-like ground.
The river rock is set around the berm that can be used as a walkway and a border to separate one berm from another.
The desert plantings don't add a lush and green look to this area. Instead, they make this rock garden even drier, but in a positive way.
This is the perfect landscape you can have if you live in a hotter area with no extreme winter. This landscape is situated in Phoenix, AZ, a place with many deserts.
So, in order to create a consistent look at the surroundings and the neighborhood, it will be nice to have a dry rock garden like this, with berms for the pea gravel ground cover.
14. Prairie-Inspired Garden with River Rock Walkway and Without Plants at All
Instead of desert, this landscape was inspired by prairies. This garden looks even drier than the previous one.
The rock slab walkway, the pea gravel, the boulders, and the slab stairs are carefully chosen in a similar shade. They all create a consistent look but lack a pop of color and texture at the same time.
Despite the fact that it is a plant-free rock garden, sometimes you need a splash of color to enhance the visual.
In this mid-sized side yard, though, the absence of splash and accent color doesn't make it any less enjoyable.
We can see how this garden blends seamlessly to the property because even the sidewall of this home is also painted in the same shade as the rock garden.
The elements in this property and the landscape deliver a drought-tolerant appearance. It is obvious that this garden is located on a hill, so there is a steeply sloped area that needs a retaining wall to keep everything in place.
We can see the concrete retaining wall that mixes harmoniously to the surrounding. This wall is meant to retain the pea gravel so it won't tumble down. It is designed in a way as if it was drowned by the rock garden.
What an excellent way to incorporate a matching retaining wall in your rock garden.
15. Rock Garden with Raked Crushed Granite and No Plants
The great thing about the Asian garden is you can experiment with gravel, rocks, and stones.
The wave-like gravel in this Asian backyard gravel landscaping creates a structured look that delivers a zen ambiance. In order to achieve these wavy lines, you need to rake this gravel.
So, what is the best material for raking like this?
According to the landscaper, it is always best to choose crushed granite. It is able to hold the lines better than sand or other materials. Sand, on the other hand, is way too light to keep the shape for a long time.
However, since this is raked crushed granite, you need to make sure every line is perfect every now and then, which means that it is not permanent. That's why this look is not kid-friendly. Kids can easily mess the gravel you've been raked.
In the center of the raked crushed granite, there is a stack of boulders that appears to be a focal point in this rock garden.
There is no plant found here. Instead, raked crushed granite follows you everywhere you see.
The beige-colored columns were built here and there to add more structure to this landscape. It is clear that the columns were finished in beige to match the crushed granite, creating cohesion.
16. Tips for Creating a Rock Garden Without Plants
To achieve a perfect Japanese rock garden without plants that can enhance your curb appeal, here are some important tips you can follow:
Choose the Hardscape Wisely. You need more than just river rock in your rock garden. Make sure you opt for the right hardscape. Incorporating options like paving stones, marble, slate, granite, or travertine will pay off in the long run. It can add value to your home, too, especially paving stones. If you're looking for lower-cost options instead of concrete, you might want to consider gravel.
Create a Non-living Ground for Color, Texture, and Visual Appeal. Just because you don't want plants in your yard doesn't mean you'll let bare dirt cover the entire area. In areas where you don't have walkways, rock gardens, or patios, try to incorporate a variety of non-living ground covers to add color, texture, and visual appeal. Some of the best options are tumbled glass, decorative gravel, sand, beach pebbles, drainage rock, bark, mulch, and wood chips.
Incorporate a Water Feature: Water is a popular landscaping element that provides a focal point and enhances the visual appeal. The soothing sound of running water can also give you a tranquil and calming sensation. Pond, fountain, or waterfall are great options to complete your rock garden. Surround it with a patio for a seating area.
Avoid Clutter. If you feel compelled to fill your space with objects to distract your guests from the fact that you have no greenery in your yard, think again. A bunch of garden gnomes or a row of statues is not going to make your plant-free rock garden more inviting. Instead, it only creates more clutter and takes away the overall appeal of your garden. Even though your yard can feel a bit bare without plants, a good landscape design can provide you with an appealing space that doesn't feel lacking.