If you build your house in a hillside, you're going to need retaining wall ideas for steep slopes. Retaining wall doesn't only provide aesthetic look, it also creates a huge impact on any landscaping layout and design on any property. Retaining wall provides a strong structure. Its protective structure is meant to deliver functional support for keeping soil in place. The retaining wall can keep the soil and natural space on one side and your landscaping on the other. It is a divider.
Retaining wall helps with slopes too. This post will provide further information about steep slopes and retaining wall. For a house that is located in a hillside, the owner should provide protection against the slope. This is where the retaining wall comes into play. You can use it to create terraces or any landscaping ideas.
Retaining walls control a water run off as well. The flow of rainwater can be a problem if there are slopes, especially the steep ones, in your residential area. It can cause flood. However, flooding can be avoided and water can be managed if you install retaining wall correctly. This way, you can maintain and take care of your garden and yard well. Keep in mind that retaining wall goes along well with any water feature you installed in your property too.
Apart from its functional benefits, retaining wall will give a platform for your yard and garden. As stated before, retaining wall could be an outlet for your creativity. It acts as a barrier and divider. With such clear boundaries, you can construct and design a beautiful garden that will be easier to maintain because of the retaining wall.
Those are the reasons why you should install retaining wall in your spacious garden. The steep slopes in your front or back yard wouldn't be a problem anymore. Need some inspiration to build retaining walls? Here are the most inspiring retaining wall ideas for steep slopes, perfect for your spacious garden in a hillside.
Ideas to Stabilize Steep Slopes with Stacked Bluestone Retaining Wall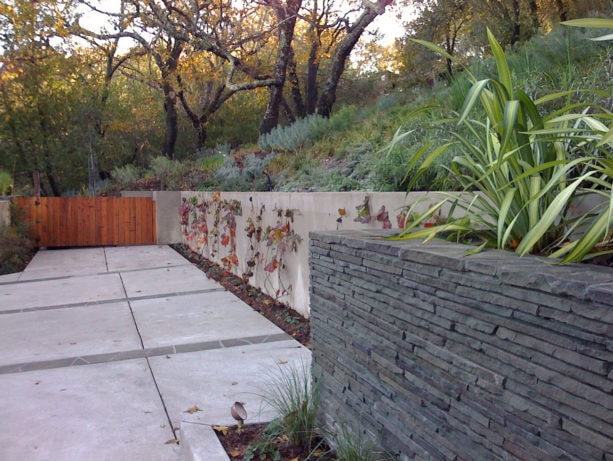 This contemporary retaining wall landscape is made out of stacked bluestone. The bluestone was hand cut from random pieces, broken ledger pieces. The retaining wall is basically simple, thus it resembles contemporary style perfectly. This stacked bluestone wall is made contrasted with the beige wall behind.
The stacked bluestone wall is not only fully functioned as a wall, it is also a gardening space. At the top of it, there are some space where the green foliages were grown. It can be a pretty decoration, especially if your garden or yard is mostly covered with stone.
The beige retaining wall is useful to protect the garden from the steep slope. The color is Pebble or Winter Beige, no further information provided here. But you can pick one if you want to mimic the design of this landscaping area. This beige retaining wall is also simple. What makes it stand out is the climbing vines against the wall. Those are California grape vines, Roger's Red.
The stone paver also matches with the beige retaining wall. It seems that both of them are made out of the similar material. The medium-tone fence is a great decoration as well. It creates a bold focal point in this light colored garden.
Ideas of Retaining Wall and Stone Path in Steep Slope Backyard
This sloped backyard is perfectly beautified by the stone retaining wall. This stone wall is not too tall, so it is possible if you're going to install the same wall in a DIY project. There are two types of retaining wall in this backyard.
The first one is the stacked stone retaining wall. It has a half-circular shape that accommodates a huge tree at the center of this backyard. There are stepping stones as well in the middle of the wall. Right next to the stepping stones, the stacked stone wall continues, but in linear shape.
The second one is the flagstone retaining wall. It also has a half-circular shape, but in opposite direction with the stacked stone wall beside it. This flagstone wall also functions as a patio and seating area.
There are some multi-colored plants planted around the stacked stone retaining wall. The green foliages and bushes were also planted in the slope. Apart from being a decoration, those plants are also useful to absorb water from rainfall, so there won't be an extra pressure of the soaked soil to the retaining walls.
Low Stucco Retaining Wall in Steep Grass Slopes
This traditional landscape is interconnected and intimate. It creates three spaces that can be used by the homeowners to enjoy being outside. The retaining wall is low stucco wall. It is actually the same material used on the house. The retaining wall creates a courtyard area near the front door. It functions as a boundary too, so it delivers a unique sense of privacy.
The stucco wall also wraps around a patio. This patio creates a perfect area for the homeowners to enjoy the day. Integrated into the wall, there is a custom-made fountain to help cool the air during hot summer days. A bed of lush flowers are also there, right next to the bluestone of the patio.
A beautiful view of this whole landscape is framed by the deck and retaining wall. Speaking of the deck, the rear patio is made out of large bluestone pieces. There are seams of grass between the stone. They are useful to soften the hard surface. The towering trees on the far side are also perfect to create sense of privacy as well as provide colorful perennials surround the walls.
Terraced Style Retaining Wall Ideas in a Hillside Steep Slopes
If you want a unique retaining wall design, you can mimic this terraced hillside landscape. The steep slope is made invisible by the terraced design. The walls are made of rocks. There are steps and stairs attached to the retaining wall that leads to a playground area above.
This contemporary backyard features plants and foliages as well in the steep slopes. Choosing to plant foliages in the slopes is a nice choice, because the plants can help absorb the rain water too. Besides, they provide a more beautiful view than just a mowed grassy area.
This retaining wall frames the garden that looks clean and polished with the mowed grass. The circular shape of wall delivers a more stylish design too.
Retaining Wall Doubles as Overflow Seating Area in Steep Slopes
If entertainment is your top priority, you can use this backyard landscaping as your inspiration. The backyard is meant to be a family-focused area. It is supposed to deliver an outdoor living as well as a playground. This area can accommodate a huge number of people, adults and kids.
It is impossible to see from this angle, but this backyard also features an outdoor kitchen with a bar along the edge for overflow seating. That space can accommodate a huge dining table and a comfy couch and chair set.
In this picture, you can see only the fire pit patio. It includes a seat wall that doubles as a retaining wall. It frames the overflow seating that is set around the fire pit feature. Above the low retaining wall, there is a wooden pergola. It adds a warm and lovely view to this landscape. The light-strings radiate a warm yellow light that matches the fire in the pit.
A steep slope itself presents as the focal point in this yard. The variety colors and textures of plants mixed perfectly among the existing trees here. The towering trees changed from an eyesore into a beautiful view for the property.
An Eichler Remodel with Steep Hillside Garden Slopes and Structural Retaining Wall
This steep hillside garden is actually and Eichler remodel. This project's aim is to create a flat space over a hilly terrain. The angular architecture and landscape of this garden is in harmony with the textural and bold free-from plants. The combination of texture, color, and juxtaposed angles creates a modern style garden.
The retaining wall is a concrete paver. The exact material is pressure-treated structural retaining wall. It is faced with 1×4 stained cedar wood. This retaining wall was constructed using 4×6 posts set into 5 inch deep concrete piers. It was later bolted by 3×12 pressure treated boards. Its front cladding is stained vertical grain 1×4 in cedar wood.
Contemporary Metal Retaining Wall Landscape Ideas with Stoned Steep Slopes
This is a perfect example of a contemporary design of retaining wall. Unlike the usual walls that are usually made out of stones, this wall is made of metal. It is a Cor-Ten steel. Have you ever heard of it before? It is a trademark name for this kind of steel featuring a weathering patina. This steel is an ideal option for outdoor installation, as seen here.
There is no chemicals used on the steel. It is just let naturally oxidized. The result is awesome. The color has more grayish feature on the surface. The retaining walls here are designed in terraced style, so there are a few steps and stairs from the garden that lead to the main building of the property.
What makes it more unique is the combination of granite and grass here. The pavers are made out of granite. There is no detailed information about the granite used here. However, if you're going to imitate this garden's look, you can use Polished Tile, Bianco Catalina, 30q. ft., 12"x12" from Wall and Tile. Bianco Catalina is a subtle speckled white, gray, and black color combination. It is a durable granite, perfect for exterior and interior applications as well. For outdoor usage, this granite is recommended for landscaping, flooring, and areas with freezing temperatures.
The green thick grass in the steep slopes makes the whole landscape look fresh. It is also combined with bushes above the retaining wall and some trees around the property. This property looks modern and natural at the same time.
Stepped Retaining Wall Ideas Down the Gradual Steep Slope
This stepping-up retaining wall is made down the gradual steep slope off the side of the house. It resembles the look of traditional style. This side yard retaining wall landscape is made out of stone. This wall is low, and the it is made from stacked stones. This is an ideal example of retaining wall's DIY project if you're going to build your own wall.
The low wall divides two areas in the side yard. On the left side is the thick green grass area. This is a perfect space to plant some bushes and green foliages. Or this space can be used as a playground too if you have children. On the right side, there is a narrow space with pebble stones. This area is supposed to be the aesthetic one. It is also decorated with Moonrays 95725 Low Voltage Pagoda Light, that is useful to shine the whole landscape at night.
The gradual steep slopes with the pebble stones are beautified with several bushes too. The bushes were planted in order and a bit distant with each other. This creates a fresher, greener, and also a more ordered look.
Rustic Retaining Wall Ideas in Natural Steep Slopes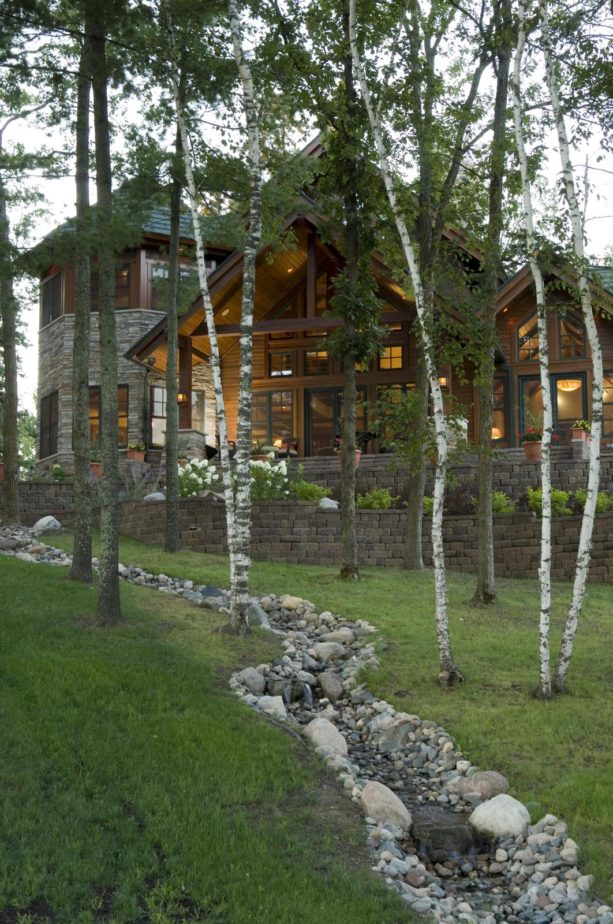 This rustic retaining walls mix perfectly with the natural Minnesota landscape. If you're not going to bother the nature too much with your property building, like this house, you need to build a taller retaining wall made out of durable and strong material, to make sure nature won't damage your property much. Therefore, you need a professional help. The retaining walls here were done by a local contractor in the Brainerd Lakes Area, WW Thompson.
The creek bed that you see in front of the retaining walls here are not manipulated. It was only enhanced. The design of the whole landscaping follows the flow of Minnesota's mother nature. The creek bed looks natural and clean. You may wonder if there's a concrete or lining below the rocks in the creeks to make sure no weeds can grow in. Actually, there is no liner here. The treatment is the same with a garden bed with rock.
However, the water feature often depends on the flow of the water, whether it is natural or fabricated. In this picture, it appears like it may be a run off for a natural water source. So it doesn't need a liner. In fact, the designer uses filter fabric.
The creed bed divides two areas. Both areas look similar, though. They were planted with some thin and tall tress that tower over the house. You're going to need some lights in this area to shine the way during the night.
Modern Hillside Retaining Wall with Planted Steep Slopes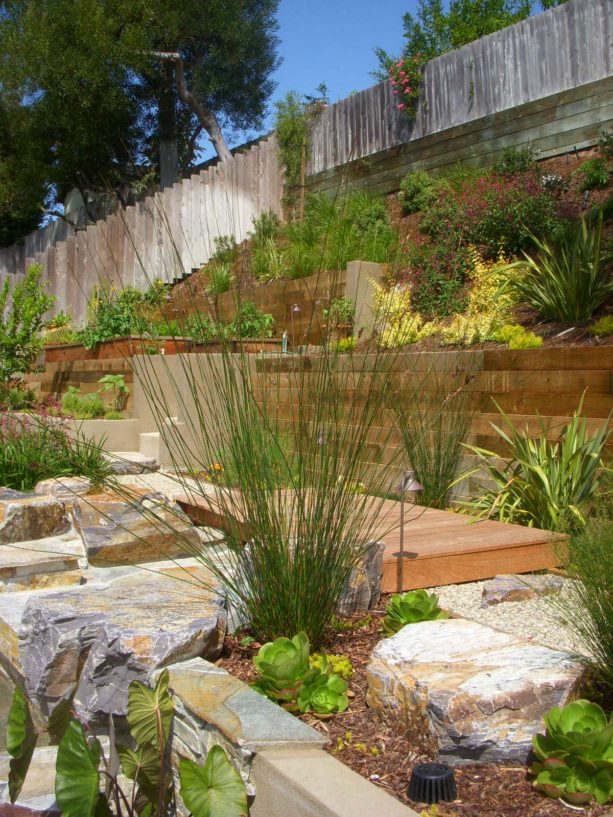 This modern retaining wall is a perfect example for a wall in a hillside. The wall is made out of timbers. It s a pressure-treated timber, available at Hydroscape Products. It has brown stain that appears like stones. The using of timber in this retaining wall is what makes this garden look chic, modern, and polished.
On the very top and down the side, there seems to be a picket fence. It frames the whole garden. Below the fence, you can see the retaining wall that is made in terraced design. It is also beautified by various colorful planters. The elephant ears in bottom planter is actually a Black Calocasia. It is an ideal plant for a hot and sunny place.
The plethora of plants also help keep mulch from washing away with rainfall. If there is much of an open mulch. Sooner or later, it will move. Even if you have used edges and ridges of hardscaping. However, if there are more plants distributed along the mulch, it will stay unmoved. So adequate planting is not only useful to beautify the garden but it does also help to hold the mulch i place.
Closing
What is your opinion about the retaining wall ideas above? Learning about the landscaping trick is useful if you live in hilly terrain. It helps counteract soil erosion, and at the same time, decorates your garden too.
From the pictures above, retaining wall can turn steep slopes into terraced and stepped backdrops and create focal point in your garden. It serves many purposes. However, even though it looks simple, retaining wall needs a good deal of planning. You may need a professional help to install the wall correctly. It is because soil is heavy, especially when soaked from a rainstorm. The wall potentially has to be able to support up to at least 20 tons of soil pressure.
Here are some tips and tricks about installing retaining walls for a newbie:
Pick a material you can work easily with. There are a plethora of materials, from large timbers, natural stones, bricks, to poured concrete. If you want to build your own wall, choose manufactured blocks that are meant for a retaining wall. They can be found in any garden center and home improvement store.
Begin with a good foundation. Don't forget to consider the dimension and the soil pressure. If you wanted to install maximum four feet stacked-block retaining wall, you would need to dig the trench filled with three inches of rock. It will keep your retaining wall from settling and shifting.
Keep water away from your retaining wall. Do install a proper drainage system before you install your retaining wall. Focus on where the water flows currently, so you can install your wall away from it.
Stay away from organic soil. If you're going to build a planter for growing plants, there are various designs incorporating organic soil. However, when you're building the construction of retaining wall, use the proper material and stay away from organic. It is because organic soil will keep breaking down.
You can build your wall at least four feet tall. However, the wall taller than that should be engineered by professional.
Good luck with your retaining wall constructing and garden designing!