We all know that the first impression that your visitors will see when entering your home is the entryway. That's also the last area you see when you go out for the day. Those are considered as the important moments. Thus, never underestimate the importance of this room.
The problem is, not anyone has a large house to accommodate a grande entryway. Thus, a small entryway will do.
No matter the size and dimensions, the entryway can still be made aesthetic visually. One of the elements that should be added to enhance the aesthetic is the flooring. That's the essential and most crucial part of your entryway.
There are several types of entryway:
Open concept entryway. This is basically a small area that has an open plan, even though it isn't really open for some. This area is used for leaving and entering the house. You can create this entryway, big or small, depends on the size of your house.
Enclosed entryway. This is quite the opposite of the open concept entryway. This is simply a small room with enclosed walls, also used as an area for leaving and entering the house.
Mudroom. This type of entryway is quite common in the countryside or farmhouse homes. This room is used as an area to take off your shoes and coats after spending time outside. The floor used here is also carefully picked to protect the area from the water and mud.
Foyer. Even though the foyer is often associated as a grandeur entryway in a luxurious house, small houses can also create their own foyer. The foyer is an open space that serves as the first area when you enter the house. Most of the time, there is a staircase there accompanied by several openings to different rooms of the house.
If you want to create one for your house, these are the small entryway pictures in all those types with a lot of flooring ideas:
1. Arched Traditional Small Entryway with Light Wood Flooring Idea
This is a timeless inspiration for a small entryway in a traditional style. The most notable traditional element in this area is the arched opening. It is also combined with the 18th Century American Antique clock.
The light wood floor here is a custom Swedish-style tile. It was bleached by a Boston area artisan. The beige-colored flooring looks perfect, mixed with the beige walls. Both are separated by the white wainscoting. The wainscoting here is made out of a thin layer of wood. It is combined with decorative moldings.
There are no hooks or coat racks whatsoever in this entryway. It indicates that this is a basic and straightforward entryway that is meant to be a transfer area from the outside to the main house and vice versa.
2. Small Foyer Entryway with Hickory Flooring Idea
Who said that foyer was only great if it's large? This one proves otherwise. This is a small foyer as an entryway, and even though it is small, it isn't any less elegant.
This foyer features a hickory floor in medium tone. According to the designer, this type of floor was chosen because of its character. When combined with the other elements in this area, like wall paint, doors, and design, the hickory floor gives a crisper and cleaner finish.
If you are wondering, this hickory floor is a product by Shaw Floors from the Argonne collection.
Like the entryway you've seen in the previous picture, this one also doesn't have many things in it, except one wooden bench that blends seamlessly with its surrounding, put against the staircase. Minimalism like this always managed to give a modern look.
3. Traditional Mudroom Small Entryway with Black Slate and White Tumbled Stone Flooring Idea
This entryway is a mudroom in a traditional style. Mudrooms don't have to be large, and this one is the proof.
There are built-in shelves along the wall and hooks on another wall. Below the hooks, there is a built-in bench with open racks underneath as a space saver. It seems that the bench can also be used as a display rack for decorative stuff.
The built-ins here were painted in Sherwin Williams – Nantucket Dune color. The wall color above them was also painted in Sherwin Williams -Blanche. Both paint colors genuinely complement each other, give a perfect creamy look.
The floor here is black slate and white tumbled stone. Both are installed in a pinwheel pattern. As stated before, mudrooms should feature a type of flooring that is water- and mud-resistant. And slate is the perfect solution for that. See how this floor combines both practicality and beauty.
4. Classic Small Entryway with Travertine Flooring
This is another mudroom in classic style. It has excellent functionality, thanks to shelves on the left and mantel hooks on the right. Even though this mudroom is not that large, but it is still able to serve as its function.
The flooring here is a beautiful travertine tile in peach color. This was purchased from La Raj tile and marble in Roselle, NJ. The designer managed to combine several colors in one area and make them look nice instead of overwhelming. The peach floor is combined with the crisp white shelves, gray walls, and a blue front door.
The front door was painted in Dunn Edwards – Castaway. Benjamin Color – Aqua Blue is also a similar color. It is obvious to see that this door is the focal point in this area. It gives a pop of color in this soft-colored mudroom.
5. Elegant Foyer as a Small Entryway with Travertine Tile Flooring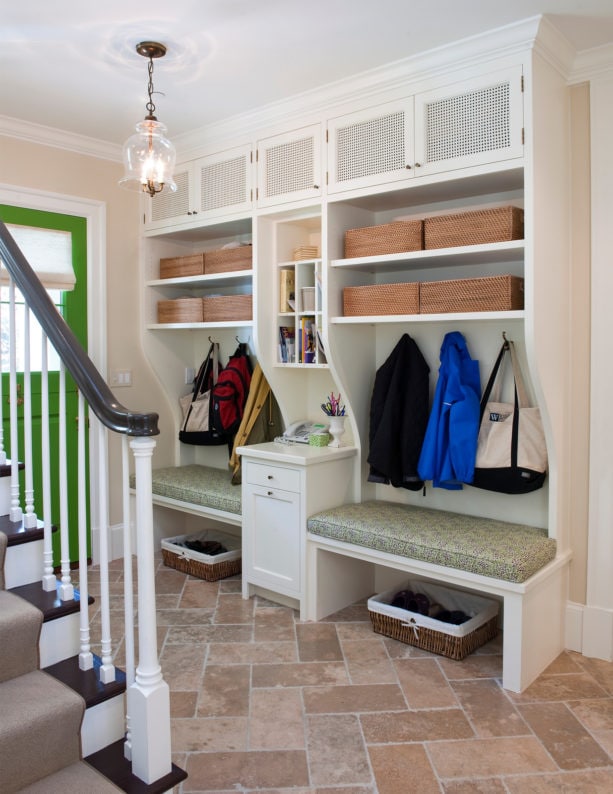 This area is basically a perfect combination of a foyer and a mudroom. One side of the wall is dedicated to shelves and benches, while another one is for the staircase. This small yet elegant entryway features a travertine tile flooring in soft color.
It looks like the floor is Chiseled Edge Travertine tile 8″ x 16″, brushed and unfilled, in Walnut color. The tile complements the beige walls perfectly. Both are in a creamy soft color, even though the floor is a bit darker.
The white shelves complete the whole neutral-colored look. And to give a fun element to this entryway, the designer decided to paint the front door in bright green color. The front door gives a splash of color in this muted foyer.
6. Open Small Entryway with Strip Oak Flooring
This entryway is basically small. It looks bigger than it actually is because it has an open design concept. The partition between this entryway and the next room is used as a space to hang the coats and to sit because there is a cushioned bench in it.
This room looks classic with the floor. According to the designers, they didn't change the floor in this entryway remodeling project. It was actually existing, a strip oak floor. The soft yellow walls complement the oak floor in a medium tone nicely.
The rug on the floor gives more accent and texture in this entryway. Adding a rug in your entryway is also an excellent way to remind the guests or visitors to take off their shoes or at least clean them up before entering the house even further.
7. Crisp White Small Entryway with Walnut Flooring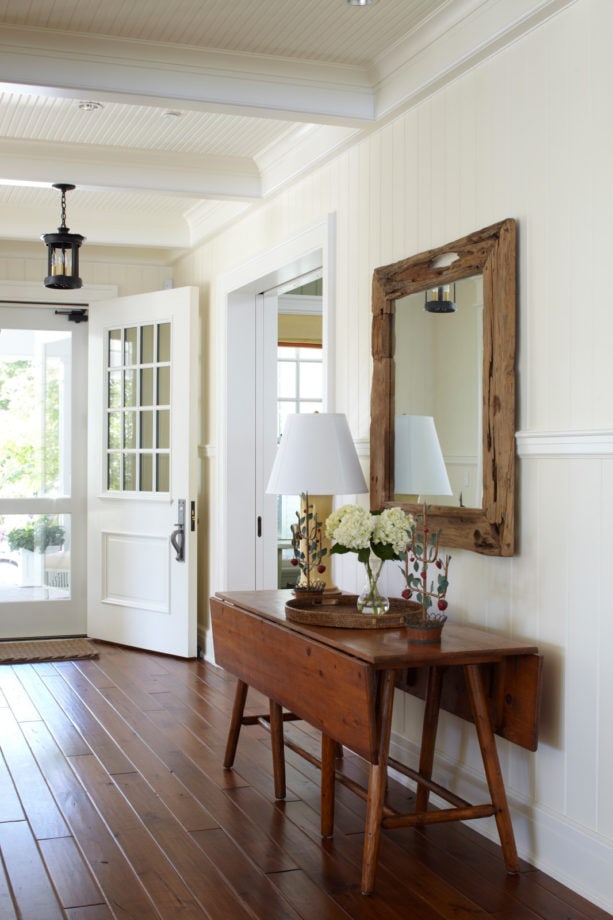 This is another traditional entryway that looks more like a country style with the wood element in it.
This entryway features a crisp white design that makes it look bright and clean at the same time. White is always the best paint option for a small room because it can make the room bigger than it actually is. Even the front door is painted white here.
The floor, on the contrary, gives a nice contrast. It is a walnut floor, which was stained in custom color. There is also a wooden console table as the only furniture piece in this minimalist entryway. The table is only meant as a spot to put decorative stuff, with a lovely decorative mirror over it.
It indicates that this entryway is only used as a transit room before leaving or entering the house. This is an excellent option if you don't want any clutter in your house and want to keep the design and decor as minimalist as possible.
8. Beach Style Small Entryway with Polished Wood Flooring
This is also a small but lovely foyer in beach style. The combination of bright white and wood is the thing that gives the element of beach style in this entryway.
The paneling staircase looks gorgeous and elegant. It has a built-in bench right on the side of the stairs. The bench has been beautifully cushioned to deliver comfort and coziness.
The striking part of this entryway is the polished wood flooring. The floor looks glossy and perfect. According to the designer, the floors had been done by the contractor. This is a walnut floor with a clear coat and no stain.
In order to add more accent to this entryway, the designer also added a navy chevron runner. This was bought from Surya, a wholesale carpet company. The runner perfectly completes the mix of the patterns in this area.
9. Traditional Foyer Entryway with White Oak Flooring
This traditional and classic foyer looks grand despite its small size. It even has a chandelier to illuminate the whole area.
The combination of dark and light natural shades in this entryway also delivers a warm, soft, and elegant look. The muted and soft green walls, dark trim in the stair's railing, and the dark door give the best contrast.
The wood floor complements the whole look gracefully. This flooring is white oak 3 1/4″. It was stained with DuraSeal Stain, and the color was Spice Brown.
Right in front of the main door, there is a runner in a light brown color. This runner adds more texture to the polished white oak flooring and, at the same time, creates a nice contrast because its shade is lighter than the floor.
10. Country Style Small Entryway with Beige Tile Flooring
This lovely country-style entryway has a touch of a farmhouse style too. The paneled ceiling, the patterned rug, the wood console table, the screen door, and even the lights, when combined together, deliver a nice "hybrid" of country style and farmhouse style entryway.
The all-white design is neutralized and balanced with the beige tile flooring. It seems that the floor here is travertine tile. The combination of white and beige with a touch of the wood element in this entryway delivers a minimalist yet stylish look.
There is no bench, hooks, or coat racks here. However, there is a wide wood mirror over the console table that enables the visitors or guests to check on their looks before entering the house or the homeowners to take a last look at their appearance before leaving the house. It is actually an excellent idea to add a big mirror in an entryway like this.
11. Transitional Small Mudroom Entryway with Hickory Hardwood Flooring
This small transitional mudroom looks neat and clean, unlike the other mudrooms that usually have hanging coats everywhere. It is because the designer added cubbies instead of a hanging rack.
There are also upper shelves on another side of the cubbies, with a bench below. Even though there is no cushion on this bench, it has several throw pillows on it. There are built-in pullout drawers underneath the bench as an extra storage space.
The floor is hickory hardwood. This type of hardwood floor gives a nice contrast with the soft grey wall and crisp white shelves. If you are wondering, the wall was painted in Benjamin Moore – Stonington Gray color.
There is a black and white runner right in front of the main door. This carpet runner is used to give more texture and color to this room and to make sure that visitors and guests enter the house with clean shoes.
12. Mid-Century Style Small Entryway with Gray Slate Tile Flooring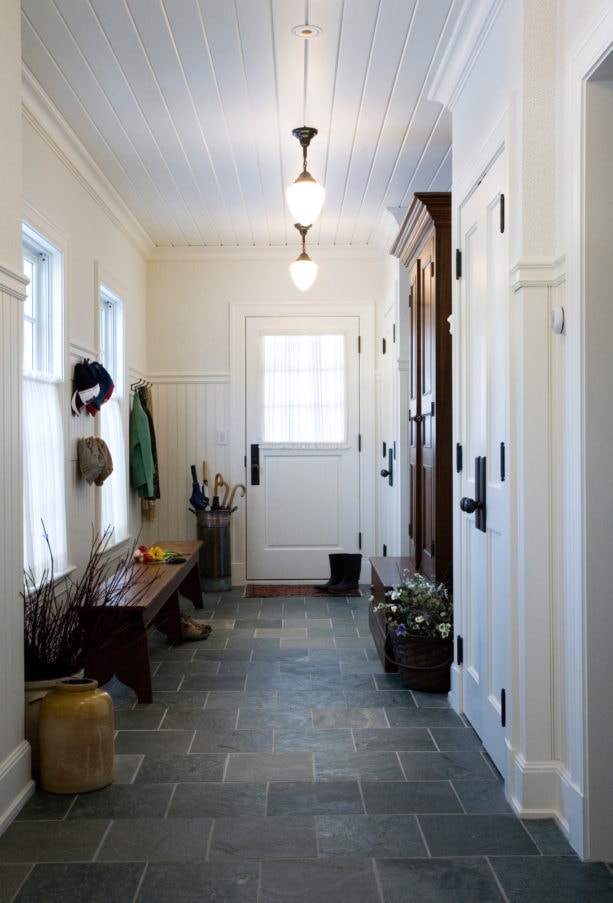 If you want an entryway that is cozier with a lot of "comfortable clutter" to make it look "real", you might like this one. This entryway has a mid-century style. The combination of white, wood elements and gray tile never fails to deliver a classic medieval look.
However, the element in this entryway that gives a medieval look the most is the floor. It is a gray slate tile flooring, a nice contrast with the white wall. There is no detailed information about the specification of the tile, but it looks similar to the clefted aqua blue slate. This kind of slate delivers an elegant look to a small mudroom like this.
The wood elements can be seen from the bench underneath the window and the majestic armoire. There are hooks to hang the coats on the wall above the bench, and there is an umbrella stand too. We can clearly see that this mudroom is complete enough to serve its function.
13. Minimalist Small Entryway Foyer with Flaming Birch Flooring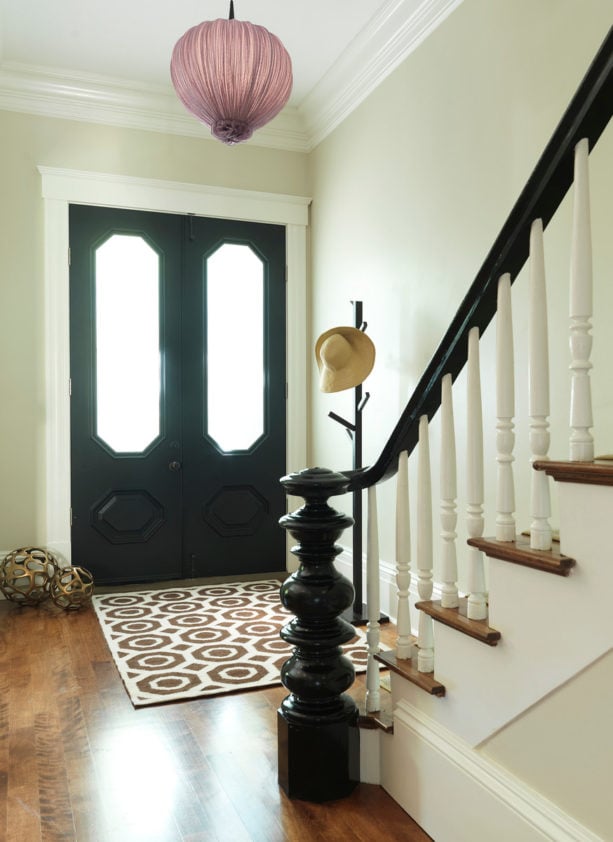 A minimalist foyer like this is perfect for you if you think that the usual grande and extravagant foyers are a bit too much.
We can see that the dimension of this entryway is not that long. Instead, it forms almost like a square shape, an area between the front door and the staircase. Therefore, the designer added a square-shaped rug too in this spot.
FYI, if you are looking for a rug that is durable for an entryway, you can choose a hand-knotted rug made from 100% vegetable-dyed wood like this. It is because wool is a material that is basically indestructible. And a vegetable dye won't bleed.
The rug looks lovely combined with the wood floor. According to the designer, the wooden floor here was pre-existing, and it didn't go through any change during the remodeling project. It seems that the flooring is a flaming birch floor. The grain pattern on the left really does look like flames.
There is no bench or hooks here. Instead, there is a standing rack that can be used to hang the hats or coats. This kind of rack is space-efficient for a small entryway. It delivers a minimalist design too.
14. Transitional Small Entryway with Dark Wood Flooring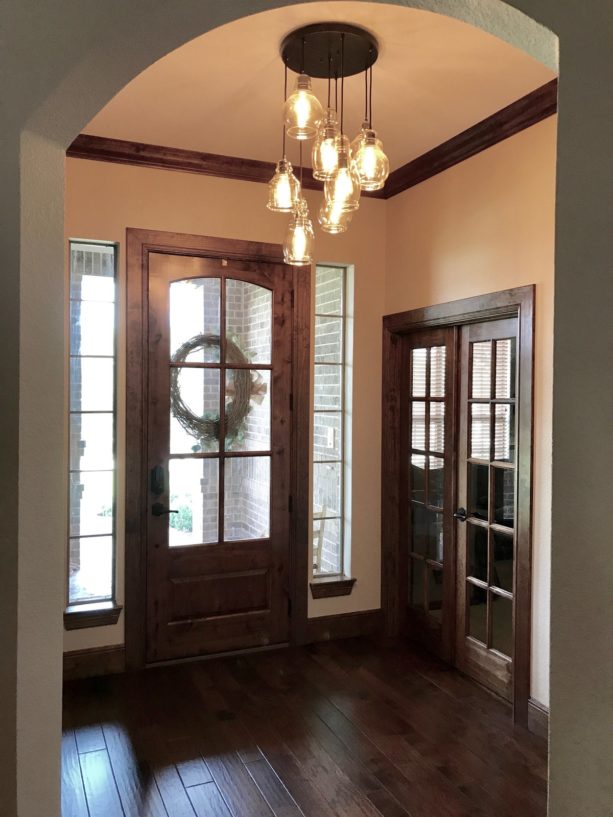 This "dark" foyer has a transitional style in it. Instead of looking gloomy, this small entryway looks perfectly polished and elegant.
The wood elements in this area are contrasted with the creamy beige of the wall paint. In order to add a modern look, the stylish chandelier was added right in this entryway to radiate the warm yellow light.
The dark hardwood floor matches the french door and the screen door. It seems that this area is too small to accommodate the usual furniture pieces you can usually find in an entryway.
The homeowners seemingly want to keep this area clear of clutter and focus on the minimalist look and transitional design instead of the decorative pieces of stuff.
And even though there are no bold decorations in this entryway, the hardwood floor has already proven itself best. Any room with a hardwood floor doesn't need many decorations because that type of floor has already been an attention-grabbing element.
15. Small Enclosed Entryway with Medium Tone Wood Flooring
This compact entryway is an enclosed one. You can see here that the entryway is more like a small room. This entryway has enough storage to be considered a perfect mudroom. There are wooden coat hooks in multiple sizes at kid and adult levels.
There is also a narrow yet tall console table serving as additional storage in this area. It is accompanied by a stool that can be used as a place to sit and change shoes.
This small transitional entryway has a medium-tone wood floor decorated with a gray rug. That rug creates an excellent color-blocking design with the wooden floor and delivers a beautiful contrast.
The wood floor itself blends seamlessly with the white wall, white door, and geometric wallpaper. The geometric wallpaper itself has been added to the wall to create some zing.
We can see that there is a decorative mirror over the console table. As stated before, adding a mirror in your entryway can be an excellent way to decorate the room because a mirror can help you check on your appearance one last time before you leave the house. Plus, a mirror is a must-have decoration for a small room like this to create a more oversized look.
What to Add in Your Small Entryway
After you have a vivid vision of the type of entryway you'd like for your home, now it's the time to start decorating and furnishing it. Besides the floor that we have discussed above, here are some quick guides of the most used elements in an entryway when it comes to decorations and furniture:
Bench. The bench in the entryway is helpful for visitors to sit down when they're taking on or off their shoes. The bench can also be used to place the briefcase or bag when you arrive back home.
Console table. This is another common item in an entryway. Console table can be used to store any personal item. Or, you can put decorative stuff like table lamps, trays, or artworks to enhance the style of your entryway.
Coat rack or hooks. This is a must-have item if you have a mudroom entryway. If you don't have a closet in your entryway, a coat rack will do. Or, hooks can also be an alternative. They can be attached to the walls to hold coats, scarves, and such.
Lighting. Usually, entryways are lit by chandeliers or table lamps. You can choose the perfect lighting based on your electrical setup as well as your personal preference.
An entryway can also be used as a place to keep or store some important stuff, like keys, an umbrella, raincoats, rain boots, and a small box for cash. Now that you know everything about an entryway, why don't you start to build one in your house? Good luck with your project!