Grey and yellow are colors that can go well together. They do not simply create a harmonious visual. Grey tends to look calm, and it can tone down yellow, which often appears to be a strong hue.
On the other hand, yellow also brings a good thing for the grey. It makes the grey color looks more powerful than when it stands on its own. That is why we can say that grey and yellow are meant for one another.
When you use the two of them in bathroom design, the combination will not only give you all the things mentioned earlier. You will also get a boost of spirit that is just perfect to start each day.
Something is refreshing about the combination. It even gives a cheerful touch to the bathroom.
If you are looking for grey and yellow bathroom inspirations, we will share with you the 13 most fabulous inspirations in this article. Check them all out to get inspired to do your next bathroom remodeling or renovating project.
The Attention-Catcher Yellow Stools in a Grey Bathroom
To get the stunning look resulted from the combination of grey and yellow colors in your bathroom, you should not always do a big project. A simple one can make a huge difference as long as it is done right.
For example, you can take a look at the bathroom photo with a contemporary style above. This room is the one that originally brings a grey color scheme with a little bit of white touch.
A design like this is amazing because of how versatile it is. You can effortlessly add a colorful addition for an update by making sure that the color can be a good match for the grey. In this case, we are talking about a yellow hue.
If you already have a grey bathroom at home and you want an update to change the visual, you can do it by adding yellow items in there. In the photo, the things are a pair of yellow bathroom stools.
Although the color is so different, these items look amazing being placed in the bathroom. It gets even better because they come with grey legs that finally make them belong to the color scheme.
Industrial Bathroom with Grey, Yellow, Black, and Wood Color Scheme
The pairing between grey and yellow can also be suitable for building an industrial-style bathroom. However, we want to say something that can make everything even more stunning. It is none other but the addition of black hue in the design.
Like any other grey and yellow theme in the bathroom, the yellow color functions as an attention catcher. On the other hand, the grey works more as an excellent base color in the interior.
The industrial bathroom that you can see above is a really good example. As you can see, the grey colors from the tiled shower walls and vanity backsplash dominated the room.
Connected directly to the wall, a custom floating flat panel yellow cabinets function as the main attention-stealer in this interior design. We love how it looks so good being paired with the medium tone countertop, which looks compatible with the medium tone wood floor with an oil finish.
The detail that significantly strengthens the industrial feel in the bathroom is the black color that comes in some items, including the dark anodized aluminum and tempered glass shower room closure, which door is made by American Shower Door. There is also a pair of black-framed wall mirrors by Restoration Hardware for another black detail.
When designing an industrial bathroom, the thing you should not forget is the small details showing the characteristic of the style. The examples that you can see in this photo are the exposed light cable and also pipes.
Instant Yellow Decoration for Grey Bathroom
Having guests coming over your house and thinking about making the grey bathroom look stunning, there is an instant decoration idea you can try to do. It is by placing a vase of yellow flowers on your vanity as done in the photo.
This idea is something that you can do very quickly. It will be even better if you have some yellow flowers growing in your yard, no matter whether they are sunflowers, sword lilies, bearded iris, daffodil, rose, tulip, or something else.
You just need to grab some of them and put them in a vase. The next thing to do is placing the vase on the bathroom vanity, and the guests will spot the stunning view.
By the way, the bathroom's grey wall design in the photo looks very attractive, right? We found information that it is a polished basalt mosaic tile from Bourget Bros.
Fun Visual with Yellow and Grey Bathroom Floor
You can also create a fabulous look in the bathroom by paying more attention to the floor design. Here we want to show you that grey and yellow color combinations can also be applicable to this interior element.
A bathroom floor with yellow and grey colors can create a fun visual that is excellent for a kids' bathroom. However, it does not mean that it will not look good to use in another room too.
The photo you see above shows you a floor design with yellow and grey square tiles as the materials. And, the room you see here is a bathroom designed for adults.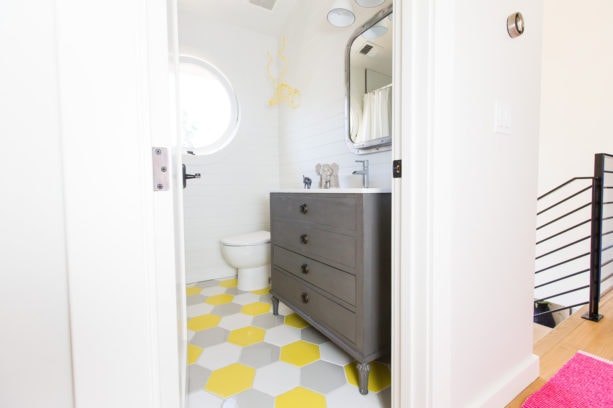 If you are interested in using the combination of the kids' bathroom floor design, we have some suggestions that you can follow. First, you can choose an interesting shape for the tiles.
The example that you can see in the photo above is hexagonal. Something like this can make every bath time even more fun.
Another suggestion to follow is optional. It is to add a white tone to the floor design. The function of this is to make the room brighter and more cheerful. As you can see, the hexagonal floor you see in the photo consists of three different colors, which are yellow, grey, and white.
Grey and yellow Mosaic Backsplash for a Refreshing Touch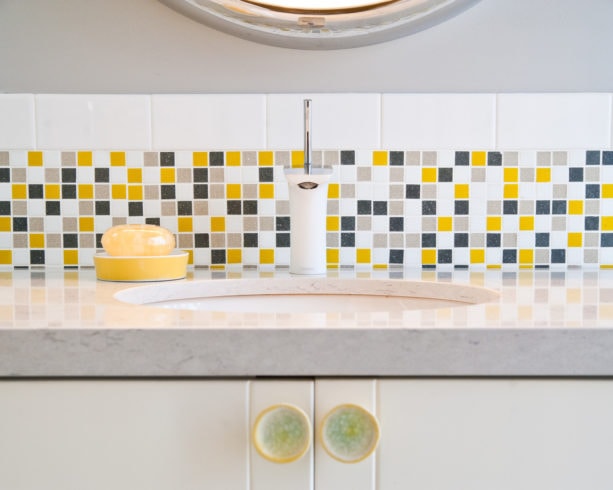 This next idea is quite the same as the one that we just talked about. It is about mixing grey, yellow, and white color to create an interesting visual in the bathroom.
Here, we want to go more specific. The reason is that the element we talk about here is none other but bathroom backsplash.
You can use the color combination, not only on the floor. Using it for the backsplash can also be an excellent idea. The multi-color visual creates an interesting point in the bathroom interior.
The photo that we found shows you a very good example. The Brio Glass Mosaic tile in City Sunshine Blend by Modwalls is undeniably interesting here. It gives a refreshing touch to the neutral-color vanity.
Color Shot with the Combination of Yellow Vanity Cabinet and Grey Backsplash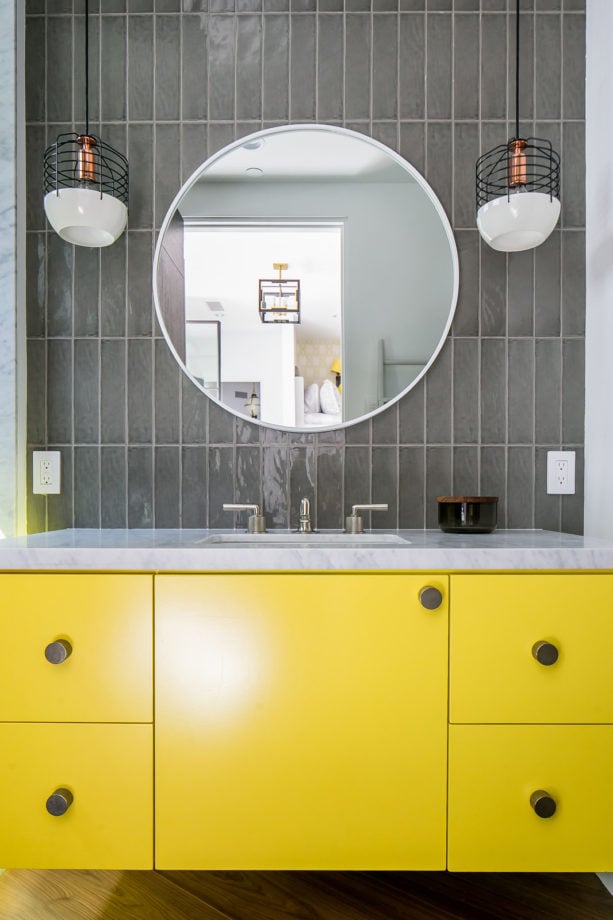 Adding a color shot in your bathroom is possible to do when you use grey and yellow. It works especially when the grey hue dominates the interior.
The way to do it is also various. As an example, you can see the photo above. It shows an image of a floating vanity cabinet with yellow color from Benjamin Moore Fiesta Yellow 341.
This bathroom furniture successfully gives a color shot to the interior because it has a grey glass subway tile as the background. The visual effect is even better because the backsplash color is rather dark.
Besides using a vanity cabinet, you can add a yellow color shot in a grey bathroom using different items. The sure thing that you must remember is that the size of the item you choose should be big and significant.
So, yes, this idea is not effective when you execute it by using small items, like decorations. It will be best to use something big like a vanity, cabinet, or tub that can steal attention.
Interesting Shower Room Design with Grey and Yellow Tiled-Walls
By using a yellow and grey color, you can also create an interesting shower room design. The best material to make this idea comes true is, of course, tiles.
It is easy to create any design when your option goes to tiles. As an example, you can see the shower room photo above.
The room and the custom bench here are covered with glass tiles in grey and yellow. The yellow color here works more as something to accentuate the grey shower.
The design possibilities for this idea are endless. You can even get creative to create your original design if you want to.
Yellow Accent Wall in a Grey Bathroom
An accent wall is another design idea that you can create. It is especially when you want to create something that can arrest attention once people enter the bathroom.
Again and again, the yellow color is the best star in this idea. It is more suitable to use for creating an accent wall instead of grey.
The custom yellow paint from Dulux MixLab Range that you can see in the photo is an example. We love how it looks in contrast with the light grey bathroom surroundings.
The thing that we love even more is how it gives a lively and cheerful atmosphere to the bathroom. It provides a refreshing touch in a neutral-dominated interior like the contemporary bathroom in the photo.
Yellow Niche for Grey Bathroom
Adding yellow niches to your grey bathroom can be a good idea too. Although this bathroom element tends to give function, which is to store different kinds of toiletries so that it will be easier for you to reach them, it can also work as decoration.
If you are interested in decorating your bathroom by using niches, you can count on color, pattern, or both. In this case, let us talk more about color, which is yellow.
Yellow niches look stunning in a grey bathroom. Depending on the shade of grey that functions as the background, it can create a different visual.
For example, when you place yellow niches in a light grey bathroom as done in the photo, the decorative look will not be too popping. On the contrary, if the grey tone is darker, a bolder and more pop visual will result.
Grey Bathroom with Stunning Yellow Shower Room
Do you like to go big using the yellow color in the bathroom area because you love this bright color? If so, you can try to use it to dominate the shower room.
No matter whether the shower room is big or small, the yellow tone can still steal attention. It will look even better because the bathroom is in a grey scheme.
The doorless shower room above is an example that we can find for you. Generally, we love how stunning the yellow walls when paired with the dark grey tone of the floor.
Another thing we love is the fact that the yellow tone comes from rectangular tiles arranged in a certain position. It creates a tilting pattern that boosts the visual even better. A shower room like this is always the right place to start each day.
Yellow Wall Mirror in a Grey Bathroom
No matter how the idea is applied, grey and yellow combination in the bathroom can always create a fab. As proof, you can take a look at the contemporary bathroom photo above.
The dominating grey portion makes it the primary color in this interior. On the other hand, yellow is an accentuating color here, a good one.
The application of yellow tone in this bathroom can be seen from the round mirrors, the open cabinet, and the small banana decoration on the vanity. We think that you do not even need these much-decorating items to create a fabulous look.
Now please imagine a grey bathroom decorated with a yellow wall mirror. Attractive, isn't it?
Steal Attention by Placing Yellow Sink in a Grey Bathroom
We found this photo, and we think that it shows a very interesting idea. It is to use a yellow sink in a grey-dominated bathroom.
In the photo, the type of sink used has a round shape. Something like this is ideal for any modern bathroom and the variations.
The yellow color is just awesome. It has a white inner that does not make it look too much.
About it being paired with the grey shades in the bathroom, it looks totally fine. The type of grey tone used here is quite different from the ones shown in the previous photos. It tends to be on the warm side.
However, as you can see, nothing looks wrong with the pairing. It seems to prove that yellow and grey are colors that look amazing together no matter what the shades are.
Yellow, White, and Grey Stripe Wall Design for Bathroom
Last but not least, we want to show you another wall design alternative that you can use in a bathroom with a grey and yellow color theme. The idea uses stripe as the pattern, no matter whether it is vertical or horizontal.
Stripes pattern with yellow and grey tones can create a unique look with a touch of fun in it. It is a design that is suitable to use in any bathroom style. It is also ideal for all ages.
If you like the idea but do not want the bathroom to look less bright, there is a trick that you can do. It is by adding white color in the stripes pattern, just like what is done in the traditional bathroom design in the photo.
Closing
The grey and yellow bathroom design contain many things that make us love it. The two colors look good together and can even create a harmonious visual.
The way to apply the colors is also various. You can use a balance portion for each tone or use one as the most dominant hue.
Another thing that we also notice from all the examples above is the fact that yellow is often used as something accentuating in a grey bathroom. It is even perfect for building up a refreshing atmosphere that is perfect for any bathroom.
In the end, what is not to love about the use of grey and yellow combination in bathroom interior, right?