The bathroom is an important aspect of any home, be it a new or an older home.
Subsequently, adding an extra bathroom to an old house can do wonders for spicing up the home.
Yes, there are some of us who will question the advantages of adding an extra bathroom to your house, despite the spicing up the home fact.
Keep in mind that there is always someone in your house that basically needs this extra bathroom unless you live alone. This way, you don't have to reserve a time slot and create a schedule to use the bathroom.
Fortunately, you can always add more bathrooms to your house, even if you have limited space.
Yet, before adding an extra bathroom to your old house, there are the things you should consider first:
1. Does Add a Bathroom to an Old House Add Value to Your Home?
This is the essential thing to consider. You may want to know whether this new bathroom will add value to your house or not.
When it comes to financial value, it is quite difficult to precisely answer that question. However, you can be sure that many potential house buyers will prioritize looking for a home with at least two full baths and possibly even more.
Does adding a bathroom to an old house add value to your home?
In one study, it is stated that adding a bathroom to your old house will increase the home's sale price by 8.7%. It is actually more than twice the increase you could see if you added an extra bedroom.
Generally speaking, yes, adding a bathroom will increase the value of your house. However, the amount of the increase largely depends on your house's location.
The average return in the US, west coast area, is around 67 percent, while the east coast is approximately 47 percent. The number will change based on the size and materials of the bathroom you added to your house.
If you are not planning to sell your house any time soon, the value you gain by adding an extra bathroom is added functionality.
Over half of homeowners who added an extra bathroom to their houses stated that they wanted to be home more. They had an improved sense of enjoyment after the project was completed.
If you have to wait to use the bath to take a shower now, then it may be the best time for you to have another bathroom in your home.
2. What Is the Average Cost of Adding a Bathroom to an Old House?
If you think that adding an extra bathroom in your old house is too expensive, think again.
Yes, there are some factors that can bulge up the budget, like finding the space, building it out, and adding plumbing. However, it doesn't have to be like that. The key is to get the right approach. This way, the advantages of having an extra bathroom can outweigh the cost.
Remember the fact stated above that adding a bathroom can increase your home's value significantly.
So, how much does it actually cost to add a bathroom? The upfront investment may vary from $3,00 —if you already have a space in your house to be transformed into a bathroom— to $25,000 if you have to provide a whole new area for this added bathroom.
If you are doing a simple conversion or working on an existing space, the cost will run anywhere from $3,000 to $5,000. It includes adding bathtub/shower, flooring, paint, and simple wallpaper.
Installing a new bathroom right from the start, with a new space, is another matter. The cost will be increased into the $25,000 to $30,000 range.
The number will be increased significantly if you are planning to build a large and luxurious bathroom. If you want to save money, work with your existing space and layout and choose simple fixtures. Please keep an eye on your expenses and budget.
3. Where Are the Best Areas in Your Old House to Add an Extra Bathroom?
Basically, as long as you have an available space that has access to adequate sound insulation, ventilation, and sufficient electrical outlets, you can install a new bathroom anywhere in your house.
You may feel as if you don't have any available space in your house, but it is most likely you don't know where to look. There are secret extra spaces scattered through many houses. Those areas may be:
Hallways: You have a perfect location for a new bathroom if your hallway runs all the way to the house's end, terminating in a window without rooms on either side.
Closets: A large walk-in closet can be transformed into a new bathroom with just a few minor changes. If you have any adjoining closets, just knock out the wall between them. You'll have enough room for a half bath.
Bedrooms: If you have a spacious master bedroom, there must be a chunk of space you're not really using. You can add some partitions to that space to install a new bathroom.
Existing bathroom. It will be better to have two small bathrooms instead of just one huge one. Add the required fixtures to each side, then cut your large bathroom in half.
Garage: If your garage is large enough to accommodate two cars at a time, it means that there is enough space to install a new bathroom there. This is considered the best place because most garages are on ground level and designed to have utilities. This way, a garage bathroom can be easily connected to water and power.
Basement: This is basically the same with a garage setup. However, because basements are commonly below ground, make sure your bathroom basement is properly ventilated, and some protective coating should be added to the walls; otherwise, they will rot.
Under a staircase. Usually, this area is used to store shoes or as a pantry location. If you have at least around 25 square feet here, the toilet, sink, and shower can fit quite easily with a 1 square foot size window, at least for proper ventilation.
4. Are There Any Plumbing Tips When Adding a Bathroom to an Old House?
When you're installing an additional bathroom to your old house, these are the tips to help you finish your project successfully:
Determine what you want your added bathroom to look like before the project starts. You can check out the pictures below for ideas.
Put fixtures strategically. You can keep plumbing bills and construction costs down if you can put your new fixtures close to existing waste and water lines.
It is recommended to install a sliding or swinging door to this added bathroom. It will optimize the available space for fixtures. Moreover, sliding or swinging doors also make the guests easier to navigate inside this bathroom.
Keep an eye out for functional, affordable, and versatile products that will make the installing process easier. This way, you can save a huge installation cost as it will cut installation time drastically.
5. How Long Does It Take to Add a Bathroom to an Old House?
The time it takes to add a bathroom to an old house depends on how extensive the project is.
It can be finished pretty quickly if you do only a cosmetic renovation to an existing bathroom. However, a more comprehensive and extensive renovation can take around four to nine weeks typically. It will take a bit longer if you add on your home's footprint to add a bathroom.
6. Who Would be Better Doing a Project of Adding a Bathroom to an Old House?
Before answering this question, it is better to discuss these things first.
First, there should be ventilation to your bathroom. Try to use a space with a window already built-in. If it is impossible, you need to install a new window or at least put in a duct fan.
Second, make sure the floor can handle the weight of the added bathroom. Keep in mind that bathroom fixtures can weigh until 20 pounds per square foot. You need to determine what kind of capacity your floor joists are completed to handle.
Do the math. That is the reason people would prefer remodeling a bathroom by themselves to calling a professional. However, you should also know that in a more extensive project, you need to provide supplies, equipment, and tools too. And considering the time you should dedicate to this project, it is always a good idea to get professional help.
You should also ask your contractor and plumber about the most economical ways to add your new bathroom. It is because costs are another factor to consider.
While a small bathroom can be remodeled affordably, if you want to drastically transform a space to create a new bathroom, it needs more thorough and detailed work. Thus, hiring a contractor and a plumber would be a better idea. The cost may be high, but it would be even higher if you fail at your first attempt in this project and you have to do it all over again.
7. What Should be Considered Before Adding a Bathroom to an Old House?
There are important questions you should consider and answer to make sure that your project runs smoothly:
Is there an existing water and waste pipe line near your added bathroom? Before installing, make sure the water flow exists for this bathroom. If there isn't any, you should hire a plumber to fix this and get water flow to this extra bathroom.
Do you have sufficient space for this bathroom? You should know that not every space can meet all the bathroom standards you may need. The starting point for usual bathrooms is about 25 square feet. This size is enough to accommodate a sink, a toilet, and a small bathtub, even though for some, this may be too small.
Does your city code let you add a bathroom in your planned space? This is quite tricky because every city has a different code. So it is recommended to consult your nearest authority on this matter. Many cities do not allow alterations to your house. Or some extensions may be too big for city code without the proper permits. It is always recommended to know what you can and cannot do to your home before you start.
Should you ask a professional help? Basically, yes. In many cases, plumbing and electrical alterations must be conducted by a trained professional. Some steps can be done in a DIY project if you are confident of your abilities and have the needed experience. Yet, ultimately, utilities should be handled by a professional, as stated before. It would be best to consult a professional to avoid any unnecessary building mishaps that may happen.
8. Why You Should Add a Bathroom to an Old House?
Apart from adding value to your old house, here are other reasons why you should add an extra bathroom:
Allow for Family Growth. One of the main reasons to add a bathroom to your old house is to let your family grow. If you live in a full house, adding an extra bathroom will prevent the family members from fighting over who gets the bathroom first.
Creates An Entertaining and Hosting Guests Easier. If you throw a party or host a holiday get-together, it would be helpful for the guests to have their own space. This way, you can cut back on germs and traffic in your personal bathroom.
Improves Safety and Mobility. If you have other family members or friends who need a more accessible bathroom, adding an extra bathroom is very helpful. You might want to use limited mobility features, like a walk-in shower, handrails, and a non-slip floor.
Utilizes Unused Area. As stated before, the best location to add an extra bathroom to your old house is in the unused space. In an old house, there are many spaces like this, like a basement, a cellar, under the staircase, or a garage.
Adds Privacy. Having a bathroom in the old house provides you with the personal space you need. You can use this extra bathroom if you want to have alone time to chill with a bubble bath.
9. Adding an Extra Bathroom to a Dungeon Cellar of an Old House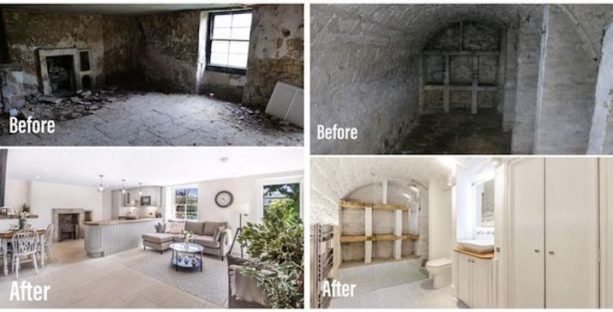 This dungeon-like cellar used to be spooky and scary. However, the homeowner managed to transform it into a brand new extra bathroom.
When he bought this basement and sub-basement of this old house, it had never been lived in. According to him, this area had no water and electricity. It had been mostly used as storage.
We can see here this cellar used to be a dark and damp area.
At first, the homeowner wasn't aware there was this cellar when he was renovating the top-floor apartment of this old house. He said that he knew there was a basement down there, but he wasn't allowed to access it because it was in such a bad condition.
It took three full years for the homeowner to transform this cellar into an extra bathroom. He went that far to make sure that this old house was authentically restored.
After being restored, this cellar still has the coal hatch, and the markings remain in some of the walls.
The arch in the wall is still kept. The homeowner installed some display racks in that area that had been turned into a nook. Now, the nook contains racks that can be used to store towels or other toiletries.
The walls still remain because the homeowner wanted to keep the ancient look of this area. He just scrubbed the walls' surface and added some layers of white-colored paint on top of them.
A toilet is added over the arched wall. A vanity, a closet, and a towel rack are also added to this bathroom. Most of these furniture pieces are carefully selected in white to create a bright, fresh, and modern look to this bathroom.
10. Turning a Side Entrance of an Old House Into an Added New Bathroom
According to the homeowners, they bought this 200-year-old house and decided to remodel it. They wanted to make everything open concept. They also transformed a side entrance and a small pantry into a brand new bathroom.
This room size is about 8'6" x 11'. It is enough for a guest bathroom as well as a relaxation area.
First, the homeowners should shim the walls to accommodate R24 insulation. They also replaced the window because they wanted to go with all standard-sized windows to keep the costs down in the long run. That was quite a challenging project to do in an old house like this.
They also later installed all-new electrical and plumbing for this bathroom. The joists were reinforced due to the bug infestation. Moreover, there are other joints that have suffered damage from wood rot over the past 200 years.
After being renovated, this area has been drastically changed.
Now, the floor tiles are white. The deep soaker tub was put in the central area with a window over it. All the molding from the crown to the baseboard molding was custom-made from wood with double coats of primer, paint, urethane sealer.
This new bathroom features a lovely craftsman style, even though each area has its own individual details. A glass tile border in the ceramic tiles on the wall gives a unique look to this room.
11. Adding a Bathroom to a Damp Barrel-Vaulted Basement of an Old House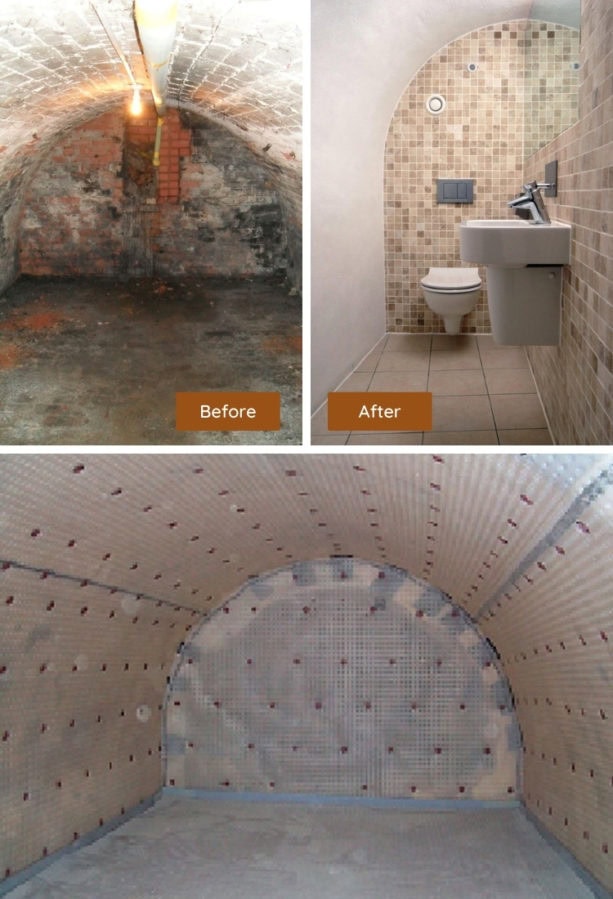 The designers managed to install a new bathroom to the barrel-vaulted basement in an old house.
Before, this trendy bathroom used to be a damp and dark bathroom with a half-circle design, a usual design of an old house. But once it is renovated, it looks bright and trendy. It seems that this area is way too large for a bathroom. That is why the designers cut this basement into two smaller spaces, and one of them is this bathroom.
A cellar tanking was installed initially. It involves a high-quality automatic sump pump bundle. After that, all walls here were dry-lined with Gyproc plasterboards which are moisture-resistant and insulated metal framework.
Now, this basement has become a trendy "shell" bathroom. It features high-quality sanitary wares.
The mosaic tiles behind the hanging closet offer a superb cellar conversion. It dramatically changes the entire look.
The brick-style tiles on the right side of this bathroom also significantly transform this used to be a dark and spooky cellar.
The wall on the left side is painted in white color to make this area look bright and fresh. Moreover, it also neutralizes the pattern block of the tiles on the walls and floor.
Basically, this completed project gives a fantastic additional bathroom for the homeowners. It also releases the space on the upper floors of their old house.
12. Converting a Garage of an Old House Into an Added Bathroom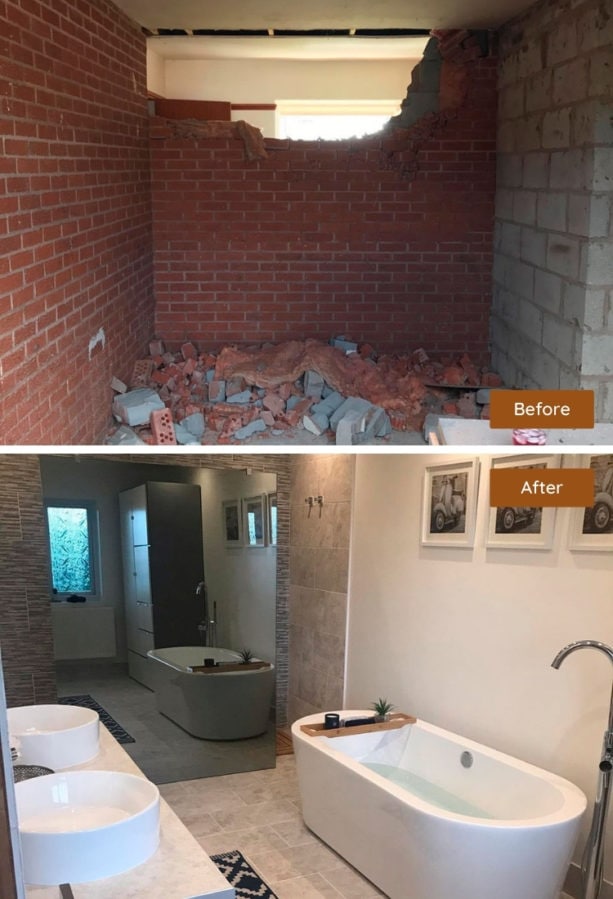 From an unused garage to a trendy bathroom, the homeowners of this old house managed to finish this project very well.
The homeowners are expecting a baby, but they can't afford to buy a bigger house. So, they decided to move the bathroom to the unused garage and convert the old bathroom into a bedroom.
The unloved garage had a brick and concrete walls. But, in order to create a desired extra bathroom, the brick wall should be removed.
The floor level was also raised. Thus, the pipes could be hidden. A window should also be added that as there wasn't any in there. The double garage doors had to be bricked up too.
The wall removal was meant to utilize the corridor behind the garage leading to the rest of the property. Waters needed to be plumbed and connected to the external drainage.
The homeowners confessed that they needed some help from the tiler, the plasterer, and the electrician to finish this project.
After being remodeled, this garage has now been transformed into a luxurious bathroom.
A freestanding tub was placed on one side, while double sinks and vanity were placed on the opposite side of the tub. There is a huge mirror put against the tiled wall to create an illusion of a bigger room.
This bathroom is painted in crisp white color, while the tiles on the floors and the walls are carefully selected in a neutral tone. The colors and tones in this bathroom create a modern minimalist look.
13. Adding a Bathroom from a Small Bedroom of an Old House
According to the homeowners, the property they moved in was an old Victorian home. They didn't even have a real bathroom at that time. That was why they decided to renovate their old house from top to bottom.
One of their incredible transformations was the dark bedroom. They managed to turn this small and dark bedroom with dated brown tiles and ole mattress into a complete bathroom with a walk-in shower and a tub.
First, they started to rip all the plaster off the walls where they wanted to place it in the shower because the walls weren't in good condition.
After that, they had to add a hole for bathroom waste, hot and cold feed pipes, and install all the required pipework. They also boarded up the area around the shower and painted the bathroom ceiling.
After a while, the transformation began to reveal.
Basically, this is a small room. Yet, they managed to fit a claw-foot bathtub and a separate shower in it. The tub was placed near the window nook, so they could have a refreshing bath with a proper light from the outside.
There is a sink and a toilet near the tub and a shower area bordered by glass walls around.
The pattern of the tiled floors creates a vintage look of this bathroom. It is paired with dark green panels around and the white walls on top of them. Basically, this bathroom looks soft and lovely with a mid-century design.
Closing
What do you think about adding a bathroom to an old house? Do you think the cost you have to spend is worth it, and the advantages will outweigh the cost? Please share your thoughts in the comment section below.