Black and white are known as neutral colors.
If you involve them in your home design, you will get a perfect background for your interior because black and white can be paired with anything. That is why these colors are considered simple and minimalist.
One of the great things to include black and white color in your room is through the floor.
When it comes to the rooms, one of the high traffic areas in your house that should be designed beautifully is the kitchen. It is the place where you can host a small get-together or the entire family gathers during the meal times.
Incorporating a black and white kitchen floor is always an excellent idea.
The classic combination of black and white will create a significant impact on the floor, no matter what pattern or motif you choose; a simple checkerboard or a more intricate one.
That is why black and white can deliver a bold yet still minimalist look. These eye-catching colors add beauty to your kitchen while at the same time letting other elements shine.
If you want to use this stylish combo in your kitchen, here are some ideas below:
1. Porcelain Tile Black and White Kitchen Floor in a Unique Design
This black and white floor is a porcelain tile from The Cementine Black and White Series of Arizona Tile. It provides the elegance and the charm of a vintage effect.
Usually, a tile like this is used as an accent or a border. However, the homeowners decided that it would be best to use this beautiful tile as the main floor for their kitchen.
With its unique design, this black and white tile create a beautiful layout. Especially it is combined with a polished black cabinet with gold hardware as an accent.
The white walls and backsplash neutralize the elegant black cabinet, delivering a black and white scheme to this contemporary kitchen, along with the floor tile.
2. Ceramic Black and White Kitchen Floor for a Mid-Century Modern Style
This lovely black and white tile of the kitchen floor is Star Nero Ceramic Floor and Wall Tile from SomerTile.
This vintage tile is a nod to any retro design. However, this kitchen is not entirely in a vintage design. You can see that this kitchen is mid-century modern. The matte black faucet and black stainless range are undeniably stylish.
The tile backsplash at full height invokes exposed brick. It also serves as the background for the decorative brass sconces ad wood-clad hood.
Generally, this nice kitchen is a perfect blend of chic, modern, and vintage looks. The Black and white combination is mixed with brass elements and repeated throughout the entire kitchen area in the floor, cabinets, countertops, and lightings.
3. VCT Checkerboard Black and White Floor in an All-White Kitchen
Basically, this kitchen features a simple checkerboard black and white tile. However, the designer managed to make it look extra.
The floors are VCT finished with satin wax. You can see here that this black and white vinyl tile gives a bold look to the all-white kitchen.
The kitchen is completed with white recessed-panel cabinets, white subway tile backsplash, and stainless steel appliances.
Those look pale and plain, especially not everyone loves a sterile and crisp look like this. Thus, the checkerboard tiles were installed because black will never fail to add more drama to a white design.
4. Porcelain That Looks Like Polished Marble Black and White Kitchen Floor
If you look at this elegant kitchen floor, you may think that it is made of polished marble because it looks glossy and clean. However, according to the designer, the kitchen floor here is basically a porcelain tile.
This mid-sized cottage-style kitchen features a porcelain tile floor that was purchased from The Tile Shop.
This kitchen uses black and white as its main color. The black lower cabinets are paired with white upper cabinets. The island was painted black too, while the backsplash is in white color.
The black and white color scheme is applied to the floor too. However, unlike the typical black and white floor, this one is quite different.
This floor is dominated in white color, while the black one is only an accent in a perfect small square shape. It is clear that the homeowner wanted to mainly use white in this kitchen because white can give a bright, clean, and space-enhancing effect to any room.
5. Black and White Cement Tile Kitchen Floor to Create a Graphic Look
This kitchen has a unique design, thanks to its floor tile. The floor used here is cement tile. This patterned cement tile creates a graphic and unified look.
This is a perfect look to copy if you want to add more dimension to your kitchen.
The cement tile is from Granada Tile, black and white Badajoz. It looks beautiful paired with black flat-panel cabinets, white countertops, and a white subway tile backsplash.
Along with a huge table used as an island and farmhouse-style ceiling, the black and white tile delivers a flawless traditional look to this kitchen.
6. Black Porcelain Tile with White Grout Kitchen Floor to Create a Minimalist Look
This ultra-modern kitchen looks friendly with all elements in it.
Similar to the previous pictures, this kitchen also incorporates a black and white color scheme. The black flat-panel cabinets, glossy black appliances, white undermount sink, and white walls give a trendy and stylish look.
The main point in this kitchen is the floor. It is a porcelain tile, which is Marca Corona Black Ecoliving Tile.
Basically, the entire kitchen uses all-black porcelain tile. However, the designer added light pewter grout in white color. Therefore, the black and white combination here is subtler than the previous pictures you've seen before.
One of the great ways to decorate a black and white room like this is by adding a soft grey color to bridge the dark and light colors.
Grey is a result of black and white combined. Thus, this is a perfect color to use if you want to combine black and white without being too bold and dramatic. The grey color will soften the whole look.
You can see that the soft gray element in this kitchen is in the matchstick tile backsplash and the countertops.
The backsplash is in a lighter shade of grey, while the countertop is in a darker shade. Both create a perfect subtle bridge for this black and white scheme.
7. Combination of Black and White Tile Kitchen Floor with The Cherry Wood Element
This traditional kitchen looks warm and inviting. It is clear that this kitchen is full of the wood element, the timeless material that can be used from vintage to modern look.
The combination of painted white inset cabinets and wormy cherry wood custom cabinets goes well with the black and white floor.
The floor is a usual porcelain tile, black and white in a checkerboard style. Basically, this is a simple type of tile floor. Checkerboard is the most common pattern when it comes to black and white floor.
The kitchen island is designed half-half. The first half is made of wooden butcher block, while the other half is made of honed black granite. That island looks contrast against the black and white floor.
8. Congoleum Vinyl Black, White, and Gray Kitchen Floor with a Geometric Pattern
Using a black and white kitchen floor doesn't necessarily mean that you have to plainly use black and white only.
This floor tile proves it. It is a vinyl flooring with geometric patterns in black, white, and gray. Those three colors are known as neutral colors that can be used as a canvas to pair with other colors and elements.
This vinyl flooring VCT gives an artistic look. The solid color with cube flooring design delivers a fantastic 3D optical illusion. It looks lovely in this small yet modern kitchen.
It turns out that the homeowner is the owner of the primary art gallery. No wonder everything in this house is in black and white because that color combination is meant to accentuate the great collection of art.
9. Plaid Black and White Floor Made of VCT in a Traditional Kitchen
This is a traditional kitchen with a retro look.
The most eye-catching element in this kitchen is the plaid floor. It is a VCT floor from Mannington, creating a timeless multicolored appearance.
The black and white tile is quite different from the other patterns you've seen above. This is a simple pattern without any decorative motif. Yet, it is not a usual checkerboard design. The black color serves as a border, while the white color is meant for the main area.
This large black and white tile looks lovely combined with white cabinets, white subway tile backsplash, black quartz countertops, and stainless steel appliances.
The stainless steel appliances serve as an accent to this black and white color scheme. It also adds a touch of modern look to this vintage look, creating a more balanced look.
10. Regent Black and White Floor Tiles for an Elegant Kitchen
This kitchen looks crisp, clean, and polished. It is because the kitchen is mainly dominated by white color. White never fails to create a bright, clean, and fresh look. That is why this white design is suitable for this contemporary kitchen.
In order to add some drama and a bold look, the homeowner and the designer added a black and white tile floor. The black accent on this floor makes the all-white design more pop up, so it is not too pale and bland.
The tile used here is Regent Black and White Floor Tiles. These patterned tiles deliver an elegant look to the entire area.
The soft brown wall that is used as a backsplash softens the kitchen's appearance. It perfectly bridges the white color with the black accent of the floor.
11. Quartz Black and White Tile Combined with Medium Tone Wood Kitchen Floor
This is a small eclectic kitchen that has a unique combination of black and white scheme and wood element.
Eclectic design is known as a style that combines elements of multiple designs into one space artfully. It involves a wide variety of styles, colors, and patterns in unexpected detail.
We can see that in this kitchen, the black and white color combination is mixed with the wood element. It is unique and unusual, but that's what makes this kitchen eclectic.
The black and white floor here is basically simple, laid in a diagonal or diamond pattern. Those tiles are quartz tiles from Caesar Stone. The specific colors are Pure White and Nero Marquina. They were cut-polished and shaved for this kitchen.
Those tiles are mixed with medium-tone wooden floors. The wooden floor is used as a border that runs along the perimeter of the island.
There are two islands in this kitchen, which means that there are two different areas marked by the black and white tiles bordered by the wooden floor.
12. Black and White Tile Border with a Square Mosaic Pattern Kitchen Floor to Frame the Island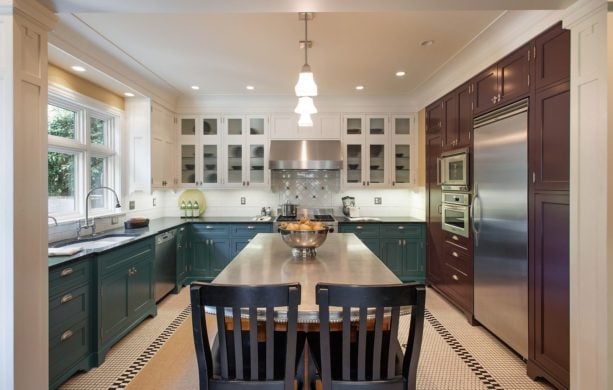 The black and white kitchen floor tile is installed in a U-shaped kitchen with an island as the focal point.
The tile was used on this kitchen floor in a traditional pattern. It features a hexagon as the inset, which is bordered by a square mosaic black and white border around the edge, framing the island.
It is a 1" hexagon field with a 2"x2" black and white checkerboard tile frame, surrounded by a 1" square edge. There are three different tiles in various sizes and shapes.
Framing the island like this will highlight this focal point even more.
The black and white tiles serve as a perfect background in this kitchen that can be paired with any color. The base cabinets are painted in teal color, while the upper cabinets are white. The full height cabinetry is made of mahogany with its natural color.
With such element and color combinations, it is always an excellent idea to apply a black and white combination for the flooring.
13. 24" Marble Tiles In Black and White with Wood Pickets
This elegant kitchen features charcoal gray walls made of Venetian plaster and an iron chandelier. But, the most striking element in this kitchen is the black and white tile. It is 24" marble tiles, Gold Sand Classebony-stainedials Marketing, with ebony stained oak wood x-pattern, or also known as "pickets".
Marble tiles like this are your best bet if you want to achieve an elegant and luxurious look.
Those large-sized tiles are laid in diamond or diagonal patterns. Instead of black and white tiles installed one after another like the usual pattern, these tiles have a white inset surrounded by a perfectly square-shaped black color.
These marble tiles are paired with neutral colors for the entire look. This is perfect for you who don't like too much drama in a room and only want to achieve a modern minimalist look.
14. 12×12 Porcelain Tile Black and White Kitchen Floor Bordered with Light Tone Wood
This is a transitional open concept kitchen that features white shaker cabinets, white quartz countertops, a white ceramic backsplash, white walls, stainless steel appliances, a dark grey island, and a black and white floor.
It is obvious that the homeowner wanted to incorporate neutral tones for this kitchen. As an accent, the metallic chairs are added to the island. Those chairs are great to accentuate the entire look.
A combination of a black and white color scheme and a warm metallic element like this creates a smooth and ultra-chic finish.
The black and white flooring here is a 12×12 porcelain tile. It was purchased from Discover Tile.
The pattern on these tiles delivers an elegant Victorian look. The unique pattern also gives a subtle fun element to this kitchen, so it doesn't look too dull and plain.
The Victorian-style porcelain black and white tiles are perfectly bordered by a light tone wood floor. The mix of black and white tile with wood floor is irresistibly unique. It's what makes this kitchen transitional because the transitional design is elegant and timeless, mixing new and old, masculine and feminine elements, in a fresh way.
15. Tips to Match Black and White Kitchen Floor
After looking at the best pictures of the black and white kitchen floor above, you might want to start doing your project of kitchen remodeling right now. However, before replacing your tiles, you need to know some tips to mix and match the entire look:
Rustic elements: Combining black and white kitchen floor with rustic elements will add warmth to your kitchen. It's essential to pick the right tone of the wood too. Don't pick the wood tone that is too pale, for it will look washed out. It is best to use medium-tone wood for the cabinets, island, or countertop.
Marble: Black and white floor tile will always benefit from the textured surface. So if you want to create a more dramatic look, consider using marble for the countertops. It will soften the overall feel of your kitchen.
Subtle pop of color. If you use black and white for the entire design scheme in your kitchen, it is recommended to add a splash of color subtly. Artwork is a beautiful way to introduce color. Or, you can use the main shades as accessories on the countertops.
Warm metallic: Combining black and white kitchen floor with warm metallic elements will create the smooth finish that is perfect for a modern minimalist look. Brass is one of the great kitchen trends recently. It gives an elegant glow to your kitchen and breaks up the monochromatic look nicely.
Textured white wall tiles: This is another important key to adding a lovely tactile sense to your kitchen. It will add an extra bit of style to the space.
Softer gray: Gray cabinetry can be used to neutralize the black and white floor. It creates a space-enhancing look suitable for smaller kitchens.
So, what is your opinion about using a black and white kitchen floor? Is it really worth it? Share your thoughts in the comments below.