Having a blue and white bathroom is a dream come true for most people. It is because that color combination can provide a calm, relaxing, and tranquil sensation. After a long hard day, all we want to do is relaxing with a shower of hot water or a detox bath. And it will be completed with a warm and soothing ambiance in the bathroom.
Additionally, blue and white are considered the best color combination as well. Blue, psychologically, is known as a relaxing color. White, on the other hand, is a crisp color. White symbolizes clarity and cleanliness. Plus, having white color in a small room will make it look bigger than it is.
If you are into the beach and coastal design style, blue and white is standard mixing color. Those colors will remind you of the salty sea and the beautiful beach you visited last summer. No wonder, blue and white color combination is quite popular among designers.
Here, we have 15 stunning blue and white bathroom designs to inspire you. Let's check one by one.
Soft and Feminine Look Transitional Bathroom with Pale Blue and White Shade
If you want a pastel color combination that blends perfectly together, this bathroom will surely inspire you. The transitional 3/4 multicolored floor gives a more elegant vibe with its pattern. On the other hand, in the shower corner, the ceramic tiles flooring has a deeper and richer blue shade. The flooring creates a beautiful contrast.
The white flat panel cabinets combined with white undermount sink and beige countertops create a crisp and clean look for the bathroom. This is important for a small bathroom because white will create an illusion of a larger room.
Combined with a glass hinged shower door, the overall bathroom looks simple yet elegant. Its simplicity balances with the bright blue as an accent. Even the towel creates a beautiful focal point with its bright Tosca color.
Luxurious Bathroom with Bold Blue Wall and White Countertop to Add an Extra Glam
Want a bolder design? If you love something more dramatic, you should consider having a deep navy blue as your focal point. In this bathroom, the color combination doesn't blend smoothly. Instead, it gives a more contrast of dark and bright.
The dark side is symbolized by the deep navy blue wall that can be used as a focal point. Surprisingly, it looks fit together combined with white countertops, which represents the bright side. The towel and the painting on the wall create a lovely contrast as well.
In the shower corner, you can see the multicolored ceramic tiles. The blue and white mosaic tiles used as a divider in all-white ceramic tiles. It is combined with mosaic tile flooring and glass hinged shower door.
The dark and bright combination in this bathroom is also warmed by the yellow light fixtures on the wall. Overall, this looks warm, nice, and inviting. Who can resist such temptation?
Farmhouse style is one of the most popular ones in home design. No wonder, because farmhouse style can perfectly combine traditional and contemporary style with its simple touch. In this bathroom, you can see the white color dominates the room. The subway mosaic tile looks perfect in white. The shaker cabinet and ceramic tiles in the shower corner's wall are crisp white as well.
To create a lovely contrast in its contemporary side, you can use deep navy blue on one side of the wall. This bathroom uses a navy color from Sherwin Williams. It will look nice too, combined with a lighter shade, which is Horizon from Benjamin Moore. And if you want to provide a smooth transition for Navy blue and Horizon color, use grey as your accent color. In this room, you can see a grey granite countertop as the accent. This comes as a part of the vanity, which is Sheffield's vanity from Houzz.
To add more textures, there are polished chrome fixtures for the lighting. Additionally, there is also a woven basket that was perfectly put as a decoration. Polished chrome and woven basket give a richer texture in this bathroom.
Tosca-colored Mirror Bathroom to Give a Beautiful Accent for Blue and White Color Scheme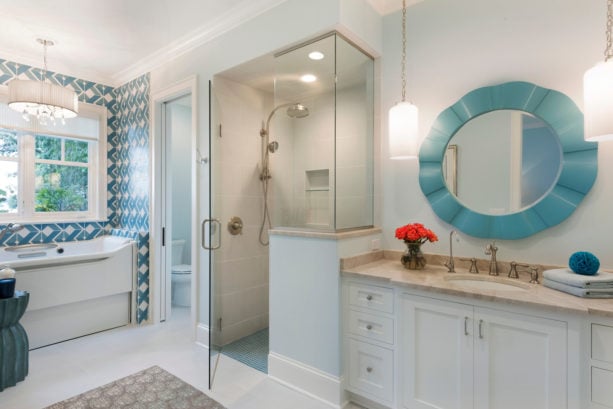 Combining Tosca and white proves to be the best decision. In this elegant master bathroom, you can see how a Tosca-colored mirror looks beautifully contrasted in the ivory white wall. There's a shower puff with the same color to put as a decoration upon the countertop.
The countertop itself is carefully picked in light brown color. Tosca and brown may look a bit unnatural together. But with white color as the background, they actually can go hand in hand. The white shaker cabinet can blend seamlessly with the white floor and wall.
In the left corner, there is a patterned graphic wall. The pattern combines blue and white colors. It is also completed with a white-framed window, a white walk-in bath by Kohler, and a small white chandelier. Each furniture piece and decoration in this bathroom has its beauty. Combined, they create a beautiful blue and relaxing white nuance.
Decorate a Small and Cozy Bathroom with Dark Blue Walls and White Ceramic Tiles
This tiny bathroom proves that size doesn't matter. It doesn't need a large bathroom to achieve a cozy feeling. The dark blue wall creates a warm ambiance, offers comfort after a long tiring day. On the other hand, the white Carrara stone vanity top and the white mosaic floor and subway tile give timeless, polished, and elegance to this small bathroom.
The combination of small classic 3/4 white ceramic tiles, an under-mount sink, a white shaker cabinet, marble countertops, a two-piece toilet, and an under-mount tub creates a put-together look. Don't forget the warm lighting. It enhances the overall sensation, making it more of a perfect space to unwind.
Monochrome Bathroom Combined with Blue Print Walls and White Tub
Having a traditional bathroom means you have to combine neutral colors to achieve a minimalist look. However, in this bathroom, you see that the black and white color scheme should have a pop of color as the focal point. And in this case, it is the blue wall.
Besides the blue wall, this monochrome bathroom is simply good. There's a white freestanding tub that can help make the bathroom look clean. And it's put against the clear white tiles. In the corner of the room, there is a white two-piece toilet and crisp white pedestal sink.
To balance the look, this bathroom has a mosaic deep blue and white tile floor. The dark of deep blue color on the floor creates a beautiful contrast in this all-white room. And for a touch of color, there is an artificial plant with healthy green foliage in front of the toilet. Nice, isn't it?
Clean White Bathroom Mixed with Dark Blue Walls to Achieve Fiercer Look
Urban glam bathroom like this usually combines two neutral colors as part of its charm. The small 3/4 greyish white tile equipped with a white shaker cabinet and white one-piece toilet gives a spotless look. The quartz countertop also looks excellent put against the white cabinet.
However, to counter the sterile space that, for some, looks intimidating, this bathroom adds a deep navy blue to one part of its walls. The dark color gives a glamor look, especially when combined with the glass fixture.
Beach Style Bathroom with Coastal Blue and White Tiles Mixed Together
For a beach-style room, it's not uncommon to have a blue and white combination. But you need to choose the best shade for a perfect blue-white color. In this room, coastal blue provides the best contrast for clear white.
In the bath corner, 1/4 of the wall is covered with coastal blue tiles, while the rest is covered with clearly white tiles. It is completed with a hinged glass shower door that provides modernity in a traditional beach-style space.
There's a medium-tone wood cabinet, a wood-framed picture, and a beige floor for the accent. Wooden brown can be matched with the blue and white color scheme, even though at first it may sound absurd to combine earth tones with sea colors.
Relaxing Bathroom in White Tile Porcelain Combined with Soft Blue Walls
A traditional bathroom isn't necessarily boring. For instance, look at this room. This spacious and elegant bathroom is super cozy and relaxing. The soft blue wall has a calming effect. Combined with a crisp white wall, floor, window frame, tub, and cabinets, the blue color, which is Woodlawn Blue from Benjamin Moore, creates a clean and polished look.
The freestanding tub, White Aquatic Serenity 11 72″ Air Bath Tub with Base, is located at the room's center. Thus, it can be a great focal point in this large bathroom. It proves that the focal point doesn't have to be bold and bright to attract attention. But, still, there's an accent in the focal point. In this case, it is the soft blue colored towel. The towel's color matches the wall, making it even more put-together.
For a slight touch of brightness, there's a canary yellow-colored stack of towels. And the shower sponges have a similar color. Both of them give sparks of bright color in this soft and relaxing bathroom.
Who said that a small bathroom couldn't be decorated elegantly? This room proves otherwise. With its navy blue vanity, this all-white bathroom looks classy. The wall paint color is White Dove by Benjamin Moore. And for the arrogance, they were custom-made by Thorcraft Custom Kitchen. The color is Stiffkey Blue No.281 by Farrow & Ball.
However, the best part of this room is its golden accent. The shimmery gold shower, fixtures, door handle, water tap, and cabinet handles look graceful combined with deep navy blue. Speaking of the institutions, this bathroom uses all Kohler fixtures.
All of them are mixed well with dark flooring. "Wooden" floor, surprisingly, looks lovely combined with a gold accent. But don't be fooled because this "wooden" floor is a tile. It is from Tile by Design Allwood – Palissandro. They create an elegant and luxurious style. The floor in the shower corner, however, was carefully picked in beige color. They made a great contrast.
Creating Minimalist Bathroom with Beautiful with Teal Blue Subway Tile and White Wall
This contemporary bathroom is perfect for kids' bathrooms. Its simplicity and modernistic style will suit older kids' personalities. A combination of deep blue and white walls is already familiar. But combining crisp white with teal is upping the ante.
The teal subway tile creates an eye-candy focal point above the white tub. White walls surround it on every side. The white ceramic tile flooring looks nice as well with the marble countertop. The flat panel cabinet has an identical teal color with the focal point to create a great accent. Both of them spark a pop of soft color.
And the dark frame of the mirror balances everything out. The polished white and the eye-candy teal have a slight touch of black to contrast them. Most of the time, indeed, we need a bit of darkness to add more neutral colors.
Contemporary Bathroom with Santorini Blue Wall and White Flooring
For a contemporary and modern style, you need an elegant color combination that can emit a luxurious look. The deep blue and white color combination is indeed beautiful and gives the perfect contrast. But, it can't provide the right look for a modern style room. On the contrary, to achieve the contemporary style, you need a perfect color transition that doesn't contrast.
In this room, Santorini blue blends flawlessly with white. The ivory white flooring blends with the same white beaded inset cabinets and the two-piece toilet. Later it continues up to the white under-mount sink and white marble countertop.
And the all-white pieces later transition into Santorini blue wall. The blue color looks even warmer and more inviting with yellow-light fixtures. The emanating light creates a magnificent ambiance.
Soft and Girly Bathroom with Blue Floral Accents in White Wall
This bathroom screams girly and feminine style in every corner. The white ivory tile, floor, countertop, and under-mount tub make this room's overall look polished and flawless. However, there are floral patterns all over the wall in the tub corner. It gives to soft and feminine touch.
, the dark wood cabinet sets up a good distinction: the soft side and the dark side. But the dark color only acts as an accent, so it doesn't affect the feminine look of this bathroom much.
Apart from its girly side, this bathroom also has a contemporary style. The wall mount toilet, the integrated sink, and the hinged shower door give a modern touch. It makes the room look perfect for a single urban woman.
Achieving Country-style Bathroom by Mixing Crisp White Wall and Graphic Blue Tile
County style bathroom is not that hard to decorate. You just need the proper accent and decoration. There are woven baskets, custom-built driftwood vanity a la console style, and enameled light fixture in this bathroom. All of them give a touch of country life.
The walk-in shower also makes this room even more special. It creates a warming ambiance that can help you stretch out after a long day. The combination of the vessel sink and quartz countertop sparks a touch of elegance.
However, the main point in this bathroom is the graphic cement tile. It is a Granada Cement Tile – Fez 928A design. This tropical style tile is perfect for both wall and floor tile. The combination of graphic blue porcelain tile and the crisp, coastal white wall doesn't fail to achieve a unique look. And it seems this bathroom has combined coastal beach style and country style.
Creating a Unique and Modern Bathroom with Jamestown Blue and White Patterned Flooring and Wall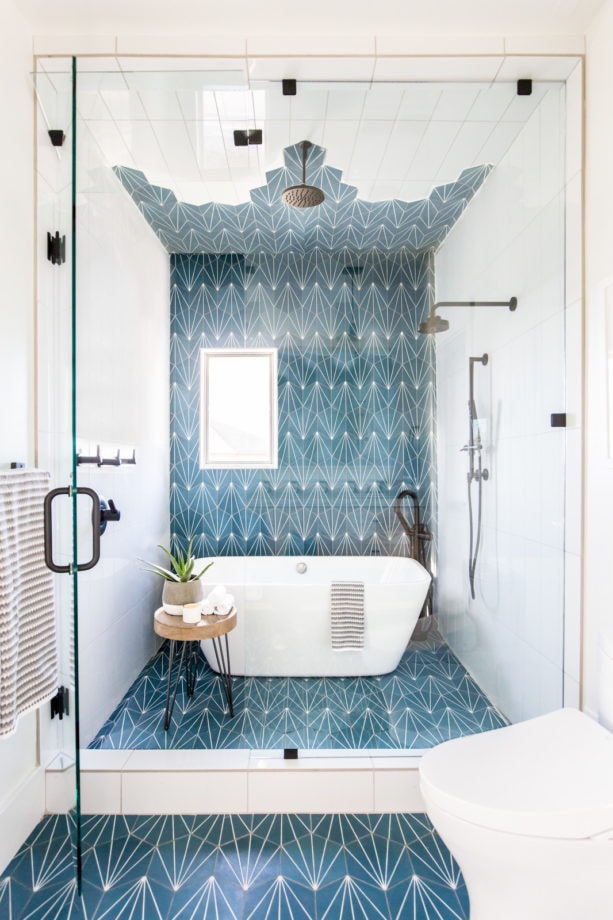 For a small bathroom, the main focus on decorating is to create an illusion to make it look bigger. There are many ways to achieve it. The most popular one is using black and white monochrome style. However, in this bathroom, you see something more unique. Instead of using a black and white combination or using glass to add more dimension, it uses transitional blue and white graphic patterned floor and ceiling.
The floor uses graphic blue tile in contemporary style. It is added with white lines, too, as an accent. Instead of changing the floor's color for the shower corner, this bathroom uses the same tile. And it continues up to the wall and up even higher to the ceiling. The unique part is, the ceiling has two colored tiles. One-fourth part is the graphic blue tile, while the rest uses crips white tile. This creates a perfect illusion for a larger room because it adds dimensions to the room.
The tile itself, however, can be ordered right through its designer, Andrea West Design. However, there are two quite similar tiles. They are Villa Lagoon Tile in Spark C and Floor and Decor Silver Starburst Encaustic SKU100653096.
The sizeable hinged glass door also gives a similar effect to this room. The white freestanding tub provides a nice contrast to the graphic patterned floor. The dark frame, metal shower, and door handle give a touch of a dark color to balance the look.
Closing
So, what is your opinion about the blue and white bathroom designs aforementioned above? Each of them has its charm and unique style.
If you want to use that color combination in your bathroom, feel free to choose the wide-ranged shades of blue. And since white is a neutral color, any shade of blue can mix perfectly well with white. Each shade shows a different style and looks too. It depends on what kind of look you want to achieve.
For instance, if you want a more contemporary look, combine a deeper shade of blue with white color. For a more traditional style, pick lighter blue and white combination to get the polished look. Thus, you'll still have the relaxing and soothing effect of blue color, whatever type and look you have.