A barn door never fails to enhance any home style, from traditional, industrial, to rustic. However, surely it is the most common choice for a rustic design. It is because commonly, barn doors are made of wood, which is one of the critical elements in a rustic design, even though there are some barn doors that are made from metal too.
This kind of door is commonly found in a garage or in a barn. You might think that barn doors are only good for them, but actually, barn doors are also an excellent option for any exterior use, like the main door or the side door. It is because barn doors can enhance the timeless style of your exterior.
Placement is one of the considerations you should put into your mind if you want to install a barn door. Before choosing the door, here are some guides for you:
Placement. Where will your barn door be placed in your home? Is it used for style or function? Commonly, exterior barn doors are perfect for entryways that don't have sufficient space for a swinging door. If you want to use a barn door to add style, you can use it for garage doors, side doors, or walkout basement doors.
Number of Doors Used. You should also decide whether you want to use a double or single barn door. Single barn doors are more popular since double doors need more wall space. As an alternative, you can buy two single barn doors and install them on a double-door track. Regardless of the number of doors you choose, make sure you measure correctly so they can really fit.
Core Type. A barn door can have a solid or hollow core. Barn doors with a hollow core are cheaper and lighter. They are not completely hollow but filled with a combination of wood and synthetic materials. Therefore, they are less dense. This type of door is perfect for the entryway. Solid barn doors, on the contrary, are usually made of solid wood, even though some of them can also be made of different materials, Solid barn doors are more expensive, heavier, but the quality is higher too. This type of door is suitable for garages or walkout basements because it can help insulate the room.
If you want to use an exterior barn door for your home, here are some pictures for you to get inspiration from:
1. Half X Brace Side Sliding Exterior Barn Door Designs for a Large Country Garage
This large country house features majestic half x brace side sliding barn doors. Instead of having a full double X brace in the upper half and lower half of the door, these doors are quite unique.
The upper half of them have a glass panel, while the lower half is for the X brace. This way, the double doors can also be used as windows too because one can see through the glass.
Doors like this can also help brighten up the room. The glass panel can let the natural light come into the room. We can see that these doors lead to the extra-large garage inside. Installing side sliding barn doors like this in a garage can ease the process of moving in and out of the vehicles.
The side sliding barn doors are combined with a metal gambrel roof and metal siding. The wood and metal elements create a nice contrast because dark metal siding looks excellent side by side with the light tone wood.
2. White and Gray Double X Brace Single Sliding Exterior Barn Door for a Home Office
This building is basically a repurposed chicken coop. It was remodeled into a home office in a farmhouse style. Since this building is not that large, so the best entrance door is the single sliding one.
The single sliding door is a window barn door. It serves as a shutter. When you slide the door, the glass panel door will be revealed. This way, the homeowners don't need to fully open the door if they want to let the natural light pour in.
The barn door is a double X brace one, painted in white and gray. The white brace and trim look contrast combined with the gray flush. The gray flush itself blends seamlessly with the siding of the home office.
3. Red and White Double Plank Barn Front Door for a Farmhouse Exterior Design
These red and white double front doors are basically window barn doors. Window barn doors are more like a shutter; they can be opened and closed by sliding them to reveal the windows and/or door beneath.
This type of door is perfect for houses in a colder climate because it can insulate the room. The exterior walls of this house are also packed out with a stud wall for insulation, as well as a layer of plywood, building paper, and a shingle siding.
The designer does not have information on the exact shade of red used on these doors, but Farrow and Ball – Rectory Red is very close to it. The white color can be commonly found in any classic white color from any manufacturer. That red and white combination creates a nice contrast that enhances the farmhouse design.
4. Double X Brace Barn Door Installed for an Entryway of a Transitional Exterior Design House
This is another double X brace barn door that is installed as an entryway for a transitional house. The doors are made of painted wood with a side sliding style.
Side sliding doors are known as the best space-saving door, which is perfect for a small to the mid-size house.
It seems that the door was not painted. Instead, it was stained in wood's natural color. The medium-tone wood in this barn door gives a nice contrast with the light brown siding around. It also matches the windows' trim above.
Generally, this house is an ideal example of a mid-sized transitional two-story building with a wood gable roof and double barn doors.
5. Double Glass Panel Barn Door as the Main Entrance of a Traditional Exterior Design House
The designer decided to maintain the original character of this house when they remodeled it by keeping the barn exterior.
The exterior was restored, and the barn doors were kept. The main doors are double-acting doors, or also known as impact traffic doors or double swinging doors. They ease the homeowners for the indoor-outdoor experience.
The doors are double glass panels in the upper half, combined with double panel wood in the lower half. This is basically a traditional type of door. So the homeowners managed to keep the traditional style of their house by keeping these doors.
The doors are painted in light brown color to enhance the classic design. The brown color mixes harmoniously with the white siding around. Both are neutral colors and soft earthy tones, perfect to deliver a conservative look.
6. Rustic Exterior Design with a Single Sliding Barn Side Door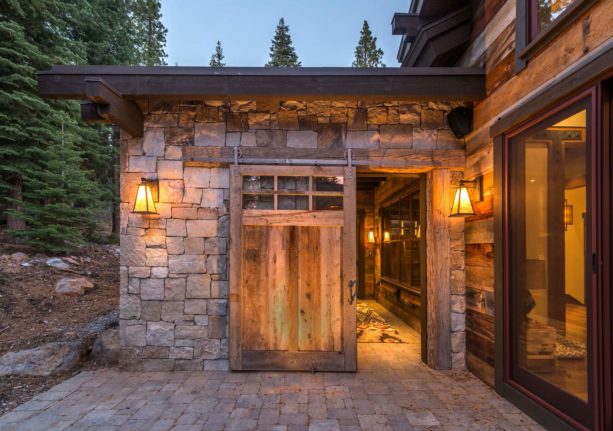 What a lovely rustic exterior design! This is an inspiration for a rustic stone house. The stone exterior is smartly combined with the single sliding barn door.
We can see that this barn door was installed on the side of the house, which means that this is not the main door. Compared to the other barn doors you've seen above, this one is indeed less majestic. However, that doesn't mean it is any less beautiful.
The rustic design is clearly highlighted because it seems that this door is made of unfinished wood. There are glass panels on the upper side of this door. Those glasses are meant to light up in the room.
You might wonder how a barn door like this seals sufficiently to serve as an external door because it appears that there is no seal around the frame, and there is no locking mechanism as well?
According to the designer, the locking mechanism was added after this picture was taken. The door features steel strapping around the perimeter to keep it from critters.
7. Lift and Slide Steel Exterior Barn Doors for a Farmhouse Patio Design
Even though lift and slide doors are not a popular choice when it comes to barn doors, there are some benefits you should know about this door. Some of them are the operation and the fact that it saves energy and space.
These doors allow seamless closing and opening operation. The roller system lets the door panels be lifted, not slid across the track. Lift and slide doors have maximum sealing, so there won't be any heat or cooling escape. These doors don't require as much room as a traditional door too.
It seems that the doors here are made of wood. In fact, they are faux wood and made of steel instead. If you are wondering, these doors are ordered from Ranch House Doors through Garage Door Company. They deliver a perfect connection of the indoor and outdoor. The gravel patio connects the indoor area to the rest of the landscape.
8. Wood Sliding Exterior Barn Door in a Traditional Patio
Just like the most common type of barn doors, these double doors also feature glass panels and wood panels.
The upper half is for the glass panel, while the wood panels are in the lower half. However, the glass panels here are not meant to brighten up the room. It is because there is an indoor door behind this wood sliding exterior barn door.
The wood in this barn door is painted in dark color. It creates a modern and stylish look to this traditional patio. The combination of modern elements and traditional design in this area delivers a lovely timeless look.
Moreover, the dark door looks contrast against the creamy white siding surround. They serve as an excellent centerpiece for this patio space.
Unfortunately, these doors are not air-sealed. The designer decided that way because these doors are located on a breezeway between the backyard and the driveway. Yet, there are ways to lessen the gaps between the wall and the back of the door using astragal and perimeter door sweeps.
Another way is to use the sliding doors only as architectural decoration and install sliding glass doors within the jamb, as you've seen in this picture.
9. Double Z-Brace Exterior Barn Door for a Mountain-Style Garage
This is a lovely mountain-style garage that features double Z-brace exterior barn doors. The doors are side sliding ones, saving more space for this garage. They blend seamlessly with the wood siding, creating an excellent mountain style that mixes harmoniously with the surrounding forest.
Double Z-brace is considered as the simple design of barn doors. Thus, this type of door can be included in your next DIY project. It seems that the wood used is stained in a natural stain, so it can highlight the rustic and mountain style look.
10. White Sliding Exterior Barn Door with an Upper Brace as the Main Entrance of a Tropical House
This is a pretty tiny one-story house with white siding in a tropical design. White is a bright color that can light up the whole exterior. The tropical element in this house can be seen from the maximized operable windows for cross ventilation and to protect from cold air at night.
The main entrance of this house has window barn doors. The double window doors are made of painted wood, which is painted in white color to match the whole exterior. The sliding exterior barn door has an upper brace instead of a mid-brace, and that's what makes it unique.
As a window door, these barn doors open to another indoor glass panel door, which is perfect for a tropical house like this. The barn doors serve as a shutter for the main doors, while the windows on both sides of the house are also completed with shutters painted in dark color to create a nice contrast.
11. Glass Panel Exterior Barn Door for an Open Floor Plan Design
Glass panel barn doors like this are a great choice if privacy is not a concern. These doors are side sliding doors with a glass panel in the upper half and a painted wood panel in the lower half. The doors open to a patio outside.
Basically, the doors separate the outdoor and indoor living areas. The indoor space is an open-plan kitchen. Since this is an open plan, the designer wanted the room to be spacious and bright. Thus, they added glass panel barn doors. Glass will let the natural light come into the room, making it appear brighter and more spacious.
The doors are painted in white color to enhance the cottage design. The white color looks in contrast with the black track and golden hardware. The black and white-colored doors are indeed huge. They deliver a big opening from the patio to the kitchen and vice versa.
12. Dutch Door in an Exterior Barn Design as a Side Entrance of a Country Stone House
Commonly, barn doors are carriage doors installed with side sliding style, single sliding, or even swinging. However, this door is quite different and unique. This is a dutch door with a barn design. Like the usual dutch doors, the upper half of this door can also be opened and closed.
The door itself is a single door, which fits perfectly for a side area like this. It seems that this door leads to a kitchen inside. The door has an X-brace design, one of the most common designs of barn doors.
The weathered wood of this door blends harmoniously with the stone wall around. They create a perfect country house.
The designer also added some unique yet lovely elements to this house exterior, like roofing over the dutch door and a stone step right in front of the door. Those deliver a nice medieval look.
13. Huge British Brace Exterior Sliding Barn Door for a German-Style Bank Barn
This building used to be a German-style bank barn that had been damaged and decayed seriously. The designer later readapted it into a private entertainment space.
The barn had to be stabilized and straightened. However, the designer managed to keep the integrity of the bank barn and reuse the lumber. The result is the traditional details combined with modern touches.
Some of the traditional elements in this house exterior are the huge British brace exterior sliding barn doors that are used as window doors and the red wall paint. If you notice, barns are usually painted red. That is why red-colored barns are considered traditional.
The sliding barn doors have a British brace design that enhances the elegance of this house's exterior.
We can see a lot of windows here. Most of the windows are installed in the center of this exterior, along with the main door. The double main doors even look tiny compared to the majestic windows around. All of them are perfectly covered by the huge side sliding barn doors. When the barn doors are opened, they reveal the entrance, and the windows surround.
Closing
So, what do you think about the barn door designs above? When you install an exterior barn door to enhance the home's style, make sure the door matches the general tone, and look you've chosen for the exterior. Here are some things to make sure your barn doors blend seamlessly with all exterior elements:
Consider the door installation types. There are two types, slab and sliding/track. The slab is only for the door itself, with no hardware. This way, you can mix and match doors with the hardware you like. Sliding/track, on the other hand, includes the track and rollers.
Consider the style. The popular barn door designs are glass, flush, and panel. Glass barn doors can add a unique style to your exterior design, while flush barn doors are smooth and flat, and panel barn doors have stiles and rile forming a design.
Consider Materials. The most common barn doors material is wood. Yet, barn doors are also available in manufactured wood or metal. Metal and glass doors are perfect for a contemporary or modern home, while woods are suitable for rustic or traditional homes.
Consider the finish. For an untreated and natural look, pick an unfinished barn door. For a highlighted natural color of wood, opt for a stained barn door. If you want to paint your barn door, make sure you prime it first.
Make sure you consider all of the options above before purchasing the barn door. Good luck with your project!