If you have to work from home, but you have limited space, it means you have to double-function your furniture piece.
One of the versatile pieces to have more than one function is the dining table. Dining tables can function as a desk.
This is a smart way to save more space in your house, so you don't have to build a home office. You can even use your dining room into an office.
Turning your fancy dining table into a workstation is easy. This would be easier if you rarely invite anyone in your house.
With never-ending projects, it makes sense if the table that is rarely used for meals (except during Thanksgiving or Christmas) is turned into another function.
So, embrace the fact that you don't have enough space to build a home office. Instead, adapt your dining room with other activities in mind. Minimize scuff marks, cover-up clutter, add some work equipment, and you're halfway in optimizing your dining room and dining table.
Here are some ideas for using the dining table as a desk:
1. Long Wood Dining Table as a Desk in a Mid-Century Dining Room Doubling as a Home Office
This area has two functions, it can be used as a home office or a dining room.
The table in the middle of the room is supposed to be a dining table that can accommodate six people at once. However, the long table can also work as a desk. That is an ideal option if for a conference or a meeting.
The mid-century vibe comes from the medium tone wooden table and light tone wooden floor.
A hidden built-in rack is covered by a sliding door "blackboard". The hidden rack is useful to store some office equipment, while the blackboard can be used during a meeting.
Next to the dining table, there is a dark tone wooden freestanding cabinet with what seems to be a stack of the tray. That indicates that this home office has double functions.
2. Square Shaped Dining Table That is Also Served as a Single Desk in a Small Home Office/Dining Table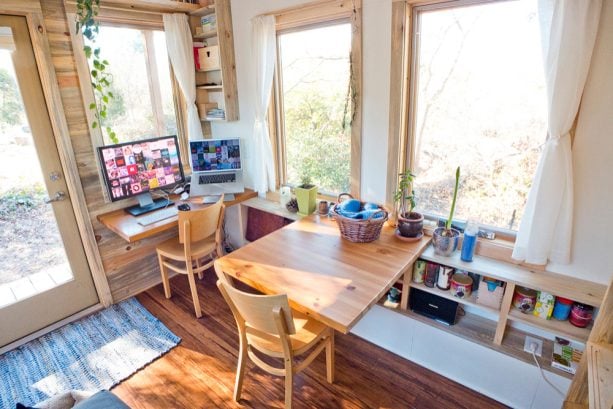 If you want to have a contemporary home office that can also be turned into a dining room, you can check this one out. It seems that this area is meant for one person only. If you live alone and work remotely, this can be your inspiration.
Actually, a hanging desk is completed with a wooden chair next to the window. That desk is used when the homeowner needs to do something with their PC or laptop.
However, there is an extra desk which is free from clutter, that is meant to be used when they need to do some works without any help from the gadgets.
The desk is attached to the wall and the window frame, so it looks a lot like a peninsula, except there is no built-in cabinet. Instead, there is a built-in open display rack below the desk that is supposed to store some office or home equipment.
Due to lack of space, the home office can also be functioned as a dining room. The free-of-clutter desk can also work as a dining table for one. There is a wooden chair, completed the dining table.
Turning this desk into a dining table is an excellent idea since the homeowner can enjoy their meal while enjoying the view outside from the huge windows in front of them.
3. Trendy Home Office with a Narrow Wooden Dining Table as a Desk
This is a trendy home office that has a contemporary vibe. It is clear that this area is purely a home office, not a home office/dining room. However, it is also obvious that the desk used here is basically a dining table.
For some, using dining tables as desks is a great option when it comes to choosing furniture for a home office. It is because dining tables can hold many things, especially the long and narrow dining table like this.
If you want to choose a dining table for a desk:
Make sure you opt for a table that has a simple and minimalist design.
Avoid any table that has too many decorations or ornaments. The material should also be put into consideration.
Always go for a table made of a timeless material, like wood.
It would fit into any design or style perfectly.
4. Classic Dining Table Functioned as a Desk in a Traditional Home Office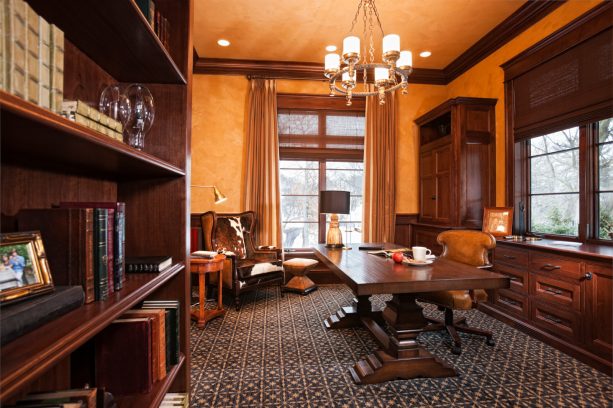 This one is a classic dining table that also functions as a desk. Like the previous picture, this area is also a pure home office, judging from the storage cabinets and bookcases that are meant to be in a home office rather than a dining room.
Thanks to its dark tone wood element in its storage cabinet, bookcase, and desk, the traditional home office looks elegant.
Since the designer wanted to achieve a classic and elegant vibe, the dining table here was carefully selected. It has sculpted legs and a polished surface; what a luxurious choice.
Basically, that desk is a dining table. Again, the homeowner wanted something wider and larger paired to the elegant swivel chair. Thus, the designer chose this long and wide dining table instead of a real desk.
Turns out it is a good choice because the dining table blends seamlessly with the classic furniture around.
5. IKEA Dining Table that Works as a Desk in a Contemporary Home Office
This home office is the opposite of the previous picture.
We saw a dark, traditional, and elegant look in the previous picture. This one, however, has a modern vibe in it, with a glossy surface, contemporary swivel chair, hanging desk, and bright color palette.
It seems that the homeowner thought that one desk wasn't enough for this home office, and a usual desk won't do either. That is why the designer opted for a long dining table for the desk.
In fact, this one is a Melltorp dining table from IKEA. It is perfect for a home office because it is narrower than usual dining tables.
As if it wasn't enough, there is an additional desk mounted to the wall in the back of the dining table.
Both are used to store some office equipment. It appears that the designer didn't want to entirely lose the original function of the main desk.
The designer added a small tray, which indicates that this desk can also be used as a dining table, its original function if the homeowner has to have their meal here.
6. Round Dining Table that is Also Used as a Desk in an Eclectic Dining Room and Home Office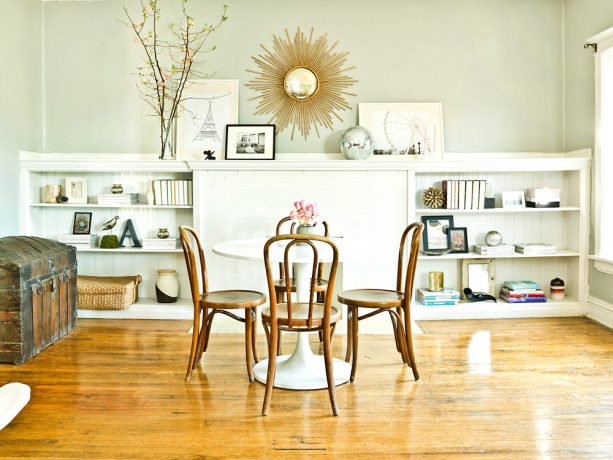 This round dining table is placed in the middle of the room.
Basically, this room is a dining room. However, the partially lined built-in shelving in the wall space provides room for books, some equipment, and decorative items instead of dining ware. That is why this room can also be turned into a simple home office.
The dining table itself is not that wide. Instead of a long and rectangular shape like most desks you've seen above, this one is round. But, that doesn't mean you can have your works here.
It can accommodate four people at once, perfect if you have to have a meeting with some invited over colleagues.
If you don't want to make your space an entirely home office, you can store your work supplies in decorative boxes or baskets, so your living area/dining room doesn't look like an office depot.
Make sure to clean up everything, whisk books and other equipment back into the right spot on the shelves after you're done.
7. Long Table in a Contemporary Dining Room/Library Doubles as a Desk
The previous pictures show a home office that can also be functioned as a dining room or vice versa. However, this one is quite different.
The homeowner thought that a few books weren't enough, so this dining room doubles as a library, a full-scale one, completed with walls lined corner to corner with bookcases.
The dining table in the middle is simple, long, and quite narrow. It can accommodate six people at once, perfect for a meeting.
This table can also be used as a long desk. Surely it can accommodate work supplies perfectly.
It is obvious that this is a less formal dining room. If you want to have a similar dining room style, you should experiment with mixing and matching the table and chairs.
The wooden dining table is paired with upholstered armchairs, perfect for dining and providing enough comfort for working and reading.
8. A Built-in Seating and Casual Pedestal Dining Table as a Desk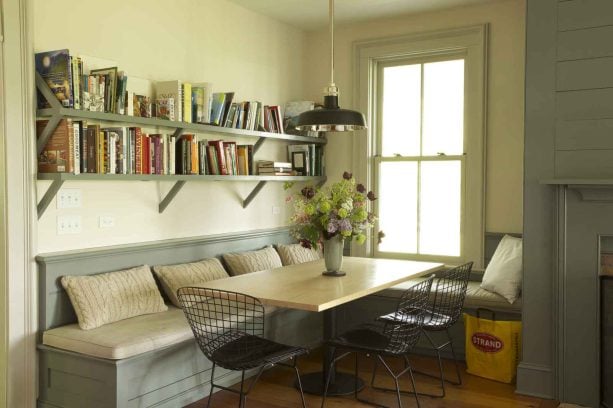 Not everyone can have a formal dining room. If you have a lack of space, you can use your kitchen table for all your meals and double it up as a workspace.
This area features built-in seating with a casual pedestal dining table that is ideal for getting projects done.
The table is a minimalist look, made of light tone wood. It is also completed with armless chairs, which makes this table perfect for a meeting.
This area is basically a banquette, so it is not a formal dining room, yet it is not a home office either.
However, banquettes like this can have a lot of hidden storage in drawers below or under the seat. Work supplies, books, or office equipment can be stored above on open shelving or below. This way, your banquette will always look clean and neat.
9. A Desk in the Middle of a Dining Room Doubled as a Home Office that is Functioned as a Dining Table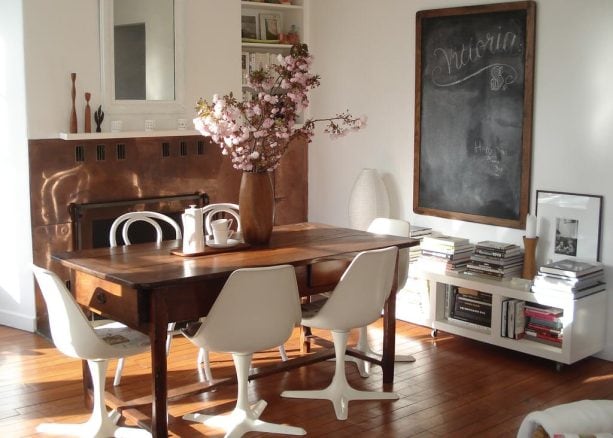 Putting a desk in the middle of a dining room may seem unusual and weird, but it's absolutely acceptable if your dining room works as a home office too.
This lovely desk is completed with drawers. It is something you can easily find at your local thrift store.
If the second-hand desk looks weathered, you can easily treat it with a sealer to make it look polished again. Make sure the height fits for comfortable dining.
It is obvious that the desk is a classic vintage look. If you are not a huge fan of a traditional look, you can jazz up the desk with some modern chairs like this.
There are some equipment pieces added that indicate this space also doubles as a home office, like a blackboard hanging in the wall and a small storage console for additional work supplies.
The storage console here is on casters, so it can be rolled out of the room easily to make more room for guests as they dine.
The blackboard is useful to keep track of your daily meetings and, at the same time, can be a perfect spot for writing down the daily menu.
10. Large Dining Table that Can be Used as a Conference Meeting Desk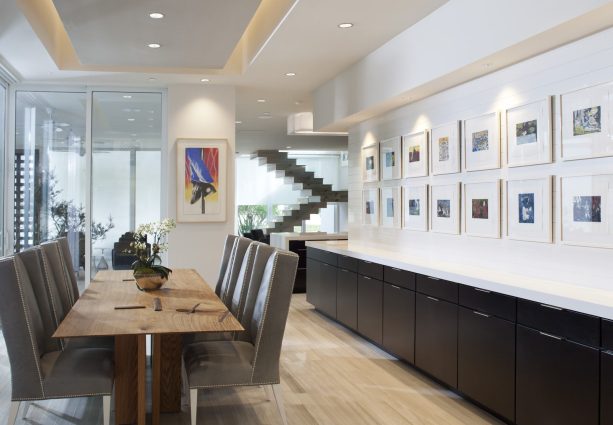 For a more minimalist yet stylish choice, you can go for this one.
This is a large dining table that can also be used as a conference meeting desk.
If you work remotely, there's a good chance you have to host some meetings. If your space allows, it will be nice to have a large dining table that can also work as a conference table.
This table can accommodate up to eight people. The tall back chairs provide excellent comfort if you have to sit for a long time during a meeting. They are also good as a dining chair because they deliver a formal look to your dining room.
There is a built-in buffet station that can be a great spot to store work supplies and china at the same time. It also delivers a large surface area that can be used to whip out a printer or other materials used for a presentation.
What an ideal dining room/workspace combo.
11. Desk for an Informal Meeting Space Served as a Dining Table Too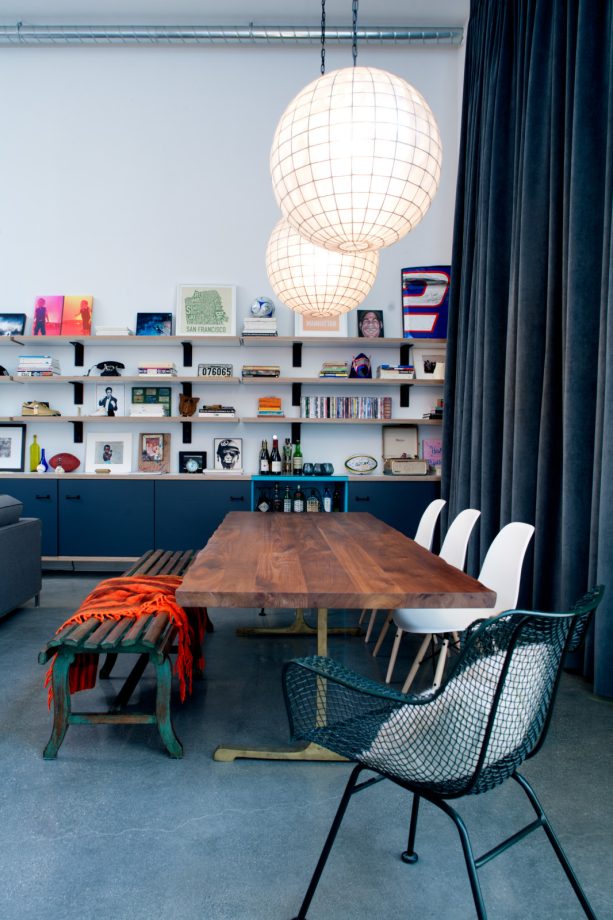 If you want to have a less formal workspace so it can be easily transformed into a dining room if needed, you can consider designing your room like this.
The mixed chair styles combined with a bench for seating is an excellent way to go to create a less formal home office.
The dining table is long and narrow, a usual table for a large number of people.
This is what you need if you often invite some guests to dine in. This is also a perfect piece if you frequently host a business meeting. Its simple design made of wood can easily fit into any home design.
In order to turn your home office into a dining room, you should use great overhead lighting. It is important for work, but make sure the lights can be switched into a dimmer glow, so you can dim them when you have your dinner.
12. Tulip Dining Table that is Also Perfect for a Desk in a Moroccan Dining Room/Home Office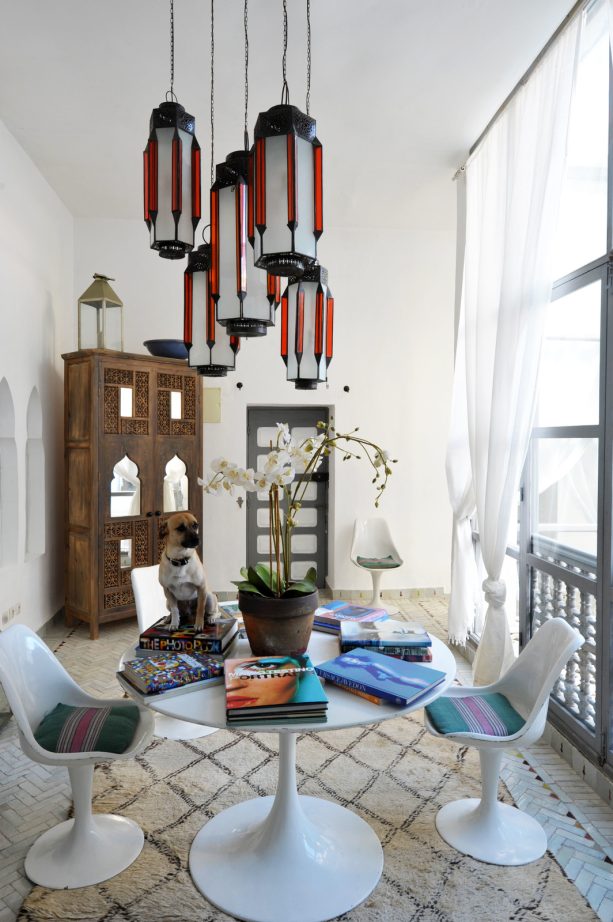 This table is known as a tulip table, a popular choice that has a stylish and sturdy design at the same time. You can mix it with armless stools like this. White on white will never fail to give an elegant look.
A tulip table may not be perfect for a conference desk, but it is enough to deliver a comfortable individual working space. It is also useful for a dining table for two, an intimate dining for a couple.
A wooden armoire in the corner gives a perfect Moroccan vibe. That is an excellent spot to store work supplies and dishes, a thing that turns this area into an ideal dining room slash home office.
Mixing genres and finishes in one room like this will give you a whimsical look. Make sure each element has needed storage for your dining ware and work supplies.
13. Wooden Dining Table as a Desk to Optimize Small Space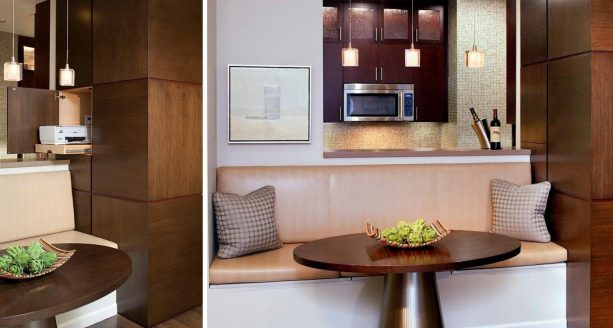 If you live in an apartment, space is often a challenge. One solution is to combine spaces, like a working space and a dining room. Hidden storage is also a must.
So, in order to combine two spaces with hidden storage, the best way is to create a small banquette like this.
This banquette features a round table and narrow seating, that is enough for two people at once. It may be small, but it is enough to work comfortably.
This dining room also has a printer and other work supplies tucked away inside the wood column, which can be slid in and out for easy access.
Sliding cabinet trays like these are available at any home improvement store, like The Container Store, Lowe's, or The Home Depot. They are easy to install; you can install them by yourself.
These pieces are what you need if you want to use your dining room as a workspace.
14. Combination of a Dining Table and Executive Chairs Make the Table Turn Into a Desk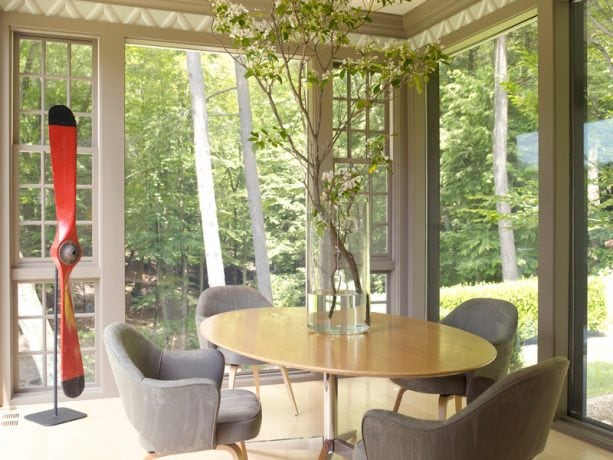 This is another round desk that can also be used as a dining table. It was designed by Pals Florence Knoll and Eero Saarinen.
They designed versatile office furniture like this to accommodate those who have small spaces and have to combine dining room and working space.
However, for a practical reason, using your dining room as a desk like this is also easier and more efficient, even though you don't have a home office.
The desk and the chairs are basically a united part, designed by the same designer. The Florence Knoll Table Desk features an unadorned modern silhouette. It is also made of an angular metal base paired with an oval top.
This table has many options of tops with a wide variety of finishes, including wood veneers and marble, natural woods, and white laminate. This one is natural woods.
The desk is also combined with Executive Chairs, creating a lovely dining area and a workspace.
The upholstered chairs provide comfort if you have to sit for a long time here to finish your job. The chairs' legs nicely match the light table surface.
15. Oval Dining Table Completed with Modern Task Chairs to Create a Perfect Meeting Desk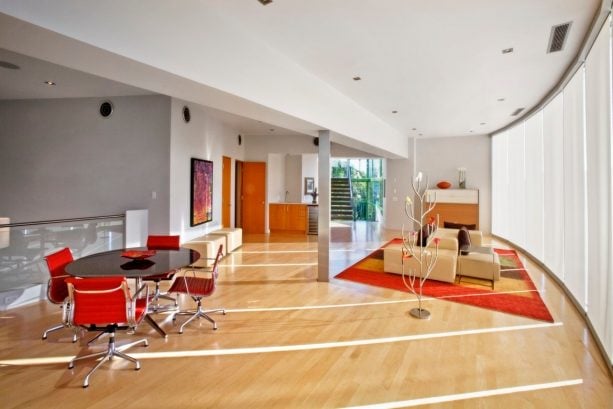 This is another best way to create a dining space that easily converts into a meeting space featuring a desk for a stylish and practical solution.
The contemporary style is perfectly served as a double-function room. The polished oval dining table can work as a modern desk as a spot to meet with clients or colleagues. The blacktop delivers a professional look.
The modern chairs are Eames Aluminum Management Group Leather Chair which adds a touch of futuristic vibe to this dining space.
The chairs are basically common seats you can easily find in any office. That is why using chairs like this in your dining room and pairing them with a dining table will instantly turn the dining room into a workspace, and the dining table into a desk.
Closing
So, what do you think about transforming your dining table into a desk?
Is it a good option for you?
One thing for sure, if you want to turn your dining table into a desk, make sure it is free of clutter. It would be wise if you removed a big and grande centerpiece from your dining table.
Complete the table with chairs that can double as a work chair. The chairs should also be comfortable enough to be sat upon during a long meeting and conference.
Good luck with your project!