Red and black kitchen contains both brave and bold impressions. It can be an excellent choice for you who dare to do some cooking experiments to create new delicious meals. It can also be an amazing color theme to pick if you need a spirit booster.
No matter what, the combination of black and red can enhance the kitchen area's style value. At the same time, it looks trendy too.
This post will share you the 17 most striking red and black kitchen ideas to get inspired if you are planning style up your interior. Of course, we will include some photos too to trigger your creativity. Let's not waste any more time and start with idea number 1.
Unique Black Tile Backsplash Paired with Bright Red Cabinets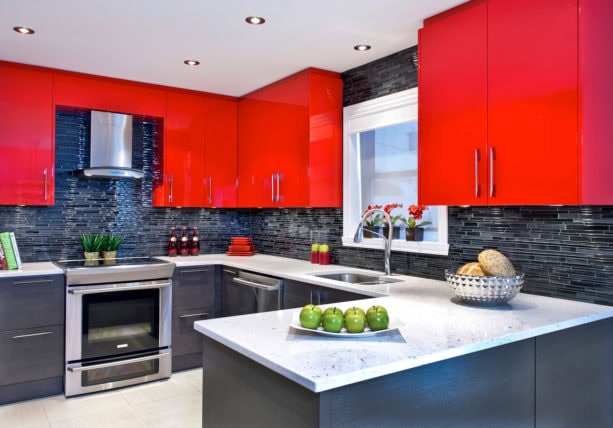 When you choose to apply red and black as the most dominant colors in your kitchen, you know that both tones are enough to create a stunning impression to awe everyone seeing it. Although so, you can make it even better by including some unique elements in the design.
An example that we want to show you here is the black matchstick tiles used for creating the backsplash of the contemporary kitchen you see in the photo. From the color point of view, certainly, this element can excellently fit in the interior design.
Let see it from a deeper point of view. This type of backsplash is not merely about adding another black detail to the kitchen generally or a mate for the bright red wall cabinets particularly. It adds texture and business to the entire design.
As you can see, both of the base and wall cabinets are in flat-panel style. Particularly for this design, the matchstick backsplash is a thoughtful choice for avoiding the kitchen from a too-plain look.
A Glossy Touch for a Stylish Black and Red Kitchen Theme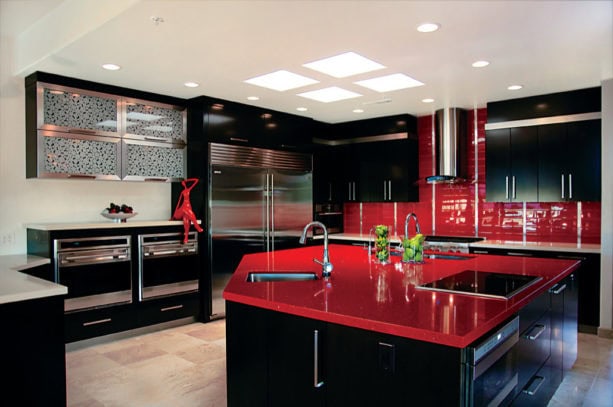 The next inspiring idea is about using glossy touch to increase the style value of your black and red kitchen. There are some material choices that you can choose to apply to this idea. Two examples are available in the photo. Those are the red tile backsplash and the red island top.
The addition of the two glossy elements significantly changes the kitchen look. As you can see, the black cabinets and island are in matte appearance, which is already elegant, modern, and stylish. Although so, the addition of the glossy red backsplash and countertop completes everything.
If, by any chance, you have a black kitchen design, you should think about some remodeling to add some glossy red elements in there. The project may not cost you too much cash, but it will give you a significant difference for way more stylish kitchen interior.
Red Kitchen with Black Tile Flooring
This next idea is also suitable for you to pay attention to when planning some kitchen renovation. It is particularly when you have a red kitchen.
The idea is by adding new flooring in black color. An example that we want to show you exists in the photo above, in which the bright red flat-panel cabinets got a black subway tile floor as the new match.
You must not forget that this kind of renovation is big and you may need more effort and money to do it. Although so, the stunning final result that you will get will equally pay everything.
Elegant Black Island with Red Top
If you are thinking about a red and black theme for the kitchen, you can also go specific to some furniture you want to include in the interior. Here, let us talk about the island, which is none other but furniture that is always successful in stealing attention as long as you know to pick the right design.
For instance, you want to make the kitchen area looks more elegant. In this case, a black kitchen island is a right selection to pick. The dark and mysterious appearance of black can easily add elegance to the room.
To make everything even more perfect, do not forget to choose a red top for the island. The trick that we can share with you here is making sure that the countertop's tone is not too bright.
We said so because this way, the top will not steal the attention more than the black tone of the island does. Such a red hue will not overpower the black color of the furniture.
For example, you can see the island design of the black, red, and white kitchen design in the photo. The red quartz top is an excellent pair for helping the black island showing some elegance without overpowering it.
Fabulous Red Custom Kitchen Cabinets and Black Island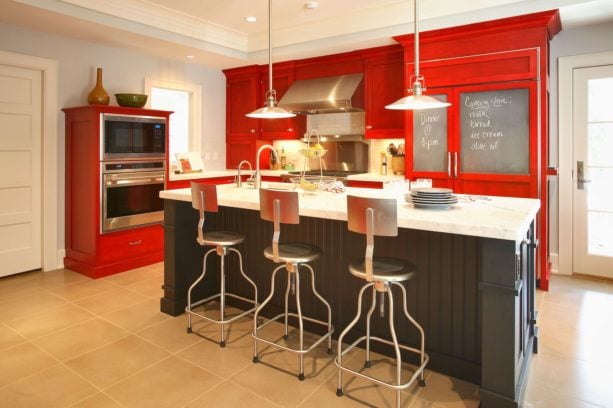 Another idea that you can try when designing your kitchen with red and black colors is to order custom furniture. Of course, in this case, we are talking about none other but cabinets.
Getting custom cabinets for the kitchen is not merely that you can color them in any tone you want to match the theme. You can also make sure that the dimensions precisely fit with the size of your kitchen.
By ordering custom cabinets, you can also add any details you want in the kitchen. You can take a look at the photo of an eclectic kitchen above as an example.
The custom red cabinets steal attention, particularly because it is paired with the gorgeous black island. The design even enables the homeowner to neatly include the oven, range, and hood to make them look like they are parts of the kitchen furniture.
Black Kitchen with Red Accent Wall
In this idea, we will tell you about another inspiration to remodel a black kitchen for an even more attractive look. Here, the addition is a red accent wall, as you can see in the design in the photo.
An idea like this is good to follow when you have a blank wall in the kitchen. Instead of leaving it empty without anything on it, it would be much better to paint it red to make a catchy detail in the design.
We love the red accent wall shown in the photo, particularly because of how tall it is. Its height makes the red tone an attention stealer without dominating the whole space or making the black and grey kitchen look less prominent.
Red, Black, and White Kitchen Combinations for Modern Elegance
White is another color that you can include in red and black theme for the kitchen area. It is not only a compatible tone for the design. It is something that will give you an elegant modern look.
Take a look at the contemporary kitchen photo above to prove it. Here, the white tone is used not only as a part of the stunning wine red and black cabinets.
You can also see it in other kitchen elements, such as the stools and the walls, if you look closely. For the wall, particularly, it is such a good choice for the design. It becomes a neutral and bright background to add prominence to the elegant modern cabinets.
Red Kitchen with Black Appliances
Another easy way to decorate kitchen design in the black and red color theme is by choosing appliances in black or red color. For the sake of a uniform look, we suggest you pick a color only.
To make the explanation easier to understand, you can see the photo above. This open kitchen uses red and black as the main colors in the theme.
The choice of black appliances here is just thoughtful, remembering that the red is a more dominant color in the kitchen. Since the devices' placements are connected directly to the red cabinets, the options can avoid some monotonous impressions too, which can be less appealing.
Daring Bright Red and Black Kitchen with Stainless-Steel Appliances
If you want the appliances to be in another color than red or black, you can choose stainless-steel instead. The tone is neutral, stylish, and of course, always suitable for a kitchen.
Stainless-steel appliances are also excellent for any modern-style. It even gives a professional sense in the cooking area, which is perfect for cooking enthusiasts.
The kitchen photo above proves everything we just said. In this interior design, we love how the black countertops and stainless-steel appliances work together to balance the dominating red tone from the cabinets and kitchen island.
Simple Black Kitchen with Stunning Red Appliance Set
We will directly talk about the photo in this subheading because we are simply in love with how stunning it looks. The color scheme in this eclectic kitchen does not only consist of black and red tones because there are also white and a bit of light wood color included in it too.
The way the designer chooses a set of red appliances as the match for the matte black base cabinets is just amazing. The stunning red color and the retro design of these items are the real attention-catcher here. They seem to prove that a simple-looking kitchen can look stunning too.
Talking about the appliances used in this design, we cannot lie that we love the design very much. We also manage to find the complete information of each item included, except for the hood. Those are; Portofino CPF9GPR Red Cooker, 50's Style FAB30RRD3 Red Refrigerator, 50's Style TSF01RDEU Red 2-Slice Toaster, 50's Style BLF01RDEU Red Blender, and 50's Style SMF02RDEU Red Stand Mixer.
The Combination of Black Cabinets and Red Fridge to Add Retro Feel
This next idea is quite similar in that red appliance is added to complete black kitchen design. The difference is that there is only one item used here, which is the Red 50's Style Refrigerator by Smeg.
A fridge with a specific visual like this is perfect for adding a retro feel in your kitchen. As for the general effect, of course, the red color is catchy.
An idea like this is good to do when you need to replace an appliance in your black kitchen. Of course, the choice is not only limited in the fridge but can also be something else.
Red Range with Black Grate for Vintage Kitchen Feel
Here is another similar idea as you read in the previous subheading. The difference is that the main stair here 30" Retro Stove in Cherry Red by Big Chill.
A red range like this always looks fascinating. It gets even better because of the vintage design.
Red Kitchen Island with Black Top for a Center of Attention
Here we have another example of an element that can create a striking look in your black and red kitchen design. It is a red island with a black top.
Something like this is suitable to include in a kitchen with a red and black theme. Other than that, you can also put it in your black-dominated kitchen design. For the second option, the island will directly be the center of attention.
We choose the island in the photo as an example here because it simply looks stunning. The design is also practical with lots of storage space below and even electricity plugs on the side that makes it easier for you to use appliances such as a blender, mixer, food processor, and others.
If you look closely, this kitchen island even has an integrated stove. A design like this is suitable to consider when your kitchen is rather small.
Veined Black Countertops for Your Red Cabinets
There is a better choice to consider than just a plain black option for you who are thinking about adding a black countertop for your red base cabinets. It is the one that comes with veins, as you can see in the picture.
The existence of veins in the countertop design is not merely about color variation. It is more about a detail that can boost the beauty value in your kitchen. For some people, veins in black natural stone countertop even have elegance value.
Kitchen Pantry with Black and Red Color theme for a Hidden Surprise
Do you have a separate pantry in your kitchen design? If yes, we have a unique design that can make the room more than just a place for storing your kitchen supplies and something with a hidden surprise.
The idea is painting the pantry door in black while it's interior in red color. For example, you can take a look at the photo above.
A design like this is more suitable to use when your kitchen has black domination. This way, the red color of the pantry interior can be a surprising detail in the design.
Gorgeous Berry Red Kitchen Door and Black Coffee Station Combination
Here is another idea that you can include in the red and black theme of the kitchen interior. The main thing is placing a black coffee station side by side with a red door, as you can see in the photo.
It seems that decorating your kitchen with the two tones is not always related to some common elements like furniture, walls, flooring, and appliances. You can always go further by using the color in other items like the door if you want to.
Black and Red Breakfast Spot in Kitchen Area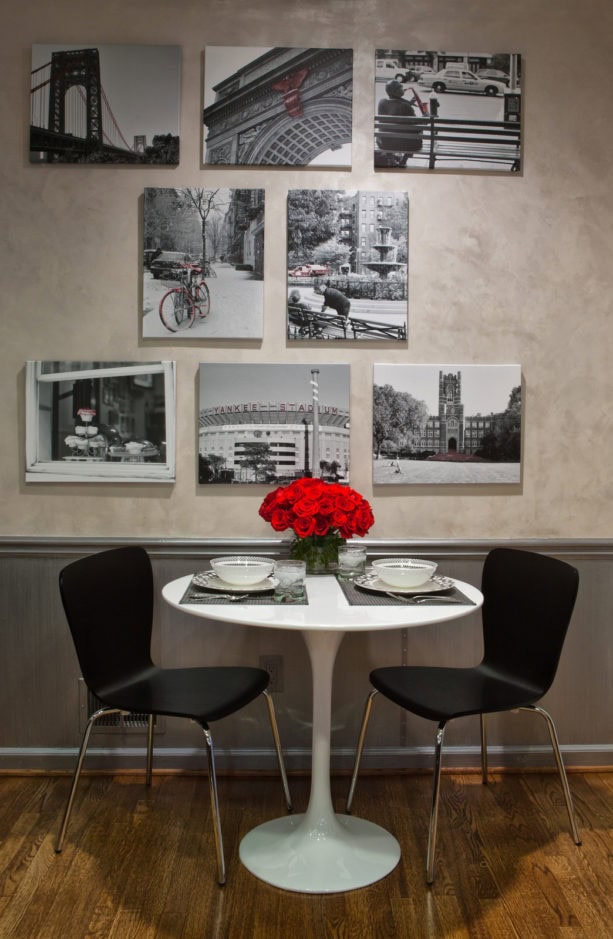 The last but not least idea that we want to share with you here is this breakfast area consisting of a table and a pair of chairs. Something this is perfect for adding in a spacious kitchen. It gives you more alternative spot in the house to enjoy your meals.
In the picture, you can see two black chairs paired with a round white table. A vase of red roses makes the breakfast area suitable for the black and red kitchen theme.
This idea seems to say also that you should not always use permanent things to decorate the kitchen color scheme. Something that is not permanent, like the flower decoration, can also be a good idea.
Closing
Red and black always look good together. They can unite to create a striking look in any room in your house, including the kitchen, as discussed in this post.
Pairing both of them in the kitchen is also effortless to do. You can choose so many variations, and the ones we shared above are only some of them.
What do you think about the 17 striking red and black kitchen ideas that we have shared above? Are there any of them that you like the most?